Official SuiteCRM Outlook Plugin v4 has arrived - A complete plugin rebuild developed and maintained by SuiteCRM developers entirely from scratch, the addon retains previous functionality while massively improves performance, reliability and stability!
#2870 - Strange error message
In Progress
Bug?
created by mdelfortrie

Verified Purchase

7 months ago
We are experiencing a strange error with the Outlook plugin. It appears to happen whenever a meeting invite comes in and/or is accepted. Even though sync with meetings is turned off within the SuiteCRM outlook plugin. Can you help us?
Details
• Order number plugin: Order number 2717 (17 users)
• Error message, see below and last page PDF
• SuiteCRM outlook plugin version: 3.0.22.0
• Plugin Setting details: PDF available but can't upload it here?
• Outlook version (desktop): 16_0_...... (part of our Office 365 subscription)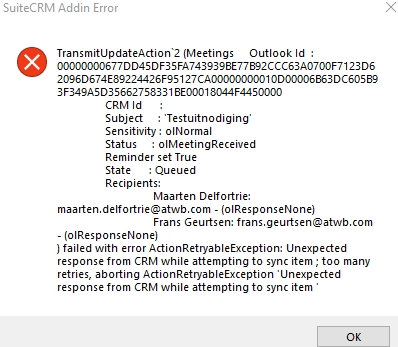 Thanks in advance
Maarten
Supported Versions
7.10.10 to 7.11.18