The Ultimate Outlook Plugin Has Arrived - In response to user requests, SuiteCRM have created the ultimate Outlook plugin which is maintained by SuiteCRM developers. Our plugin supports Outlook 2010 upwards and includes two way synchronisation with CRM, Calender, Calls, Meeting, Tasks and Email Archiving.
#724 - Send and Archive not working properly?
Closed
Bug?
created by afatac

Verified Purchase

2 years ago
Using Outlook Plugin 3.0.9 and Outlook 2013.
After clicking Send and Archive, the email is sent immediately. There is no pop-up window for me to search a record for archiving the email to.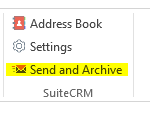 After that, when I right-click on the email, select SuiteCRM Archive, found the record and click the Archive button, this error message is shown. How to resolve this issue?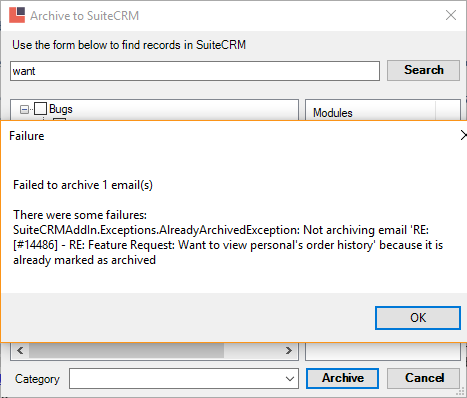 Supported Versions
7.0.0 to 7.11.10