Official SuiteCRM Outlook Plugin v4 has arrived - A complete plugin rebuild developed and maintained by SuiteCRM developers entirely from scratch, the addon retains previous functionality while massively improves performance, reliability and stability!
#724 - Send and Archive not working properly?
Closed
Bug?
created by afatac 3 years ago
Using Outlook Plugin 3.0.9 and Outlook 2013.
After clicking Send and Archive, the email is sent immediately. There is no pop-up window for me to search a record for archiving the email to.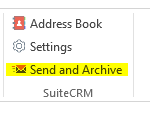 After that, when I right-click on the email, select SuiteCRM Archive, found the record and click the Archive button, this error message is shown. How to resolve this issue?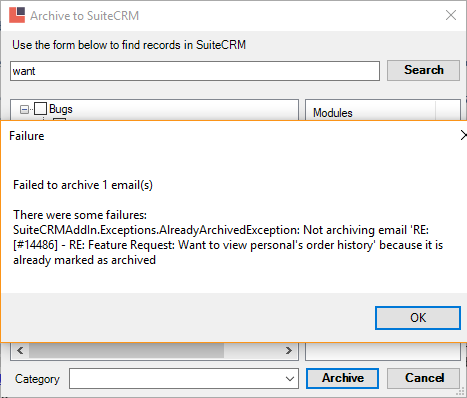 Supported Versions
7.10.10 to 7.11.18