Official SuiteCRM Outlook Plugin v4 has arrived - Compatible with the Outlook Web App or Outlook 2016+ connected to Office365 or Exchange Server 2016. A complete rebuild developed and maintained by SuiteCRM developers, the addon retains previous functionality while massively improves performance, reliability and stability!
Announcement! Version 4.0.3 is now released!
We are pleased to announce the release of SuiteCRM Outlook Plugin 4.0.3 – the Official SuiteCRM Outlook integration. For more details on all releases please check out the Release Notes
To help our customers assess the implications of the newer SuiteCRM Outlook integration we have published the v4 roadmap and FAQs which provide answers regarding supported versions, technologies used and pricing (psst, it's not changing!). If you still have questions feel free to reach out to us by emailing us
Why buy this?
Developed by the SuiteCRM Team
Easy to install and implement
Reliable and robust
Provides seamless integration between both applications
More effective for you and your business
Links valuable emails to your CRM records
Has auto archiving functionality
Alignment of software to streamline your business processes
The SuiteCRM Official Outlook Plug-in is charged annually at $50 per user. The revenue generated will be used to support, maintain and keep the plug-in up to date as well as extending the core of SuiteCRM.
---
Finding the Plugin in Outlook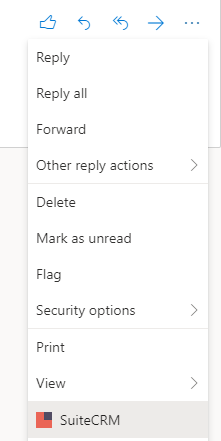 Plugin Configuration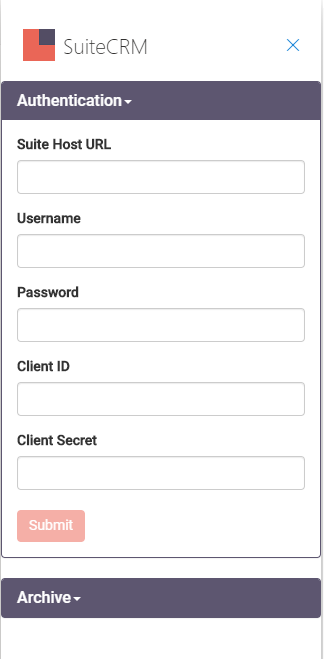 Archiving an email

Supported Versions
7.10.10 to 7.14.0