Official SuiteCRM Outlook Plugin v4 has arrived - A complete plugin rebuild developed and maintained by SuiteCRM developers entirely from scratch, the addon retains previous functionality while massively improves performance, reliability and stability!
#376 - System.Runtime.Interop.Services error if "Archive Attachments Also" setting is enabled.
Closed
Bug?
created by ian 3 years ago
Hi again guys.
With the "Archive attachments also" setting enabled I get the error (as per image) & if I disable the "Archive attachments also" setting, then the error doesn't happen.
Of course, no other attachments are saved either without that setting.
cheers
Ian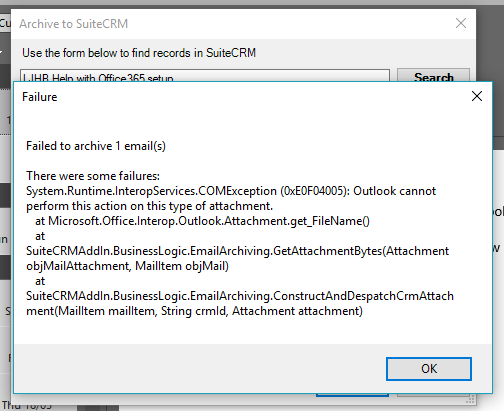 Supported Versions
7.10.10 to 7.11.18