The Ultimate Outlook Plugin Has Arrived - In response to user requests, SuiteCRM have created the ultimate Outlook plugin which is maintained by SuiteCRM developers. Our plugin supports Outlook 2010 upwards and includes two way synchronisation with CRM, Calender, Calls, Meeting, Tasks and Email Archiving.
#376 - System.Runtime.Interop.Services error if "Archive Attachments Also" setting is enabled.
Closed
Bug?
created by ian 2 years ago
Hi again guys.
With the "Archive attachments also" setting enabled I get the error (as per image) & if I disable the "Archive attachments also" setting, then the error doesn't happen.
Of course, no other attachments are saved either without that setting.
cheers
Ian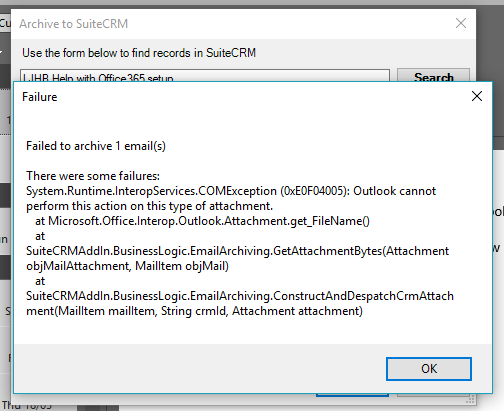 Supported Versions
7.0.0 to 7.11.10