The Ultimate Outlook Plugin Has Arrived - In response to user requests, SuiteCRM have created the ultimate Outlook plugin which is maintained by SuiteCRM developers. Our plugin supports Outlook 2010 upwards and includes two way synchronisation with CRM, Calender, Calls, Meeting, Tasks and Email Archiving.
#2177 - Object reference not set to an instance of an object
Closed
Bug?
created by aureh12 11 months ago
Hello.
PlugIn: SuiteCRMAddIn_3.0.20.0.msi
Outlook
One year after a first failed try, I am now downloading and installing this Plugin.
I deleted the old files left in C:\Users[USER]\AppData\Local\Microsoft_Corporation.
But unfortunately, Outlook still give me errors.
First start of Outlook with the Plugin, when i am filling the settings, a first window appears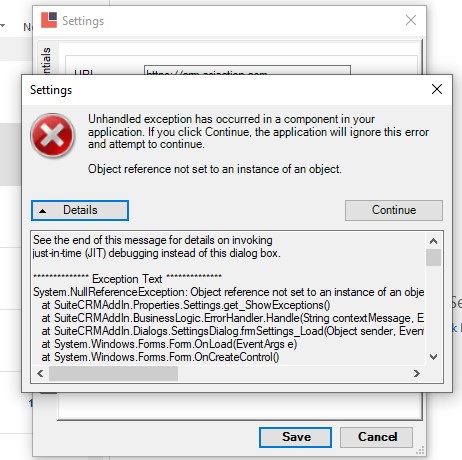 I click on continue, a new settings window appears: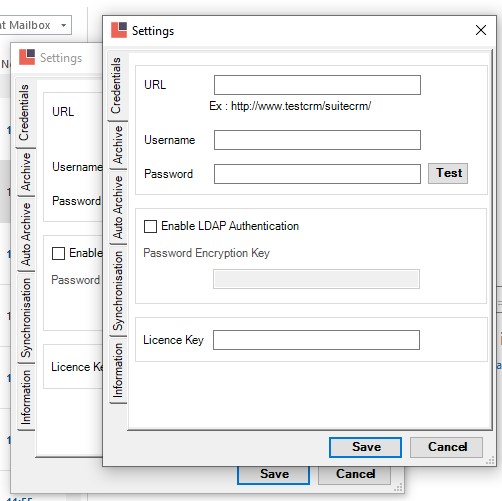 I fill the form, test is working, then when I want to save: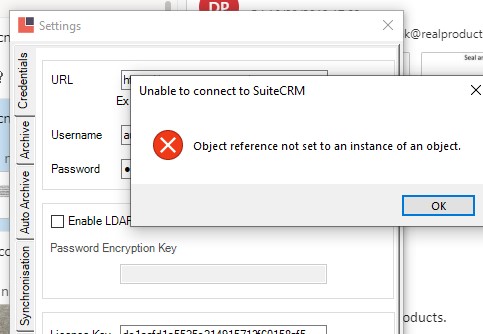 I cannot go further.
Please advise.
Aurelien
Supported Versions
7.0.0 to 7.11.15