Official SuiteCRM Outlook Plugin v4 has arrived - A complete plugin rebuild developed and maintained by SuiteCRM developers entirely from scratch, the addon retains previous functionality while massively improves performance, reliability and stability!
#3136 - Archiving question- search results are unclear
Closed
General Question
created by info5 3 months ago
Hi,
I have a contact who creates lots of opportunities.
When i receive an email from the contact i would like to archive it against the opportunity record .
So when the email comes in I right click and choose >'SuiteCRM Archive'
This gives a popup window where i can search CRM records. But i cant figure out how to control the results>?
I've attached an image below which shows the issue : James does have two opportunities- but there is not enough info to choose one.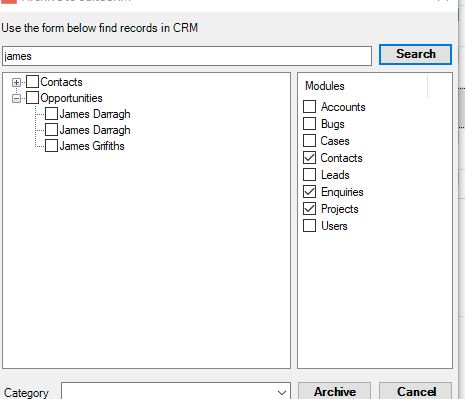 Supported Versions
7.10.10 to 7.11.18