Official SuiteCRM Outlook Plugin v4 has arrived - A complete plugin rebuild developed and maintained by SuiteCRM developers entirely from scratch, the addon retains previous functionality while massively improves performance, reliability and stability!
#2258 - Error when from and CC has contacts from same accont
Closed
Bug?
created by darshak a year ago
Hi,
When archiving emails using plug in,I am getting following error for few emails while it works for others.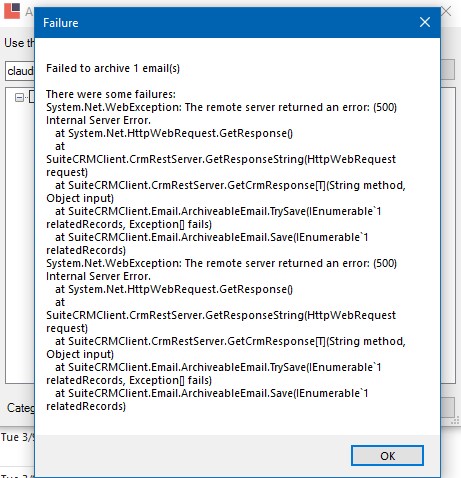 Below is the relevant error log entries.
2019-09-24 12:00:29,303 | VSTA_Main | ERROR | Failed calling 'set_entry'
System.Net.WebException: The remote server returned an error: (500) Internal Server Error.
at System.Net.HttpWebRequest.GetResponse()
at SuiteCRMClient.CrmRestServer.GetResponseString(HttpWebRequest request)
at SuiteCRMClient.CrmRestServer.GetCrmResponse[T](String method, Object input)
Data:System.Collections.ListDictionaryInternal
HResult:-2146233079
2019-09-24 12:00:29,303 | VSTA_Main | ERROR | ArchiveableEmail.Save: failed to save 'RE: Oracle Cloud' at all
System.Net.WebException: The remote server returned an error: (500) Internal Server Error.
at System.Net.HttpWebRequest.GetResponse()
at SuiteCRMClient.CrmRestServer.GetResponseString(HttpWebRequest request)
at SuiteCRMClient.CrmRestServer.GetCrmResponse[T](String method, Object input)
at SuiteCRMClient.Email.ArchiveableEmail.TrySave(IEnumerable1 relatedRecords, Exception[] fails) at SuiteCRMClient.Email.ArchiveableEmail.Save(IEnumerable1 relatedRecords)
Data:System.Collections.ListDictionaryInternal
HResult:-2146233079
Regards,
Darshak
Supported Versions
7.10.10 to 7.11.18