Official SuiteCRM Outlook Plugin v4 has arrived - A complete plugin rebuild developed and maintained by SuiteCRM developers entirely from scratch, the addon retains previous functionality while massively improves performance, reliability and stability!
#2238 - 3.0.22 - Send and Archive issue
Closed
Bug?
created by afatac a year ago
Testing 3.0.22 with SuiteCRM 7.11.7 and Outlook 2016.
After composing a new email and click this Send and Archive button...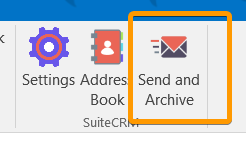 The recipient will receive a plain text email instead of the original HTML email. In addition, there is a binary file attached. It looks like a Outlook mail data file.
Supported Versions
7.10.10 to 7.11.18