Official SuiteCRM Outlook Plugin v4 has arrived - A complete plugin rebuild developed and maintained by SuiteCRM developers entirely from scratch, the addon retains previous functionality while massively improves performance, reliability and stability!
#2339 - Reschedule of meeting throws error and deletes meeting from Calendar
In Progress
Bug?
created by robert a year ago
Had existing meeting on calendar. Meetings are set NOT to sync so not sure why I am getting any errors.
Steps to reproduce:
1. Open meeting
2. Changed date and time.
3. Clicked Send update
Item was Deleted.
) failed with error ActionRetryableException: Unexpected response from CRM while attempting to sync item ; too many retries, aborting
SuiteCRMAddIn.Exceptions.ActionRetryableException: Unexpected response from CRM while attempting to sync item
at SuiteCRMAddIn.Daemon.TransmitUpdateAction2.Perform() at SuiteCRMAddIn.Daemon.DaemonWorker.PerformIteration() Data:System.Collections.ListDictionaryInternal HResult:-2146233088 2019-10-31 12:24:03,376 | 7 | ERROR | TransmitUpdateAction2 (Meetings Outlook Id : 00000000E51C2B90C4C06D4EA2150751AF89B4B3070074A1AEC55D08214C89E3706DA7E2EA44000000000040000016491EDA2C38664BBC689379529101850000B46D4CA30000
CRM Id :
Subject : 'Review IT systems'
Sensitivity : olNormal
Status : olMeeting
Reminder set True
State : Pending
Recipients:
Robert XXXXXX: xx@xx.com - (olResponseNone)
Carol YYYYY (YY@YY.com): YY@YY.com - (olResponseNone)
) failed with error ActionRetryableException: Unexpected response from CRM while attempting to sync item ; too many retries, aborting
SuiteCRMAddIn.Exceptions.ActionRetryableException: Unexpected response from CRM while attempting to sync item
at SuiteCRMAddIn.Daemon.TransmitUpdateAction`2.Perform()
at SuiteCRMAddIn.Daemon.DaemonWorker.PerformIteration()
Data:System.Collections.ListDictionaryInternal
HResult:-2146233088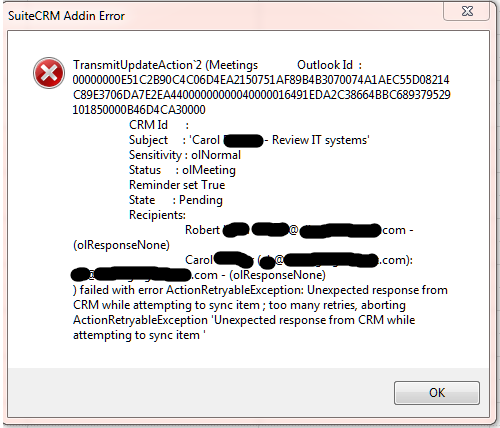 -----------------------------
SuiteCRM Outlook Add-In v3.0.22.0 in Outlook version 15.0.0.5163
Auto-archiving: ON
Logging level: Debug
Supported Versions
7.10.10 to 7.11.18