Official SuiteCRM Outlook Plugin v4 has arrived - A complete plugin rebuild developed and maintained by SuiteCRM developers entirely from scratch, the addon retains previous functionality while massively improves performance, reliability and stability!
#2789 - SuiteCRM Addin Error
Open
Bug?
created by scott9 8 months ago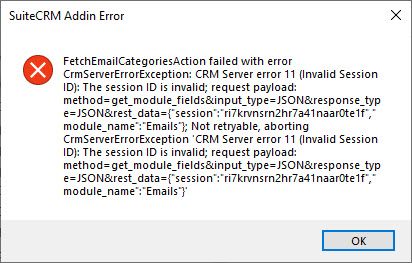 - FetchEmailCategoriesAction failed with error....
Never gets to step #3 in your install guide. That settings screen never appears, and instead, this product errors out and never loads. Software never shows up in Outlook, program mgr., nothing.
We run stand-alone Office 2019.
Supported Versions
7.10.10 to 7.11.18