Official SuiteCRM Outlook Plugin v4 has arrived - A complete plugin rebuild developed and maintained by SuiteCRM developers entirely from scratch, the addon retains previous functionality while massively improves performance, reliability and stability!
#2699 - Plugin creates errors messages, seems to be linked to sync the calendar, although all sync options are turned off
In Progress
Bug?
created by kollbrunner

Verified Purchase

9 months ago
I get an error message all few minutes. seems to be a sync problem. see attached. but all sync options are turned off in the tool. no clue what is happening here.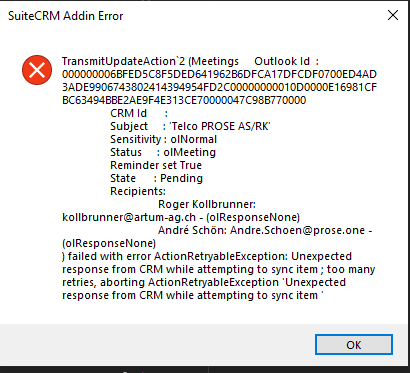 Supported Versions
7.10.10 to 7.11.18