Implicit FrontEnd provides deep integration with Microsoft Outlook. In addition to full two-way synchronization of Outlook data such as contacts and calendars, it allows you to sync CRM data including accounts, opportunities, quotes etc. so that you can do all your CRM work without leaving Outlook. In addition, FrontEnd allows you to leverage the rich Outlook functionality to provide tools such as manual and automatic email archiving, collaboration and approval, opportunity tracking and more.
CRM Data Sync Tool
Sync all CRM data to Outlook and do all CRM work from Outlook
* Sync accounts, opportunities, quotes, cases etc.
* Sync Outlook native items: contacts, calendars, tasks
* Sync your custom CRM modules and fields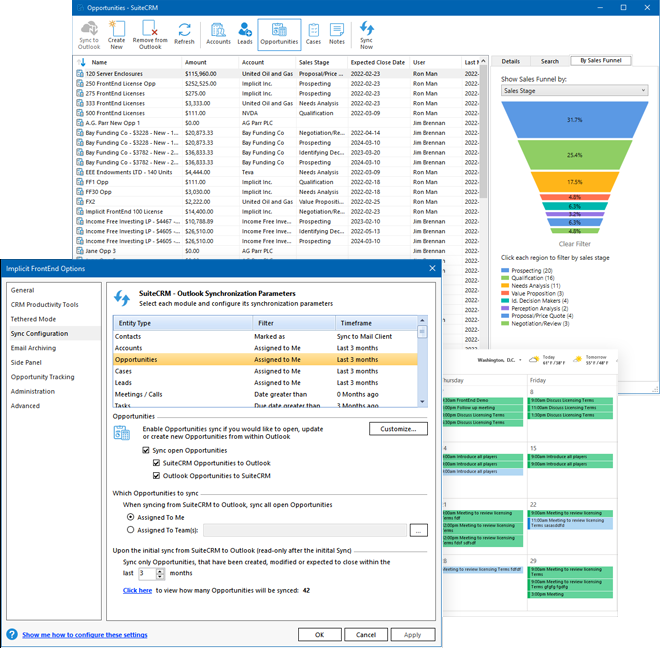 Email Integration & Automation Tool
* Manual email archiving to standard and custom modules
* Retroactive email conversation archiving
* Rule-based auto-email archiving engine
* Automated mail-merge of quotes and invoices
Collaboration Tool
Collaborate with your colleagues via Outlook and capture important internal email discussions
Prior to sending a quote or an invoice to a customer, you often need to gather information from your colleagues, sales manager or other departments e.g.: shipping or finance. These email discussions contain important information that should become part of the CRM record for future reference or audit trail purposes. The collaboration tool allows you to initiate an internal email session where all emails that are sent by any participant in the conversation, are captured and organized as a collaboration log inside the related CRM record. The log is presented inside FrontEnd as well as in the CRM record.
Approval Tool
Request approval via Outlook, capture correspondence and generate approval log
Often, you need to obtain your sales manager's approval before taking an action such as offering a discount or sending a quote to a customer. The approval tool allows you to request approval via Outlook, capture all email correspondence with your sales manager or designated approvers, and generate an approval log inside the related CRM record. The approval log is presented inside FrontEnd as well as in the CRM record. It includes a detailed log of the email conversation, including when and by whom the request was approved or declined.
The approval process is seamlessly integrated into Outlook such that from users' perspective, they are simply using Outlook to communicate.
Opportunity Tracking Tool
Track opportunities and capture customers' emails directly into their related records
Track and capture your email correspondence with your customers related to opportunities. The tracking tool allows you to automatically identify the opportunity for a specific email, archive the email to the opportunity record and present information relevant to that opportunity to assist you in quickly identifying the CRM context for each email.
CRM Admin's Tools
Simplify deployment and shorten training time, by centrally creating and publishing configurations for your users
* Centralized installation and configuration
* Single Sign On (SSO) using SAML authentication
* Design custom forms in Outlook to match your corporate custom CRM modules and publish to all users
Fully Customizable
Customize FrontEnd to match your SuiteCRM customizations including custom modules / fields, side-panel and group-based configurations
* Configure FrontEnd to sync your custom modules and fields to Outlook
* Customize FrontEnd to show only the modules required for each security group
* Fully customize the side-panel to show the CRM modules and fields of interest
* Manage customizations centrally per security group or allow individual users to customize their own settings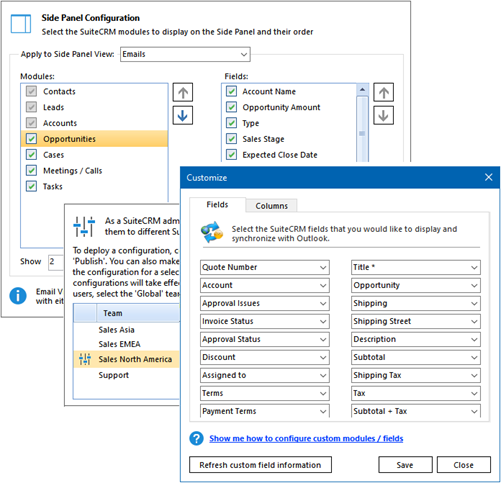 Watch Implicit FrontEnd 6 Overview Video:
What our clients say, matters the most:
"It is an enormous time-saver to be able to operate solely within Outlook without having to constantly switch back and forth between programs. The seamless integration that Implicit FrontEnd provides is irreplaceable." - Kyle Perrin, Sales Manager, Romtec
"Implicit FrontEnd is a top-notch Outlook integration platform for SuiteCRM. Having the CRM information right at your fingertips in Outlook makes the overall CRM adoption process and value much more achievable." - Steve Kosovich, President, Alphanomix
"Implicit has provided tremendous improvements in efficiency." - Patrick O'Hara, Vice President of Sales, Molecular Vista
"It's easy for me to recognize a FIRST-CLASS product. This is certainly of that caliber. Everything about it is top rated. Keep up the awesome work!" - Jim Kramer, IT Manager, ITA Audio Visual Solutions
Supported Platforms
Windows: Outlook 2010, 2013, 2016, 2019, Office 365
Supported Versions
7.0.0 to 8.2.4