Official SuiteCRM Outlook Plugin v4 has arrived - A complete plugin rebuild developed and maintained by SuiteCRM developers entirely from scratch, the addon retains previous functionality while massively improves performance, reliability and stability!
User Guide
Authenticate Plugin
If this hasn't been done for you, and it is your first time using the Plugin then you may need to authenticate the Plugin on your Outlook account. If so, follow these steps to get setup: 1. Log into Outlook using the account you want to link to SuiteCRM. 2. Expand the actions on an Email, and select the new SuiteCRM Plugin from the menu. This will open a new panel, with Authentication and Archive panels. 3. Expand the "Authentication" panel. 4. Populate the fields as follows: Suite Host URL → The URL of the CRM instance that you wish to connect Outlook with. Username → Your SuiteCRM Username Password → Password for that CRM user. Client ID → This is something your System Administrator (or whoever installed the plugin) should be able to give you. Copy-paste this value into Client ID Client Secret → This is a password that was also setup by your System Administrator. Enter this password into the Client Secret.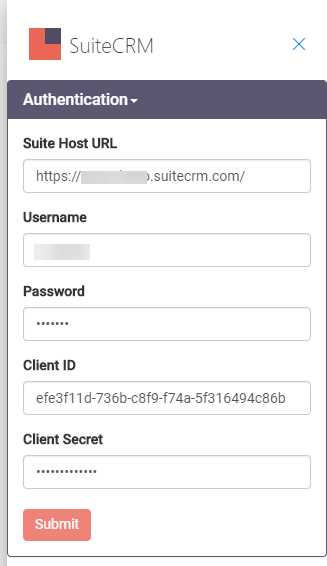 5. Once all values are correctly entered, click "Submit". If correct, the panel will update to a green box that details "Authentication Successful" Also, a "Log Out" button will be shown.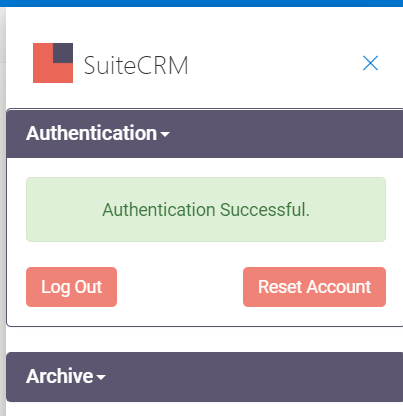 Note: If you don't have the option to use the SuiteCRM plugin then request the manifest file from your System Administrator and refer to steps 11-14 of the Package Install section in the Installation Guide
Archiving an Email
Log into Outlook and find the email you would like to Archive. Open up the SuiteCRM Plugin from the actions (as you did when you were Authenticating).

Expand the "Archive" panel and you will see the following fields: i. Modules → This is the Module within SuiteCRM that you're going to search in (for example, if it's an email from a company you'll likely want to select Accounts, and if it's from an individual it will likely be Contacts or Leads). ii. Search Criteria → This is what will be searched for within the Module you've chosen. By default this would be the email address, but you can also change it to a person or company's Name.
Click "Search". This will return any record from your selected Module that match your Search Criteria.
After searching, and receiving results, you can select one or more records in the "Archive Panel", beneath the Search bar.
Click "Archive".
Note that if you expand the Archive panel again, you will then see the records that this email is archived against as Hyperlinks. When clicked these will take you to that record in the CRM.
You will now be able to view the Email you have just archived within SuiteCRM in the History subpanel of any records that it has been archived against.
Supported Versions
7.10.10 to 7.12.2