Official SuiteCRM Outlook Plugin v4 has arrived - A complete plugin rebuild developed and maintained by SuiteCRM developers entirely from scratch, the addon retains previous functionality while massively improves performance, reliability and stability!
Outlook Configuration
Configuring the Outlook Add-in
Add Licensed Users - SuiteCRM
Before your Users can use the Plugin they need to be set up as Licensed Users. Users who aren't licensed will not be able to use any of the features of the Plugin.
Navigate to the "SuiteCRM Outlook Add-in" section in the Admin panel of the CRM.
Add Users through the "Outlook Users" subpanel. You can click on the "Select" button to launch the pop-up through which Users can be added. Any Users in the "Outlook Users" subpanel will be treated as "Licensed" users.
Note: Users configured as licensed should have a valid Outlook email address associated with them.
If this sub-panel is not accessible, the plugin may not yet be validated. Please go back and validate your plugin by following the Plugin Installation Guide
Configure Add-in in Outlook
Within Outlook, expand the actions on an Email, and select the new SuiteCRM Plugin from the menu. This will open a new panel, with Authentication and Archive panels.

Expand the "Authentication" panel.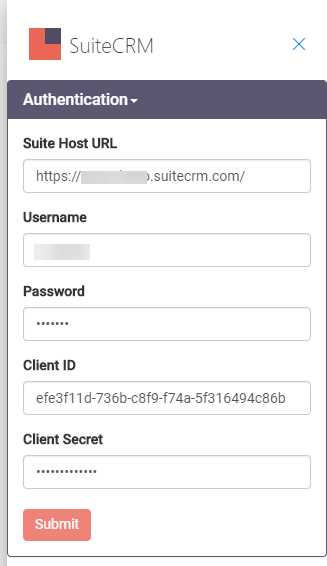 Populate the fields as follows:
Suite Host URL → The URL of the CRM instance that you wish to connect Outlook with.

Username → Your SuiteCRM Username

Password → Password for that CRM user

Client ID → When you created your Password Client earlier, the "ID" field would be populated in the CRM. Copy-paste this value into Client ID

Client Secret → The memorable Secret/password entered for said Password Client you set up.
Once all values are correctly entered, click "Submit". If correct, the panel will update to a green box that details "Authentication Successful" and a "Log Out" button will be displayed.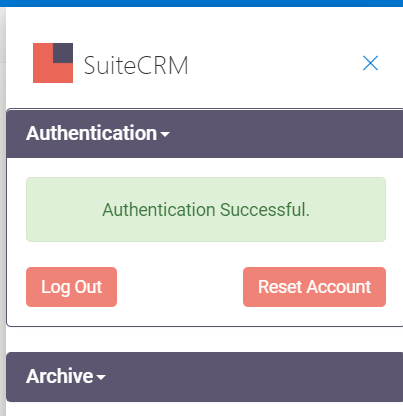 Note: If you see a message telling you that this User isn't licensed, make sure you have added the user to the Outlook Users Subpanel.
Common issues may stem from incomplete setup of API, for debugging see documentation
Manual archiving should now be fully operational.
If you wish to continue and enable Automatic Archiving, proceed to the Auto Archive Functionality Page
Supported Versions
7.10.10 to 7.12.8