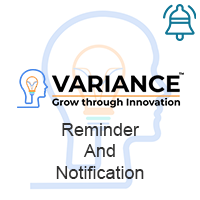 The Reminder and Notification extension for SuiteCRM from Variance InfoTech helps to automate reminders for any date or date time field. Great for getting In-App or Email notifications whenever there is an upcoming birthday, anniversary, contract renewal, or anything else that matters for your unique business needs.
Create Case
Support Cases
Author
Status
Type
#4251 Reminder -

Hi the module lost information ed remainder do not start ![220420-150903.png](https://store.s

massimo.capuano

In Progress

Bug?

#4065 I cannot reset password -

Today I started the trial for the plugin VIReminderAndNotification-5.0-SuiteCRM-Version-V7.12 . The

slavak

Closed

Bug?

#4062 Not reminder when modify date -

Hello, Does this addon work one time per record; I tried to modify the date field, but this addon n

tuanan

In Progress

Bug?

#4008 package for SuiteCRM 7.12 -

Can you release the version that supports SuiteCRM 7.12? Thanks!

joetcw

In Progress

General Question

#3234 Crashes on 7.11 -

Failed to add an of line char ";" on custom/modules/Ext/Language/en_us.lang.ext.php Manually edite

greg4

Closed

Bug?

#2589 Email type field -

Hi there, I'm having the "This module does not contain any email field!" error. Can do yo

soporte3

Closed

General Question

#2588 Do not save/load Template -

hi, it not start notification and in the administrative panel do not load and save template.... it d

massimo.capuano

Closed

Bug?

#2583 Not loading date fields when select module -

Hi guys, check the installation scripts. Some JS libraries are not being accessed by folder permissi

soporte3

Closed

Bug?

#2432 Birthday Reminder -

I want to set birthday reminder only to active employees. I have a custom module (where employee ent

rdprasadravi

Closed

Bug?

#2431 Users or Employees module -

The first step, in Select Module, Employees or Users do not show up in the dropdown.

rdprasadravi

Closed

Bug?
Supported Versions
7.7.0 to 7.12.2