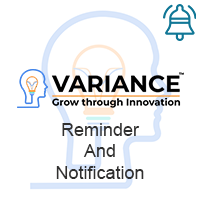 The Reminder and Notification extension for SuiteCRM from Variance InfoTech helps to automate reminders for any date or date time field. Great for getting In-App or Email notifications whenever there is an upcoming birthday, anniversary, contract renewal, or anything else that matters for your unique business needs.
Introduction
Introduction
Reminder And Notification User's Guide has been developed to assist management, system admin, users etc. Reminder And Notification extension used to send Reminder and Notification to system users like Birthday Reminder, Marriage Anniversary Reminder and Work Anniversary Reminder.
Features:
Send Email Notification and Display Desktop Notification in Notification Icon of SuiteCRM at Top Right Corner.
Send Birthday, Marriage and Work Notification like before/after the particular date of event.
Able to Customize default templates.
Able to Create New Template for Birthday, Marriage, Work and Other type of Templates. Once you Create New Template for particular Category then it'll be added in Defaults templates of particular Category.
Able to Add Module field's condition. If Condition matched then only Notification triggered.
Able to Send Email Notification to All user of System, Selected User, Module Records owner or Individual Person.
If Status is Active of Reminder And Notification then only Notification Triggered.
Getting started
Supported Versions
7.3.0 to 7.11.15