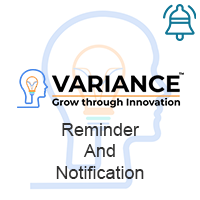 The Reminder and Notification extension for SuiteCRM from Variance InfoTech helps to automate reminders for any date or date time field. Great for getting In-App or Email notifications whenever there is an upcoming birthday, anniversary, contract renewal, or anything else that matters for your unique business needs.
#2432 - Birthday Reminder
Closed
Bug?
created by rdprasadravi

Verified Purchase

2 years ago
I want to set birthday reminder only to active employees. I have a custom module (where employee enter thier DOB). In the same module, I have a Employee Status (Active/Inactive) which is not showing the dropdown in Add Conditions step.
Note: Employee Status field is not in the Edit View but it is there in the Detailed View of the custom module.
Supported Versions
7.7.0 to 7.12.6