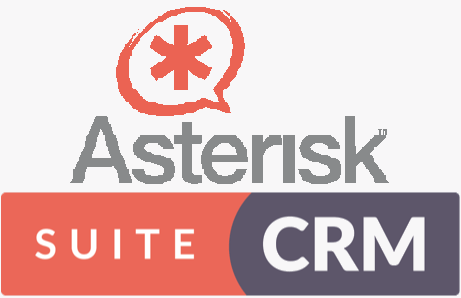 SuiteCRM Asterisk Integration, Click To Call, Call Notification Popup, Call Logs, Call Recordings, Call notes, Call transfer. Supports Asterisk, FreePBX, Elastix, ViCiDial, FusionPBX, Freeswitch, Twilio, Kaleyra , MyOperator
User Guide
User Settings
Open User Profile and Asterisk Integration Settings panel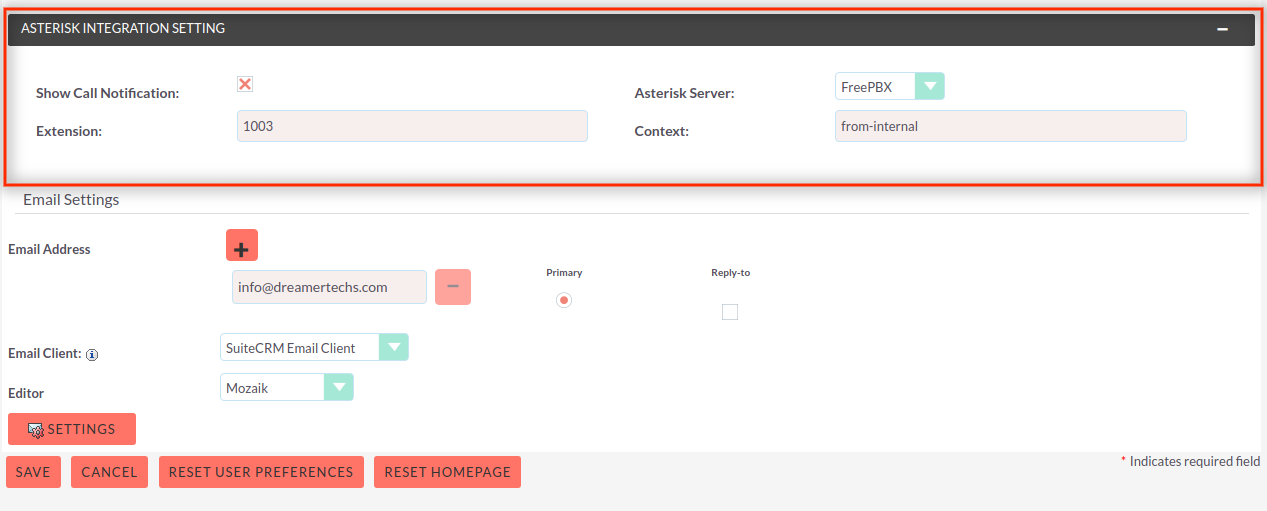 After you complete your User Profile settings, You need to Logout and Login again, after login, you will get the Asterisk Call Notification bar on the right bottom corner as shown in the image below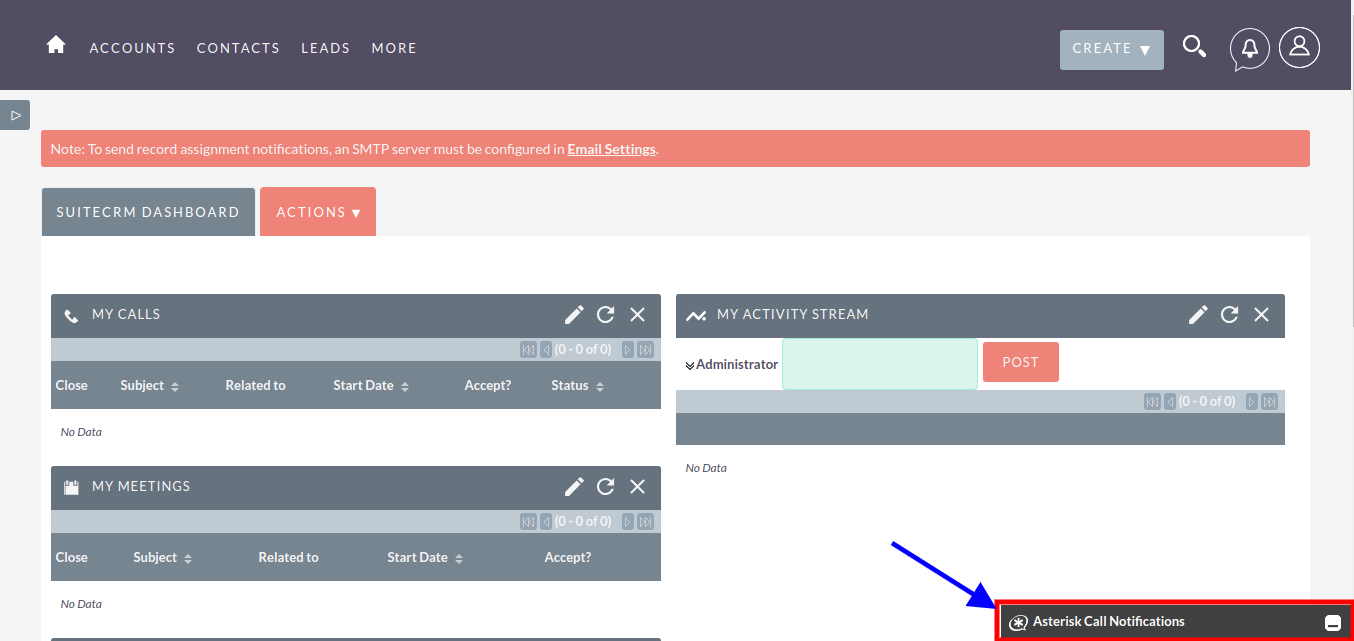 You will get the Call Icon beside every Phone type field. On clicking the Call Icon, the call will be placed to the number.
Note: You must keep your extension registered which is mentioned in your User Profile.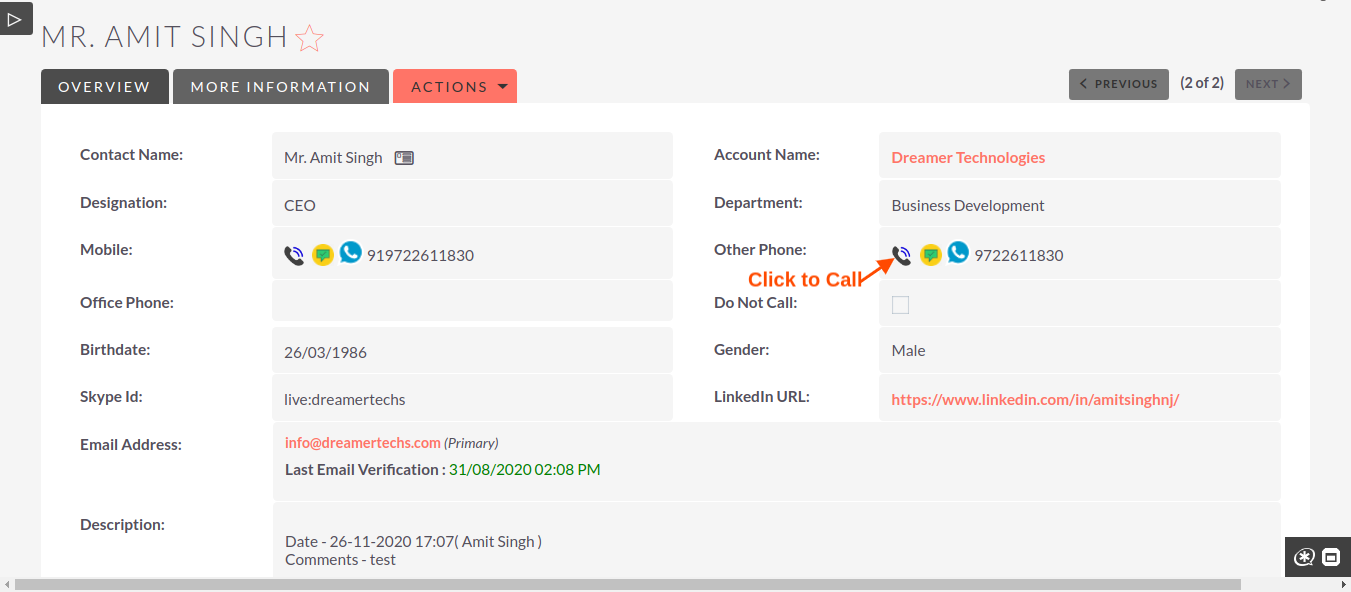 You will first get the call on your SIP phone, on receiving up the Call on the SIP phone, the call will be will be placed to give a number.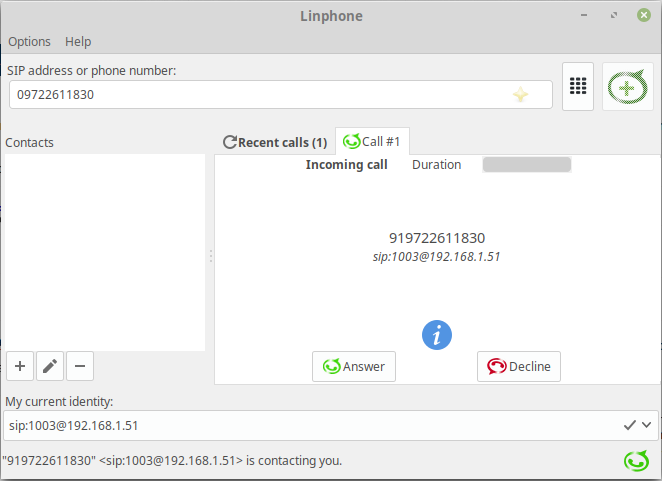 Once the Call has been dialed to the number, immediately you will receive Call Notification
Note: You can Hangup Or Transfer the ongoing call from Call Notification Popup itself, as shown in the image below

After the Call gets finished, you can set the Disposition Code And Add the Call Description, and Save it.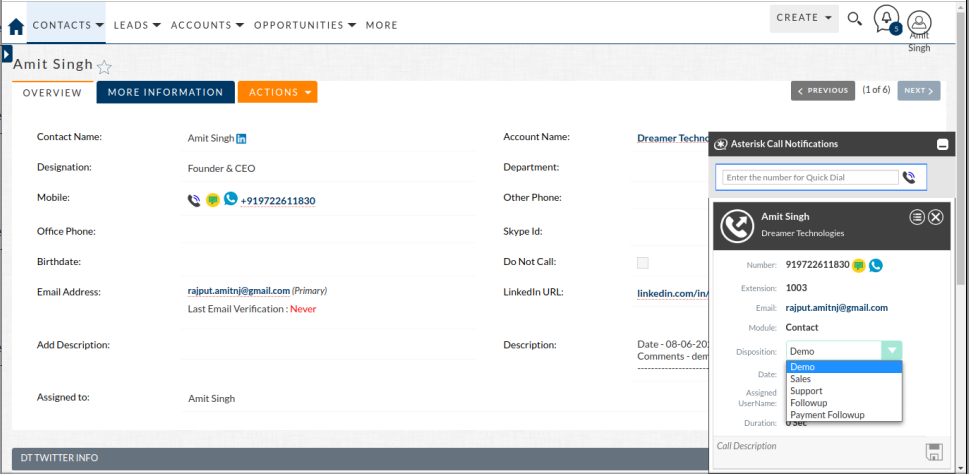 Call Description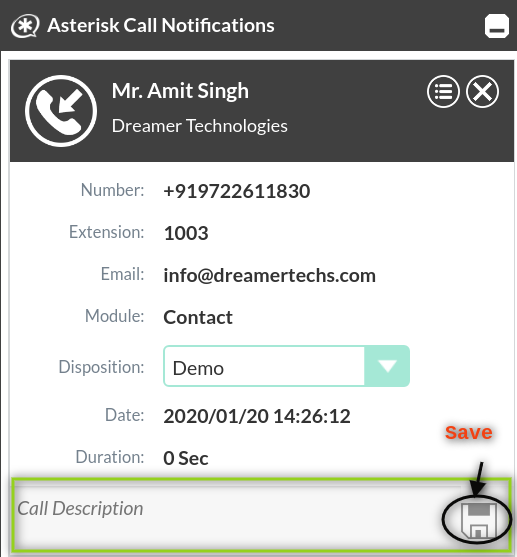 You can create Opportunity, Case, Lead, Schedule Meeting, Log Call from Call Notification Popup, Or Even you can create Lead, Contact Or Account in case of number is unknown.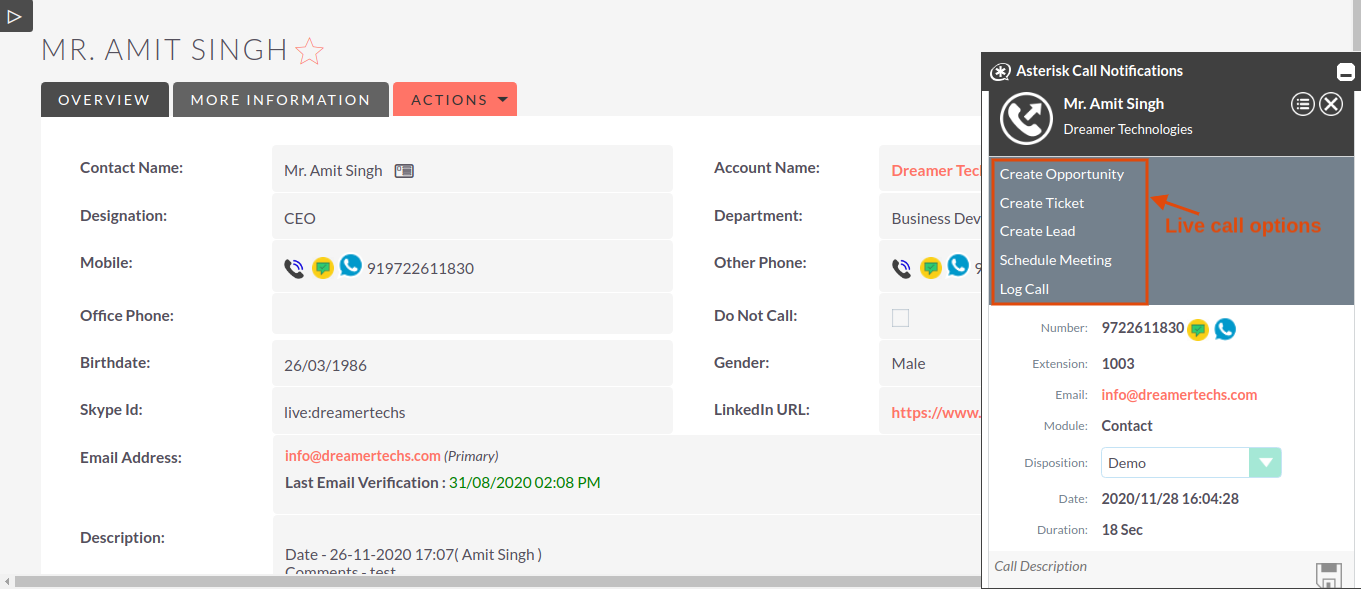 All the calls will be logged into the Asterisk Calls Module

Asterisk Calls will also be related to Contacts, Leads Or Accounts, into Asterisk, Calls Subpanel
You can open the Asterisk Call, and get the per call details like extension, number, direction, status, duration, etc, and also you can listen to the recording link from here only.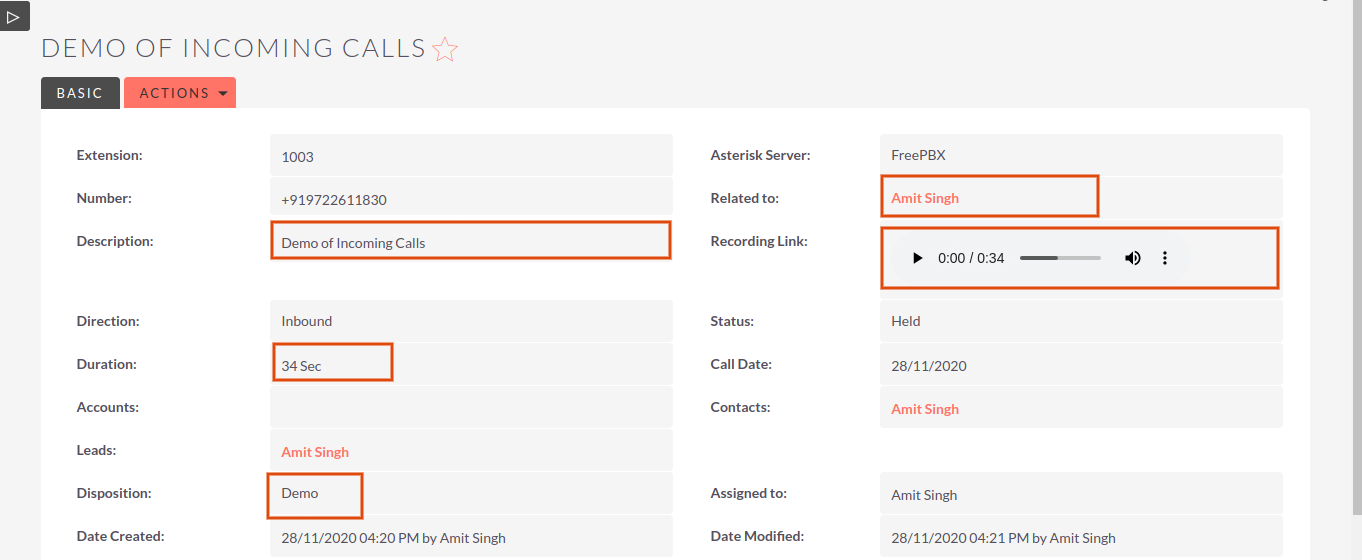 The Disposition Codes displayed into Call Notification Popup are dynamic, and you can change those values from Admin > Studio > Asterisk Calls > Fields > Disposition > Edit Dropdown list.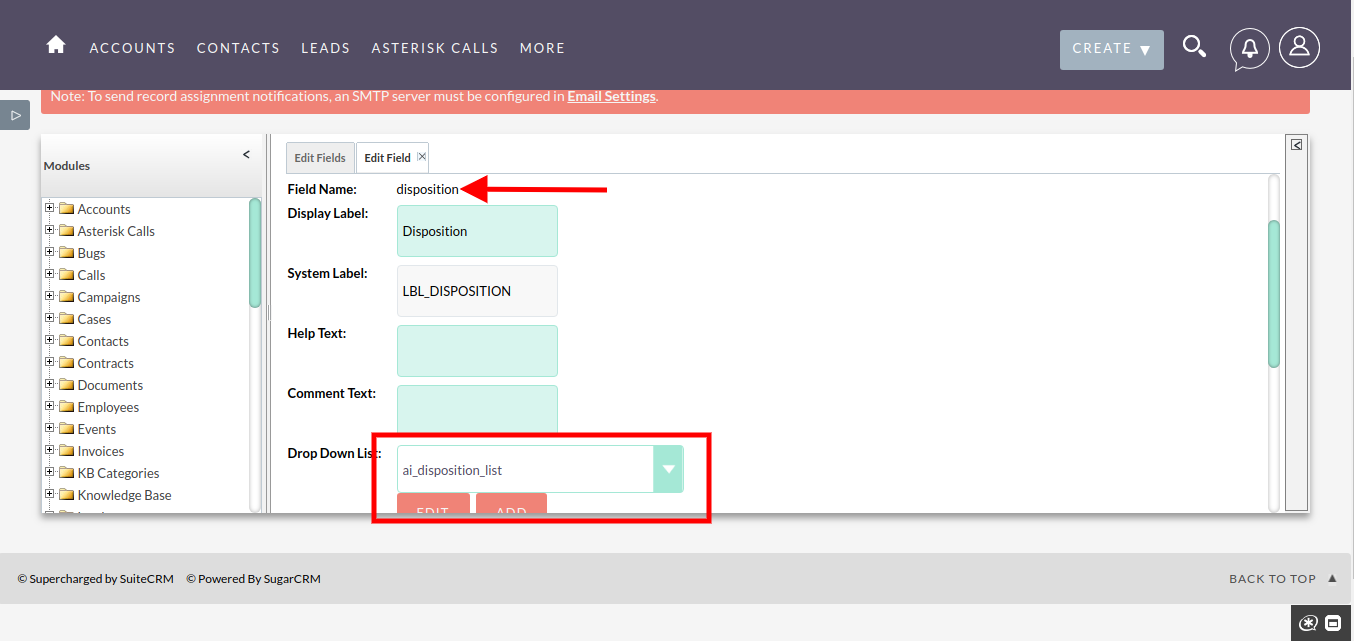 Supported Versions
7.0.0 to 8.2.2