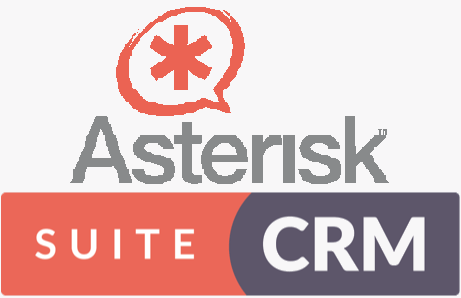 SuiteCRM Asterisk Integration, Click To Call, Call Notification Popup, Call Logs, Call Recordings, Call notes, Call transfer. Supports Asterisk, FreePBX, Elastix, ViCiDial, FusionPBX, Freeswitch, Twilio, Kaleyra , MyOperator
Requirements
Requirements For Hosted SuiteCRM Server
You need to have support to run NodeJS application on the server where SuiteCRM is hosted.
If NodeJS is not installed on hosted server, asked your Server Administrator to do it for you.
You can take help from https://nodejs.org/
Or you can download and install NodeJS from enter link description here by your own.
Requirements For Asterisk Configuration
Asterisk Server IP
AMI Username
AMI Port
AMI Password
Note : AMI Stands For Asterisk Manager Interface
Requirements For Asterisk Server
You need to enable CDR Event into Asterisk Server in order to have Call Logs features
You need to enable event filtering for better performance, to enable events filtering add below line
For Asterisk 11 and below: eventfilter=Event: Dial eventfilter=Event: Bridge eventfilter=Event: Cdr
For Asterisk 12 and above: eventfilter=Event: DialBegin eventfilter=Event: BridgeEnter eventfilter=Event: Cdr
Other Requirements
You must have SIP Phone (any soft-phone or IP phone) registered with your extension to use Click To Call functions.
Supported Versions
7.0.0 to 8.2.2