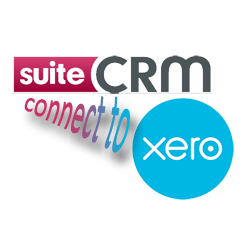 SuiteCRM BI-Directional link to Xero Automated BI-DIRECTIONAL synch between SuiteCRM and Xero, synch most recent record. Accounts, Contacts, Invoice and Products, connect and forget. Synch based on your criteria. This module also gives you the ability to manually update Accounts/Contacts/Invoice records to/from Xero
Overview
One of the biggest time wasters in any business is double (or more) handling of data. Contact data especially is stored in disparate pieces of software all serving different business functions. Spreadsheets, email accounts, online banking apps, accounting software, CMS/websites, CRM's... the list feels like it's endless.
What happens when you update the contact record in one of those repositories? It has to be created or updated in some, if not ALL of them. APIs (Application Programming Interface) were created to address this issue, and Xero, the online Accounting platform, has a great one.
We have created a Suite to Xero module to help address the issue of double entry between your CRM and the Xero Accounting package. Our Suite to Xero module creates a connection between SuiteCRM and your Xero account allowing for the creation of new contact records in Xero from SuiteCRM Accounts and Contact records, related Invoices and Products are also created. If you create a webhook in Xero, this functionality can be configured to work either OR both ways.

Functionality includes the ability to download ALL records FROM Xero or to SEND all records TO Xero. This is especially helpful with greenfields installations, of either Xero or Suite. We've also added our own log file to help troubleshoot any problems that may arise between Xero and Suite. Turn it on or off at your convenience and save yourself the trouble of trying to find errors in the default suitecrm.log file.
MANUAL OPTIONS Manual options for Invoices include the ability to update TO or FROM Xero from EITHER the detail or list view of the Invoices module and you can create an Invoice in Xero from a SuiteCRM Quote. Can't tell which Accounts are linked to Xero? Select them all and go to your Bulk Action -> Get Xero Invoices menu and we'll do the linking for you...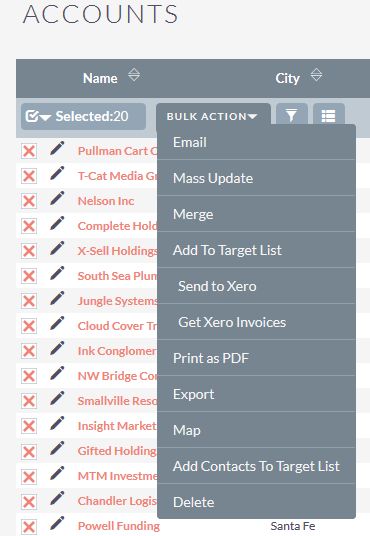 If you require ANY customisation of your Xero connection to the CRM e.g. synchronised downloads, custom work flow notification of invoice status changes etc please don't hesitate to contact us
SEND TO XERO FROM LIST VIEWS
Yes, we've created the Send to Xero function and made it available from the list view of both the Contacts and Accounts modules in SuiteCRM. Select your contacts/accounts and click on the Send to Xero menu option, it couldn't get any easier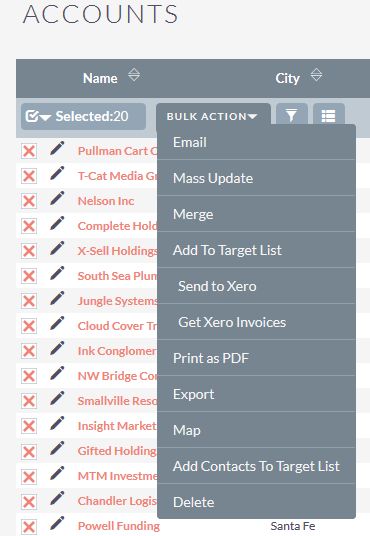 Getting started
Manual Configuration
The installation and configuration of the Suite to Xero Connector requires some interaction from the purchaser - please see our Installation Guide for more information.
You are required to - - create a new Xero application on your Xero account and enter those details using the SuiteCRM Admin -> Xero Configuration interface in SuiteCRM. - if your installation requires synching FROM Xero, you'll need to create a webhook implementation on Xero, enter those details into your Xero Configuration interface and ensure that a connection between your Suite installation and Xero has been created
IMPORTANT You MUST run an Admin -> Repair -> Quick Repair and Rebuild after installing the module. After completed scroll to the bottom of the screen and click on the Execute button to run the required SQL. This process allows the Invoice module in SuiteCRM to function correctly.
Supported Versions
7.10.0 to 8.0.3
Most Recent Love from Users
ychon08