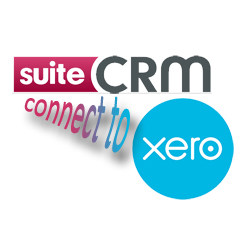 SuiteCRM connected to Xero
Create Accounts AND Invoices (ACCREC AND ACCPAY) in Xero from your Detail OR List views in SuiteCRM - no more double entry - Send all your SuiteCRM records to Xero - once there update them TO or FROM Xero, quick links created to those records
OAuth 2.0 Update
The add-on has been updated to support the new OAuth 2.0 requirements specified by Xero.
Why Use the Suite to Xero Connector?
Pretty simply, double handling of customer data is the bane of every business. Customer data stored in multiple repositories, updated in one and not in another... and you've got to consider the increased chances of human error with those updates. Take the worry out of the equation, create your contacts once in SuiteCRM and push those details to Xero, create an invoice in Xero from an Inovice OR a Quote in SuiteCRM. Update those Invoices EITHER to Xero OR from Xero in detail and list views. Handy Xero Link fields created in the Contacts, Accounts, Invoices and Quote modules for ease of access to the Xero record... it couldn't get any easier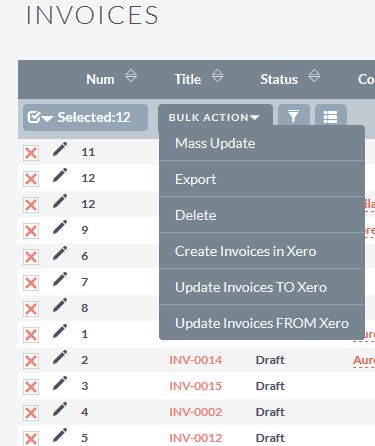 UPDATED FUNCTIONALITY
The Suite to Xero module now supports BOTH ACCREC and ACCPAY records. A new custom field in the SuiteCRM Invoices module includes ALL the currently defined ACCPAY categories. Add the Xero Type and Xero Expense Codes fields to your Invoices Edit view and create bills directly in Xero from SuiteCRM. If you have created custom ACCPAY entries in Xero, add those items to the Xero Expense Codes field in Studio and you're good to go

Once you've created your Bill, Suite to Xero creates a handy link directly to that entry in Suite. This functionality is also available in ALL of the functions that send or update Invoices to Xero
IMPORTANT If you are using the Suite to Xero module to process large numbers of records to Xero you may need to increase your PHP (max_execution_time) settings to allow the time taken to process each record OR break the process down into smaller numbers of records at a time.
What does it DO?
From the Contacts record detail view - Send to Xero, creates a Contact record in Xero based on the related Account record. If there is NO related Account, it uses the Contact records details. The Xero Link and Xero ID fields of the Account AND ALL related Contacts are filled for ease of access to your Xero records. Add those fields to your List view so you can easily filter which Contacts/Accounts are currently in Xero and which aren't.
From the Contacts list view - Send to Xero, creates MULTIPLE records in Xero using the methodology outlined above
Once Contacts are Sent to Xero you can Update to Xero that record OR multiple records from List view
The same functions are available from the Account records in Suite, however, if you have more than 1 Contact related to the Account, Suite to Xero will create 5 records associated to the primary Account record. You can choose which record becomes the primary contact
Once the Contacts/Accounts have been sent to Xero you'll see a new Get Xero Invoices option in the Detail View -> Actions menu AND the List View -> Bulk Actions menu. Download ALL invoices from Xero that are associated with the underlying Account/Contact
From the Quotes or Invoices detail view - Create an Invoice in Xero option. Creates a NEW Invoice in Xero using all the data in the Quote/Invoice. It will create the products in Xero if they don't already exist, and if the associated Account/Contact doesn't exist it will ask you if you want them to be created as well - now available, the ability to create ACCPAY entries in Xero from Suite
Once you've created the invoice in Xero, you have 2 new menu options in Detail View. Update this Invoice TO Xero and Update this Invoice FROM Xero. Keep your invoices synchronised the way YOU want to
From the Invoices List view -> Bulk Action menu, 3 new options. Create Invoices in Xero, Update Invoices TO Xero and Update Invoices FROM Xero
Use the Suite to Xero Monthly package and pay a low monthly fee. The Monthly plan contains ALL the functionality available in the Suite to Xero Full Plan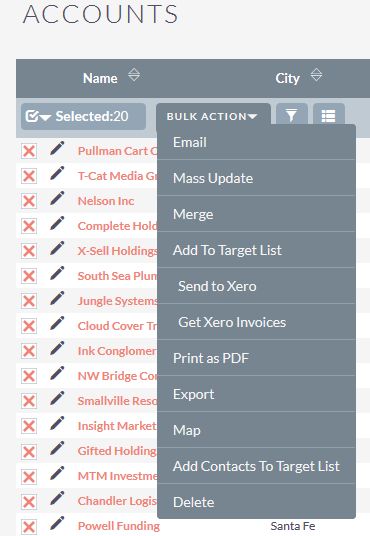 I've had a number of SMB's implementing CRM's as part of their business software application infrastructure. They have had to integrate them into their current business processes and are a bit weary of 'another place we have to enter customer details' Once we created the base linkage that allowed for the creation of customers in Xero directly from Accounts/Contact records in SuiteCRM it was a matter of finding what other functionality would a business require? Create invoices?, list all invoices for Sales and Accounts staff? The structure of the Suite to Xero module allows us to add extra functionality simply and quickly
View your Xero invoices in SuiteCRM Account/Contact Invoice subpanels with Quick Links to the Xero record

Keep your eyes on our listing, coming soon a Scheduler job that will update ALL your invoices (download the Xero invoices into SuiteCRM - choose which way to synch, up from Suite or down from Xero) We're also looking at creating a new Send Xero Invoice function, send the Invoice in Xero DIRECTLY from Suite...
Once you have installed our Suite to Xero module and configured it, it becomes quite simple for us to create further functionality for you. If you have any particular requirements, don't hesitate to contact us with them.
Supported Versions
7.0.0 to 7.11.18
Most Recent Love from Users
ychon08