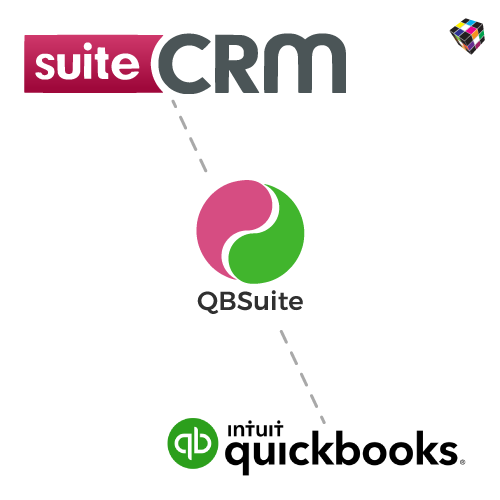 Bidirectionally sync Products, Contacts, Invoices and Quotes between SuiteCRM & QuickBooks online.
Features
Features
Sync Contacts, Products, Quotes and Invoices from SuiteCRM to QuickBooks and vice-versa.
Sync records securely with QuickBooks API.
Keep both QuickBooks and SuiteCRM updated with latest information with Instant sync and schedule sync with Cron.
Sync all your records from SuiteCRM to QuickBooks in a single click.
Intuitive mapping to relate QuickBooks field with their corresponding SuiteCRM fields.
Save the mapping as a template and customize when needed for Quote & Invoice.
Complete sync log to audit and track the record sync information.
Queue to order the record sync list to execute one after the other without manual intervention.
Limitations
Bundled products in QuickBooks can't be synced to SuiteCRM.
Services can't be synced because there is no Service module in SuiteCRM. But the Services in Invoice's line item alone will be synced.
Note
Shipping Tax in SuiteCRM will be synced as Tax in QuickBooks.
Deposit amount in QuickBooks cannot be synced back to SuiteCRM. Because there is no option to add deposit in SuiteCRM.
Tax codes from QuickBooks can be synced to SuiteCRM. The previously added Tax codes in SuiteCRM will be disabled. Adding new tax codes in SuiteCRM will cause an error in calculation.
If contact and Product need to be related with Invoice. If not, the Invoice will not be synced to QuickBooks.
Supported Versions
7.0.0 to 7.11.13