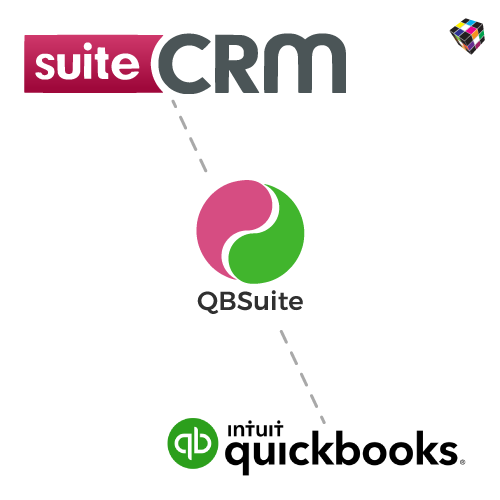 Bidirectionally sync Products, Contacts, Invoices and Quotes between SuiteCRM & QuickBooks online.
Module Sync Rules
To sync the Contacts, Invoices and Products the following rules and mandatory requirements need to be followed. The rules & mandatory information listed are the standards & limitations of QuickBooks.
Contact Module Requirements:
The DisplayName, Title, GivenName, MiddleName, and FamilyName attributes do not have colon (:), tab (\t), or newline (\n) characters.
The DisplayName attribute must be unique across all other customers, employee, and vendor objects.
The PrimaryEmailAddress attribute must have (@) at sign and (.) dot.
For Title, maximum 15 chars allowed.
For GivenName, maximum 25 chars allowed.
For Middle Name, maximum 25 chars allowed.
For Family Name, maximum 25 chars allowed.
For, Suffix maximum 10chars allowed.
Company Name do not exceed 50 charts.
Phones should have only numbers & should not exceed 21 characters.
Product Module Requirement:
Name can have 100 characters at the maximum.
SKU can have alpha numeric characters with maximum 100 chars.
IncomeAccount in SuiteCRM is mandatory for Inventory and Service Item Type in QuickBooks
ExpenseAccount in SuiteCRM is mandatory for Inventory, Non Inventory and Service Item type in QuickBooks.
AssetAccount is mandatory in SuiteCRM.
Note:
If you have mapped the Account incorrectly then you will be receiving a error report from QuickBooks.
Invoice Module Requirement:
An Invoice must have at least one Line either for a sales item or inline subtotal.
An Invoice must have Customer populated.
Invoice must be related with Products and Customer.
If you haven't mentioned ShipAddr, BillAddr, or both then the appropriate customer address from the referenced Customer object is used to fill those values.
Supported Versions
7.0.0 to 7.11.13