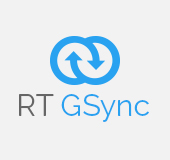 Become more efficient! Enter everything just once. Automatically sync Emails, Calendars, Contacts, and Documents between Google Apps and SuiteCRM. Get your Gmail, Contacts, Calendar items and Documents automatically synced instantly with this seamless integration.
RT GSync Documentation
RT GSync Documents
Click on the following link to view and download the RT GSync User Guide:
* SuiteCRM 7 and up - User Manual
FAQs
Click here to see the Frequently asked questions of RT GSync Plugin.
Version History
Click here to see the version history of RT GSync Plugin.
Support
Create a ticket here. Or contact support@rolustech.com.
Troubleshooting
Click here if you are facing any trouble using RT GSync Plugin.
Supported Versions
7.8.0 to 7.11.8