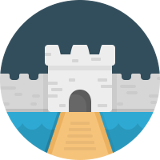 Control what your users can access and save time, money, and frustrations. Lock down sensitive data in SuiteCRM to specific groups or teams. Supports unlimited assigned users, unlimited group assignments to records, custom layouts for each group, login/sudo capabilities and much more.
#3505 - Missing Create button when Edit role is set to none
Closed
Bug?
created by Davint

Verified Purchase

a year ago
Hello,
I've created a custom module and I've set the permissions for my logged in users in the following way:
Create - all Edit - none
With this settings, my users were supposed to create new documents and even see the created documents, but not to edit them. However, when I set this permissions like this, the CREATE button in the top menu just disappeared, making it impossible for my users to create a new document. They still can see any other documents they had created before, but not to create anything new.
What can I do? Thanks,
Supported Versions
7.6.2 to 7.12.6