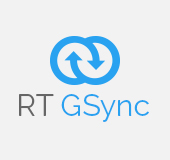 Become more efficient! Enter everything just once. Automatically sync Emails, Calendars, Contacts, and Documents between Google Apps and SuiteCRM. Get your Gmail, Contacts, Calendar items and Documents automatically synced instantly with this seamless integration.
#232 - Failure in installation
Closed
Bug?
created by thomas1 5 years ago
Hi! I cannot work with RT GSync. After installing and validating the licence key, there happens - nothing.

That´s it! I cannot enable any users. What´s wrong?
We use version 7.7.
Best regards Thomas
Supported Versions
7.8.0 to 8.0.1