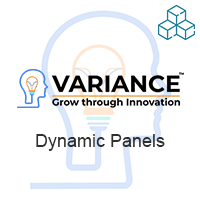 Need to show or hide fields or panels based on the value of another field? For this requirement Dynamic Panels is the perfect solution. The advanced configuration tools allow you to clearly define what should happen whenever a field value changes.
#2782 - panel hide not working properly
hi,
we have created rule to show another panels in a particular tab, it has been observed that particular panel shows by default even if not satisfied when a condition matches .
we have already shared credentials to you so you can check in opd module , where you select a joint type like shoulder but vales if knee also reflected . even we deselect shoulder again, knee vales remains but shoulder vales are hidden.
this is a dummy case to check its working so this situation shows why first panel knee shows by default.
regards,
CA. B.C.CHECHANI CELL ; 8875627151
Supported Versions
7.7.0 to 7.12.6