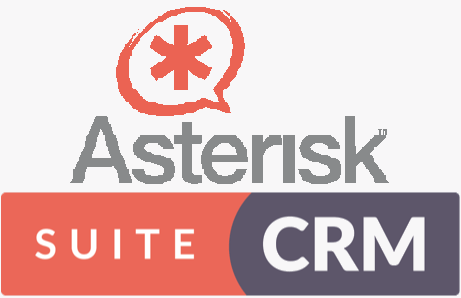 SuiteCRM Asterisk Integration, Click To Call, Call Notification Popup, Call Logs, Call Recordings, Call notes, Call transfer. Supports Asterisk, FreePBX, Elastix, ViCiDial, FusionPBX, Freeswitch, Twilio, Kaleyra , MyOperator
#2660 - Error Asterisk Integration module !
Closed
General Question
created by farpost 2 years ago
Hi, we bought the Asterisk SuiteCRM Integration module from you . We installed the module according to the instructions . But it doesn ' t star t her e . What could be the reason ?
1) Screenshot of the chrome browser developer console, if you click on the number 1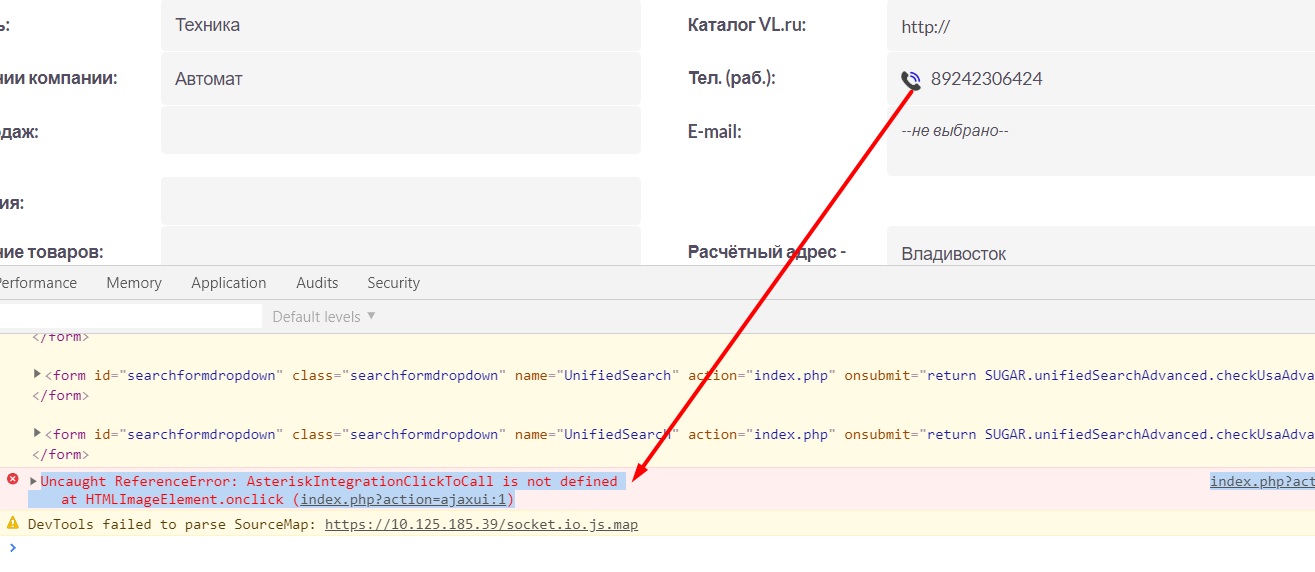 2) Screenshot of the module's administrative panel , but the pid is not displayed

3) Screenshot of user settings

4)
Node version - Node.js v13.11.0. npm version 6.13.7 FreePBX 13.0.197.22 Current Asterisk Version: 11.24.1 suitecrm 7.11.8
5) logs nginx : 2020/03/25 12:50:38 [error] 26505#26505: *241 FastCGI sent in stderr: "PHP message: PHP Notice: Undefined index: LNK_LIST in /var/www/crm.ru/modules/AsteriskIntegration/M$ PHP message: PHP Stack trace: PHP message: PHP 1. {main}() /var/www/crm.ru/index.php:0 PHP message: PHP 2. SugarApplication->execute() /var/www/crm.ru/index.php:54 PHP message: PHP 3. SugarController->execute() /var/www/crm.ru/include/MVC/SugarApplication.php:113 PHP message: PHP 4. SugarController->processView() /var/www/crm.ru/include/MVC/Controller/SugarController.php:375 PHP message: PHP 5. ViewClassic->process() /var/www/crm.ru/include/MVC/Controller/SugarController.php:435 PHP message: PHP 6. ViewClassic->displayHeader() /var/www/crm.ru/include/MVC/View/SugarView.php:218 PHP message: PHP 7. ViewClassic->getMenu() /var/www/crm.ru/include/MVC/View/SugarView.php:446 PHP message: PHP 8. require() /var/www/crm.ru/include/MVC/View/SugarView.php:1392 PHP message: PHP Notice: Undefined index: LNK_LIST in /var/www/crm.ru/modules/AsteriskIntegration/Menu.php on line 17 PHP message: PHP Stack trace: PHP message: PHP 1. {main}() /var/www/crm.ru/index.php:0 PHP message: PHP 2. SugarApplication->execute() /var/www/crm.ru/index.php:54 PHP message: PHP 3. SugarController->execute() /var/www/crm.ru/include/MVC/SugarApplication.php:113 PHP message: PHP 4. SugarController->processView() /var/www/crm.ru/include/MVC/Controller/SugarController.php:375 PHP message: PHP 5. ViewClassic->process() /var/www/crm.ru/include/MVC/Controller/SugarController.php:435 PHP message: PHP 6. ViewClassic->displayHeader() /var/www/crm.ru/include/MVC/View/SugarView.php:218 PHP message: PHP 7. ViewClassic->getMenu() /var/www/crm.ru/include/MVC/View/SugarView.php:741 PHP message: PHP 8. require() /var/www/crm.ru/include/MVC/View/SugarView.php:1392" while reading response header from upstream, client: 10.250.0.33, server: , request: "$ 2020/03/25 12:52:56 [error] 26505#26505: *294 FastCGI sent in stderr: "PHP message: PHP Notice: Undefined index: LNK_LIST in /var/www/crm.ru/modules/AsteriskIntegration/M$ PHP message: PHP Stack trace: PHP message: PHP 1. {main}() /var/www/crm.ru/index.php:0 PHP message: PHP 2. SugarApplication->execute() /var/www/crm.ru/index.php:54 PHP message: PHP 3. SugarController->execute() /var/www/crm.ru/include/MVC/SugarApplication.php:113 PHP message: PHP 4. SugarController->processView() /var/www/crm.ru/include/MVC/Controller/SugarController.php:375 PHP message: PHP 5. AccountsViewDetail->process() /var/www/crm.ru/include/MVC/Controller/SugarController.php:435 PHP message: PHP 6. AccountsViewDetail->displayHeader() /var/www/crm.ru/include/MVC/View/SugarView.php:283 PHP message: PHP 7. AccountsViewDetail->getMenu() /var/www/crm.ru/include/MVC/View/SugarView.php:741 PHP message: PHP 8. require() /var/www/crm.ru/include/MVC/View/SugarView.php:1392" while reading response header from upstream, client: 10.250.0.33, server: , request: "$ 2020/03/25 13:37:01 [error] 26505#26505: *1095 FastCGI sent in stderr: "PHP message: PHP Notice: Undefined index: LNK_NEW_RECORD in /var/www/crm.ru/modules/AsteriskIntegr$ PHP message: PHP Stack trace: PHP message: PHP 1. {main}() /var/www/crm.ru/index.php:0
2020/03/25 12:52:56 [error] 26505#26505: *294 FastCGI sent in stderr: "PHP message: PHP Notice: Undefined index: LNK_LIST in /var/www/crm.ru/modules/AsteriskIntegration/M$ PHP message: PHP Stack trace: PHP message: PHP 1. {main}() /var/www/crm.ru/index.php:0 PHP message: PHP 2. SugarApplication->execute() /var/www/crm.ru/index.php:54 PHP message: PHP 3. SugarController->execute() /var/www/crm.ru/include/MVC/SugarApplication.php:113 PHP message: PHP 4. SugarController->processView() /var/www/crm.ru/include/MVC/Controller/SugarController.php:375 PHP message: PHP 5. AccountsViewDetail->process() /var/www/crm.ru/include/MVC/Controller/SugarController.php:435 PHP message: PHP 6. AccountsViewDetail->displayHeader() /var/www/crm.ru/include/MVC/View/SugarView.php:283 PHP message: PHP 7. AccountsViewDetail->getMenu() /var/www/crm.ru/include/MVC/View/SugarView.php:741 PHP message: PHP 8. require() /var/www/crm.ru/include/MVC/View/SugarView.php:1392" while reading response header from upstream, client: 10.250.0.33, server: , request: "$ $Integration/Menu.php on line 12 PHP message: PHP Stack trace: PHP message: PHP 1. {main}() /var/www/crm.ru/index.php:0 PHP message: PHP 2. SugarApplication->execute() /var/www/crm.ru/index.php:54 PHP message: PHP 3. SugarController->execute() /var/www/crm.ru/include/MVC/SugarApplication.php:113 PHP message: PHP 4. SugarController->processView() /var/www/crm.ru/include/MVC/Controller/SugarController.php:375 PHP message: PHP 5. ViewClassic->process() /var/www/crm.ru/include/MVC/Controller/SugarController.php:435 PHP message: PHP 6. ViewClassic->displayHeader() /var/www/crm.ru/include/MVC/View/SugarView.php:218 PHP message: PHP 7. ViewClassic->getMenu() /var/www/crm.ru/include/MVC/View/SugarView.php:446 PHP message: PHP 8. require() /var/www/crm.ru/include/MVC/View/SugarView.php:1392 PHP message: PHP Notice: Undefined index: LNK_LIST in /var/www/crm.ru/modules/AsteriskIntegration/Menu.php on line 17 PHP message: PHP Stack trace: PHP message: PHP 1. {main}() /var/www/crm.ru/index.php:0 PHP message: PHP 2. SugarApplication->execute() /var/www/crm.ru/index.php:54 PHP message: PHP 3. SugarController->execute() /var/www/crm.ru/include/MVC/SugarApplication.php:113 PHP message: PHP 4. SugarController->processView() /var/www/crm.ru/include/MVC/Controller/SugarController.php:375 PHP message: PHP 5. ViewClassic->process() /var/www/crm.ru/include/MVC/Controller/SugarController.php:435 PHP message: PHP 6. ViewClassic->displayHeader() /var/www/crm.ru/include/MVC/View/SugarView.php:218 PHP message: PHP 7. ViewClassic->getMenu() /var/www/crm.ru/include/MVC/View/SugarView.php:446 PHP message: PHP 8. require() /var/www/crm.ru/include/MVC/View/SugarView.php:1392 PHP message: PHP Notice: Undefined index: LNK_NEW_RECORD in /var/www/crm.ru/modules/AsteriskIntegration/Menu.php on line 12
PHP message: PHP 1. {main}() /var/www/crm.ru/index.php:0 PHP message: PHP 2. SugarApplication->execute() /var/www/crm.ru/index.php:54 PHP message: PHP 3. SugarController->execute() /var/www/crm.ru/include/MVC/SugarApplication.php:113 PHP message: PHP 4. SugarController->processView() /var/www/crm.ru/include/MVC/Controller/SugarController.php:375 PHP message: PHP 5. ViewClassic->process() /var/www/crm.ru/include/MVC/Controller/SugarController.php:435 PHP message: PHP 6. ViewClassic->displayHeader() /var/www/crm.ru/include/MVC/View/SugarView.php:218 PHP message: PHP 7. ViewClassic->getMenu() /var/www/crm.ru/include/MVC/View/SugarView.php:446 PHP message: PHP 8. require() /var/www/crm.ru/include/MVC/View/SugarView.php:1392 PHP message: PHP Notice: Undefined index: LNK_LIST in /var/www/crm.ru/modules/AsteriskIntegration/Menu.php on line 17 PHP message: PHP Stack trace: PHP message: PHP 1. {main}() /var/www/crm.ru/index.php:0 PHP message: PHP 2. SugarApplication->execute() /var/www/crm.ru/index.php:54 PHP message: PHP 3. SugarController->execute() /var/www/crm.ru/include/MVC/SugarApplication.php:113 PHP message: PHP 4. SugarController->processView() /var/www/crm.ru/include/MVC/Controller/SugarController.php:375 PHP message: PHP 5. ViewClassic->process() /var/www/crm.ru/include/MVC/Controller/SugarController.php:435 PHP message: PHP 6. ViewClassic->displayHeader() /var/www/crm.ru/include/MVC/View/SugarView.php:218 PHP message: PHP 7. ViewClassic->getMenu() /var/www/crm.ru/include/MVC/View/SugarView.php:446 PHP message: PHP 8. require() /var/www/crm.ru/include/MVC/View/SugarView.php:1392 PHP message: PHP Notice: Undefined index: LNK_NEW_RECORD in /var/www/crm.ru/modules/AsteriskIntegration/Menu.php on line 12 PHP message: PHP Stack trace: PHP message: PHP 1. {m 2020/03/25 13:37:01 [error] 26505#26505: *1095 upstream sent too big header while reading response header from upstream, client: 10.250.0.33, server: , request: "GET /inde$
Supported Versions
7.0.0 to 8.2.2