If you are a SuiteCRM owner, you can provide users with field-level access in your CRM through SuiteCRM Field Level Access Control. Our plugin enables the admin to display only relevant field data to users who have been assigned roles.
SuiteCRM Field Level Access Control Plugin
As the admin of your SuiteCRM system, keep CRM data confined to certain users by restricting access to the users who are not eligible. Being a versatile plugin, it enables the admin to apply restrictions to list views, detail views, edit views, dashlets and pop ups.
SuiteCRM field level access control plugin comes with the facility of access right management. Using it, admin can take over the user access rights for different fields under custom or default modules, based on the assigned roles. It is also possible to manage the access rights of groups which entail multiple users under specific roles.
Here are some of the features of this plugin:
Access restriction on specific users depending on their roles.
Change/Remove/Edit restrictions anytime.
Apply restrictions on custom and default modules.
Nature of restriction could be read/write, owner read/owner write, owner read/owner write, not set, none and read only.
Benefits of SuiteCRM Field Level Access Control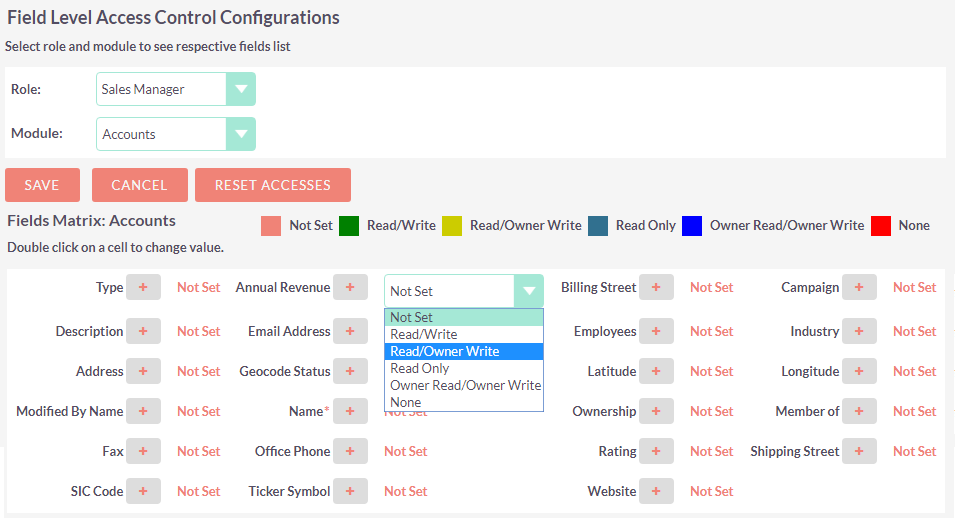 Admin can maintain keep the business data discreet by applying access restrictions to specific users as per the roles assigned to them.
The end users can be more focused and productive by avoiding the access to the fields that are irrelevant to them.
Managing Access Rights for specific groups containing multiple users.
Share relevant with specific users. Utilize this plugin and protect the data of your SuiteCRM from getting leaked!
You May Also Like
Supported Versions
7.10.0 to 7.13.3