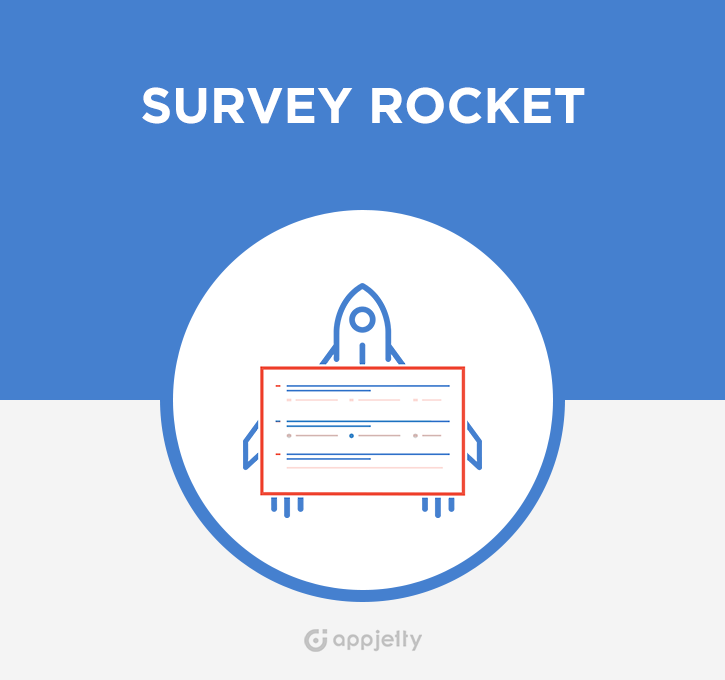 SuiteCRM Survey Plugin
Create , design and send attractive surveys to get actionable feedback from your prospects that can help you direct your business strategies. Get feedback directly from your respondents and easily manage them in SuiteCRM.
SuiteCRM – Survey Rocket
Make the Most Out of Your CRM Data and Conduct Effective Surveys with Ease
Create customized survey templates, online polls etc and trigger them automatically to get real-time feedback from your customers using Survey Rocket SuiteCRM Survey builder. You can also use the CRM data using outward and inward piping mechanism.
Automated surveys trigger communication at the right time and ensure prompt responses. Survey Rocket is a robust SuiteCRM based survey plugin that helps you to trigger marketing campaigns through automation. Being an independent SuiteCRM survey plugin, it doesn't ask for any third party integrations that work with your SuiteCRM system.
Survey Rocket - the SuiteCRM Customer Survey Tool comes built with features like branched surveys, data piping, automation, scheduling etc. You can use this SuiteCRM survey builder not just to create surveys but to manage them, get better survey responses and trigger survey campaigns using workflows.
A Sneak Peek into the Working of Survey Rocket
Why Choose Survey Rocket?
Survey Rocket has been developed from the scratch by keeping the attributes of SuiteCRM in mind. And that's why, you can easily integrate with your current Suite system.
From question templates, survey questionnaires, and design templates and many automation and analysis tools, it can fulfill all your feedback and survey requirements.
Leverage your CRM data fully to swiftly send surveys to your customers.
Pre fill the survey fields based on your current CRM data.
Automatically Update your CRM records based on survey responses.
Get better assessment of customer satisfaction.
Looking for a Survey Solution to Obtain Tangible Feedbacks?
For running your business successfully, you must obtain honest feedbacks for your prospects. And to be able to do that, you need to have a solution that helps you bridge the gap between you and your customers. Through Survey Rocket, you can know about your customer's interests, opinions, likes and dislikes and create business strategies based on the same.
Key Product Features
Create Survey Templates
Using AppJetty's SuiteCRM Survey Rocket, you can create numerous survey templates. After creating these templates, you can use them to create and generate multiple surveys.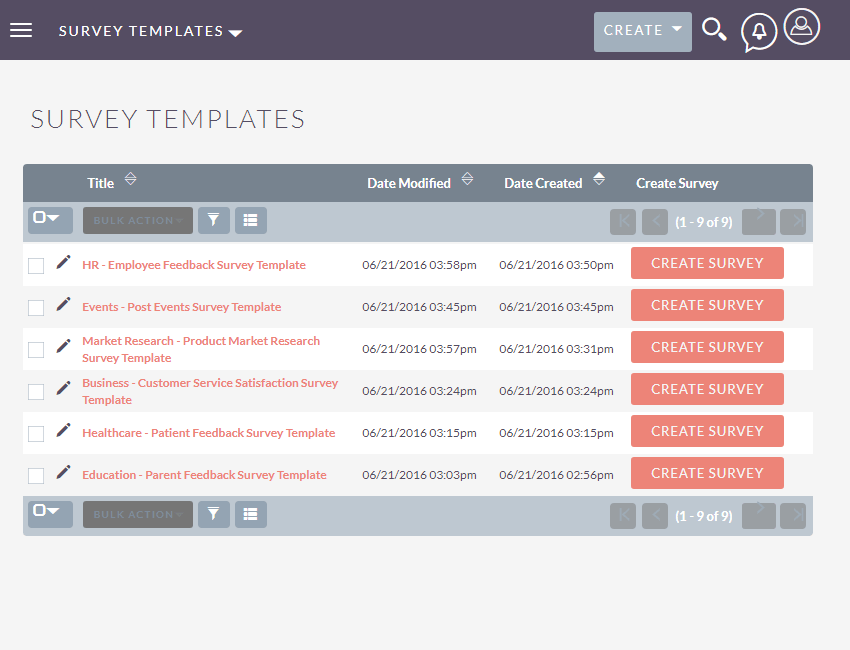 ---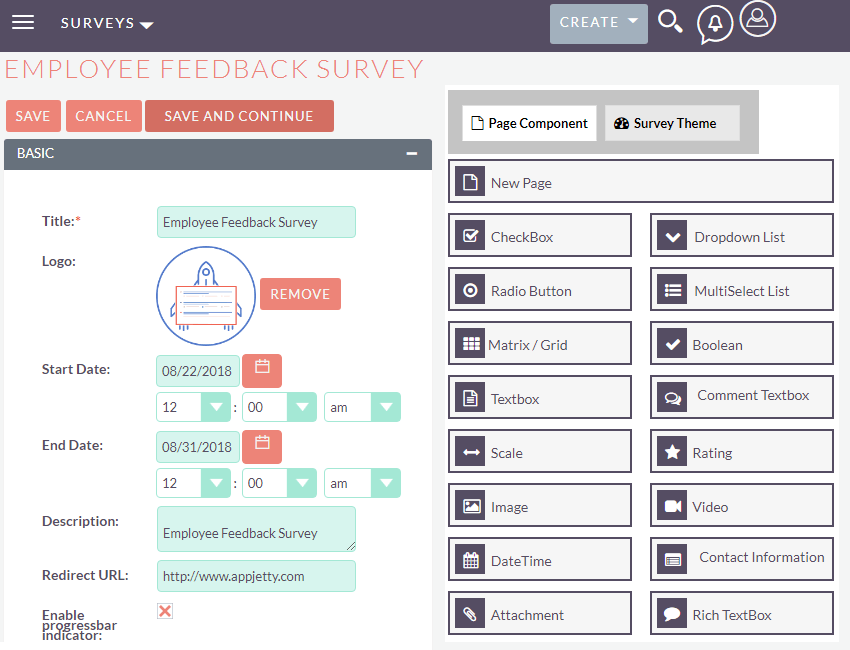 Create Different Surveys
Survey Rocket helps you to create several different types of surveys. It can be anything from the most basic survey, a survey with MCQs or a more complex one. Our SuiteCRM survey builder comes with a user-friendly and robust interface that enables you to create any type of survey.
---
GDPR-Friendly Forms
Use readymade survey forms based on GDPR policy for Contacts, Leads and Targets modules. The survey form fields are directly mapped to Suite Modules. Hence, you get your customers' consent through survey responses and update records based on their responses.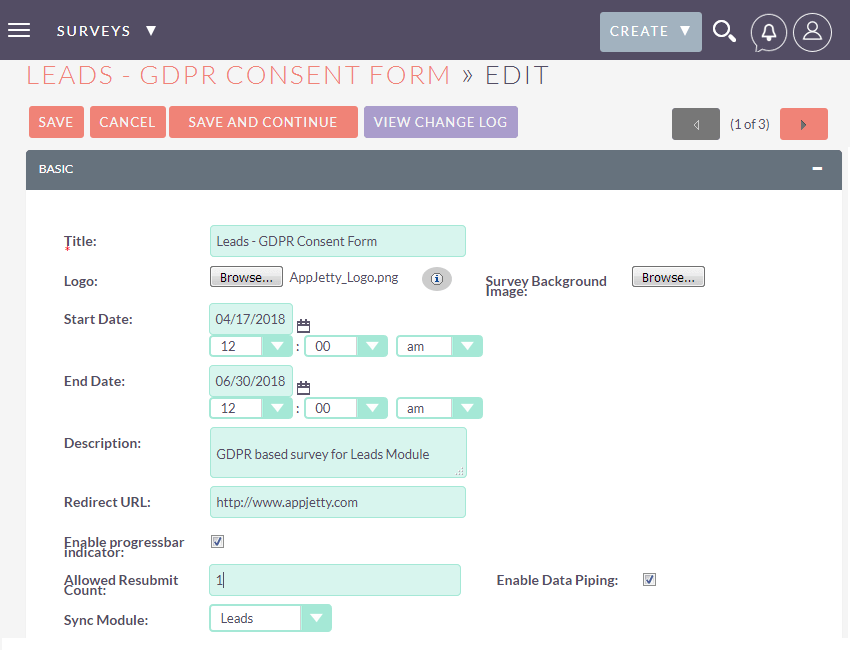 ---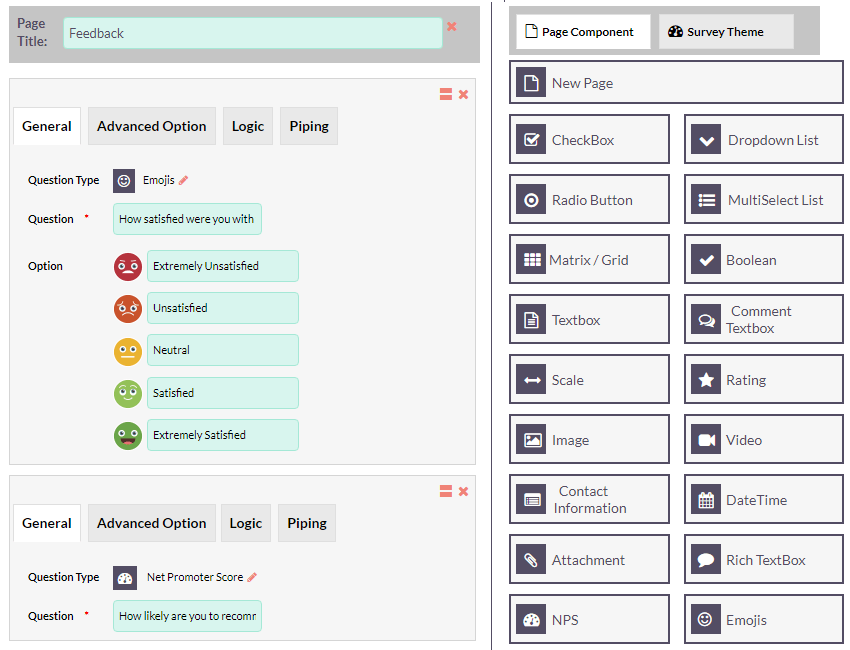 Multiple Question Types
Get an option of choosing from amongst various question types. After choosing the question type, create impeccable surveys and understand the respondents better.
---
Enable Score Calculation
Execute automated scoring in surveys and perform actions based on the results you receive. You can also set the scoring values according to the selected answer choices. The survey plugin helps you to get both; average and final score for every respondent for every question.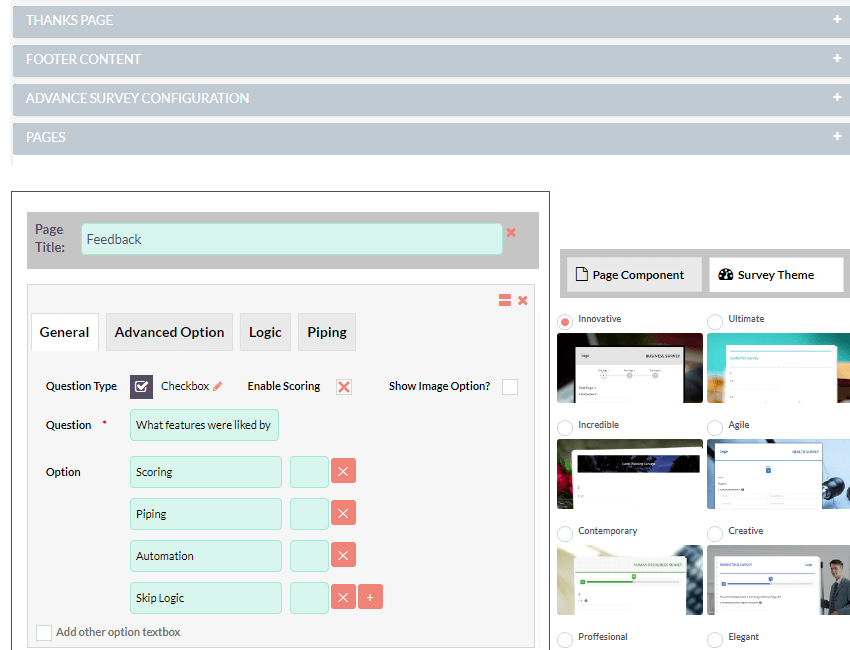 ---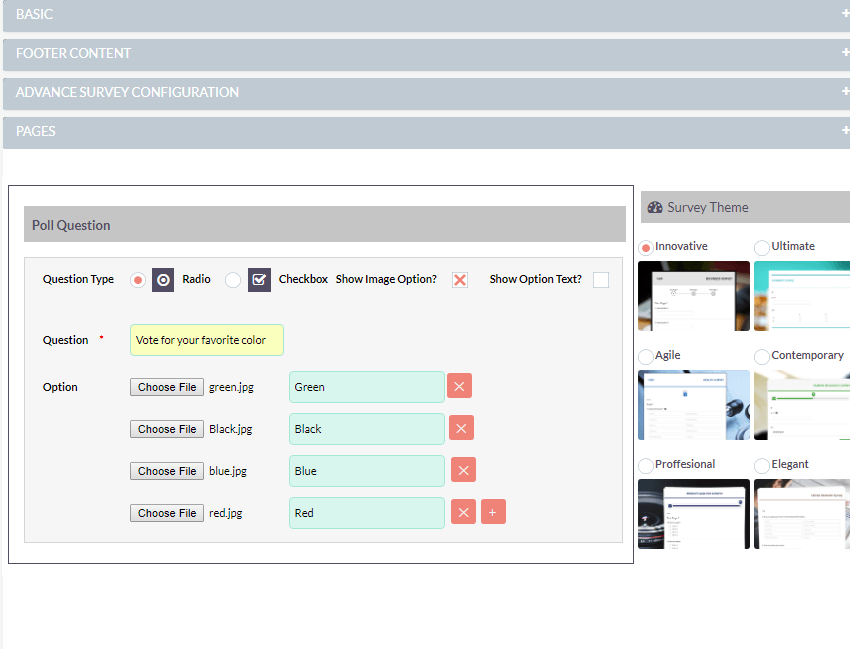 Create Polls
Using Survey Rocket Suitecrm Survey Builder, you can create polls effortlessly. You can keep multiple answer types checkbox for multiple options and choose radio buttons for single options. Along with text options, you can add relevant images as options as well. During instances where respondents can respond multiple times, you can allow multiple submissions.
---
Branding
Set the logo of your company and create the title as well as the description of your survey according to your requirements.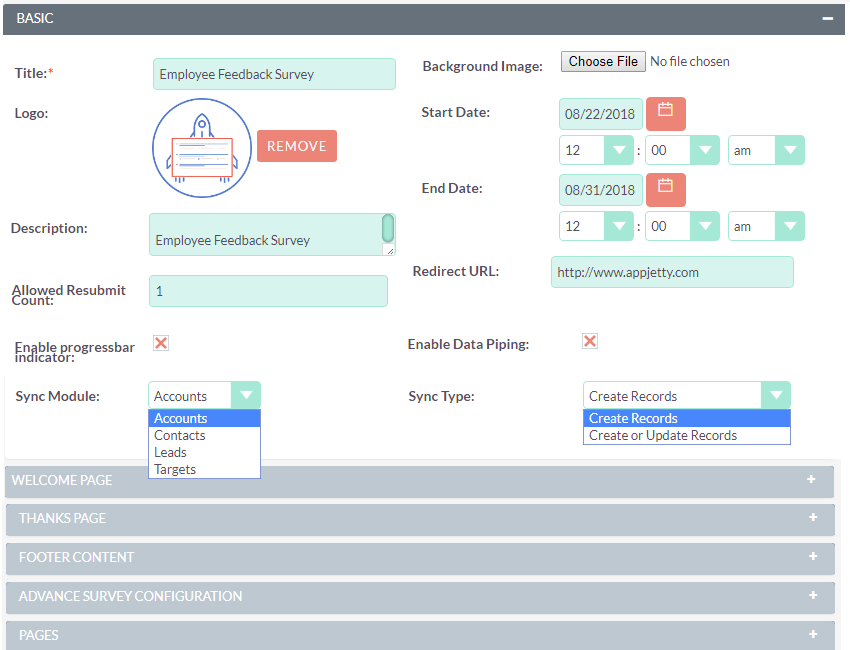 ---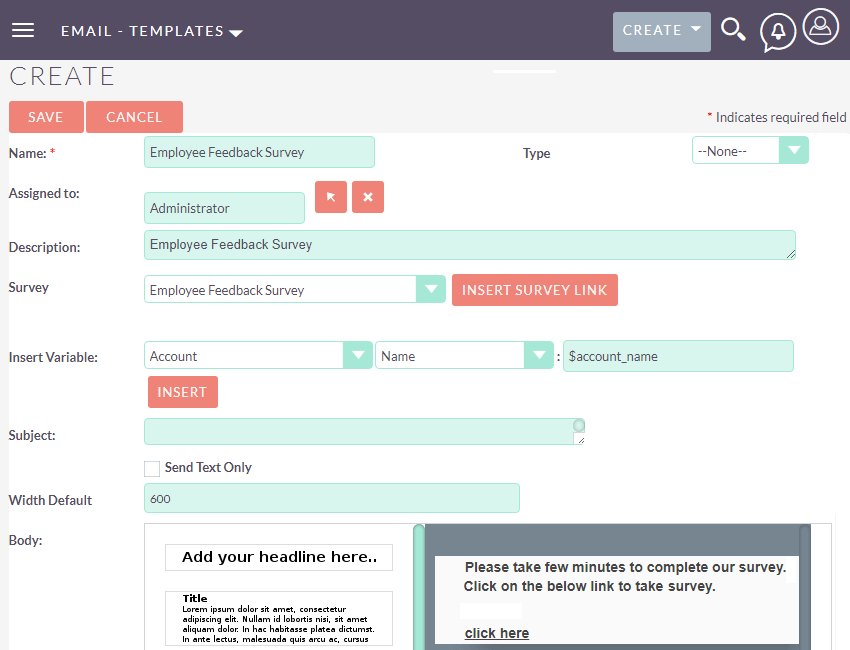 Set Email Template
You can create different email templates for one survey. It is also possible to customize the email template with HTML editor support. This feature enables you to define different elements.
---
Pre-built Questionnaires
The questionnaire structures available in Survey Rocket are compatible with the survey standards of every industry. It helps you save time and efforts and get reliable results.
Make the most out of our modifiable and flexible question templates. Feel free to edit questions according to your requirements and add new questions.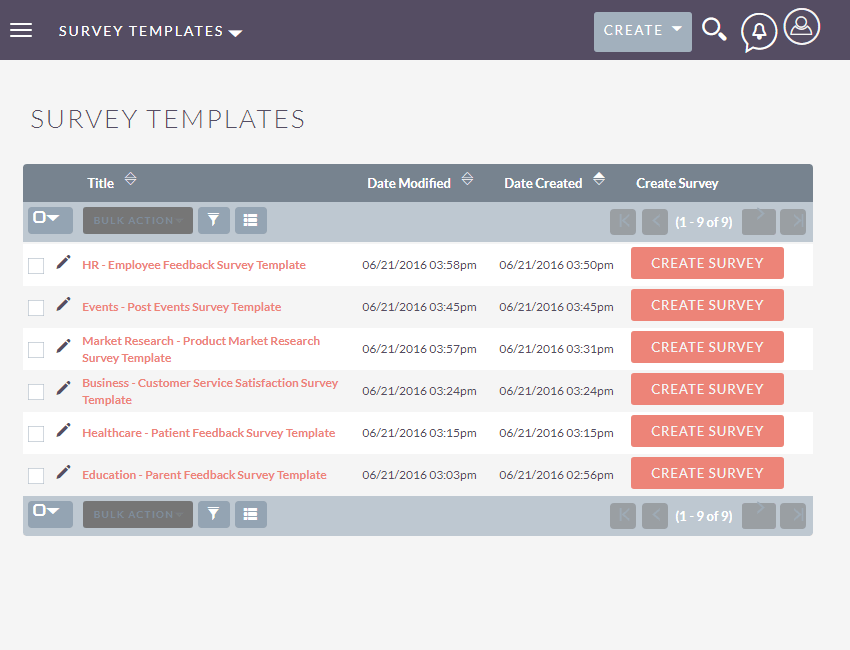 ---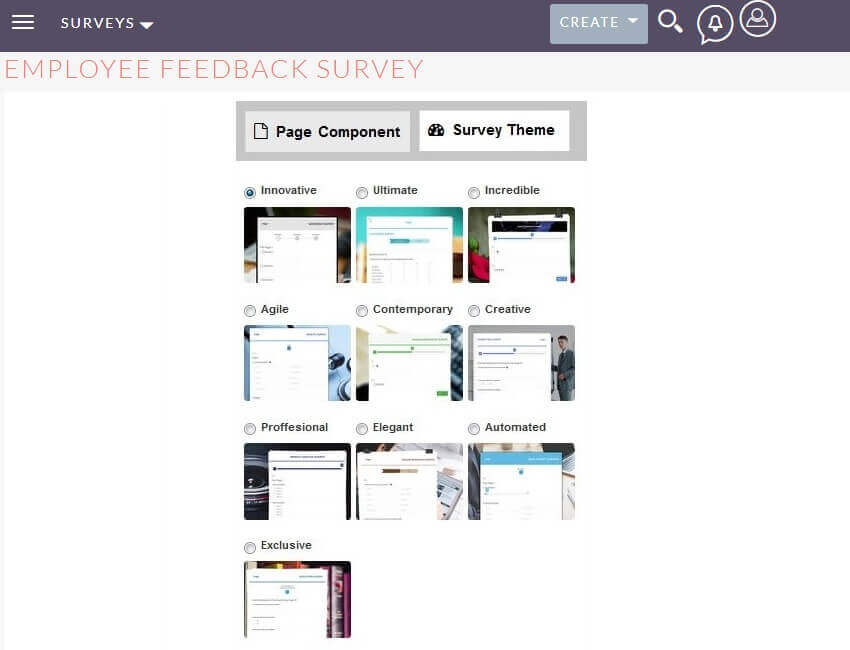 Choose Attractive Theme
Make your surveys look immaculate and professional by adding the design nuances of your brand into your survey using our industry based themes.
---
Customizable Welcome Page
Build a welcome page of your survey describing what the survey is about and put the set of instructions for the respondents. You can also customize the page with your content with the help of your inbuilt HTML editor.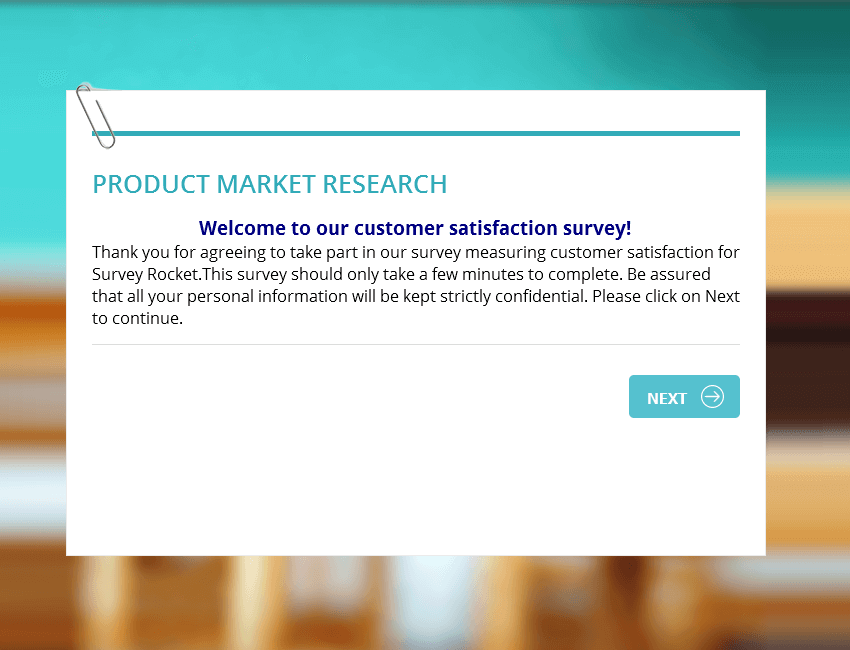 ---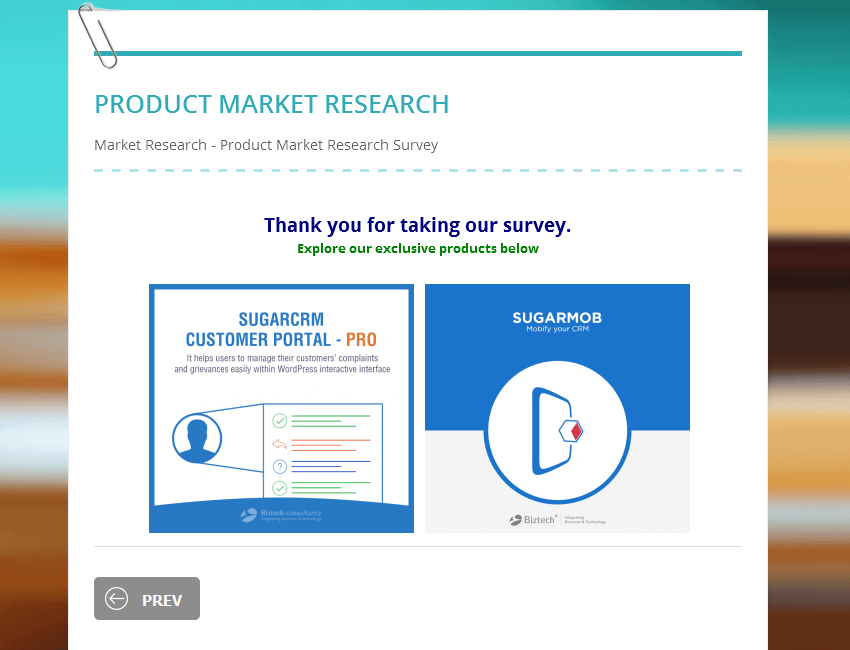 Customizable Thank You Page
Create a Thank You page for every survey so that the respondents can know when the survey gets over. The in-built HTML editor enables you to customize the page using your own content.
---
Preview Survey
As soon as you have added questions to the survey, have a preview of it so that you can get an idea as to how the Survey will look.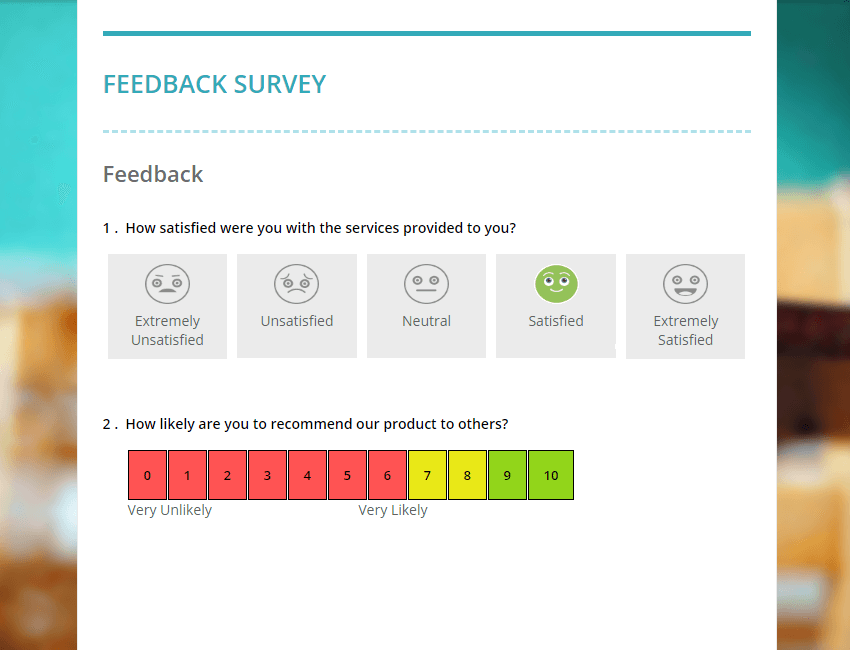 ---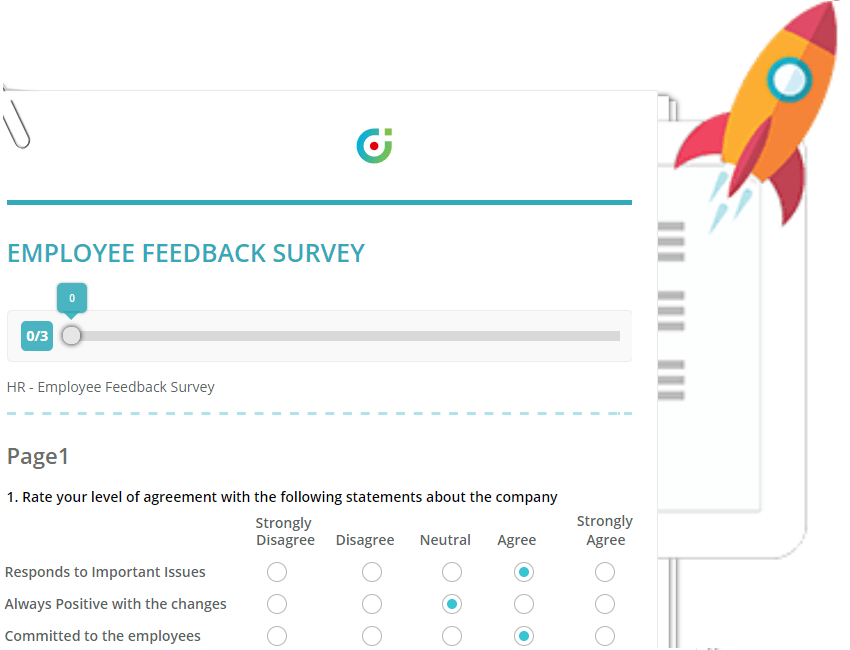 Survey Background Image
Don't send out dull and drab surveys. Add a dynamic background image to a Survey form for any selected theme. You can choose a background image that suits your theme and keep it as a background for your survey form.
---
Pipe Data into Surveys
SuiteCRM Survey Rocket enables you to pre-fill applicable data from the CRM to Survey Fields. It also enables the respondents to edit and make updates to their data. This data then gets pre-filled into survey from leads, contacts, accounts and targets module.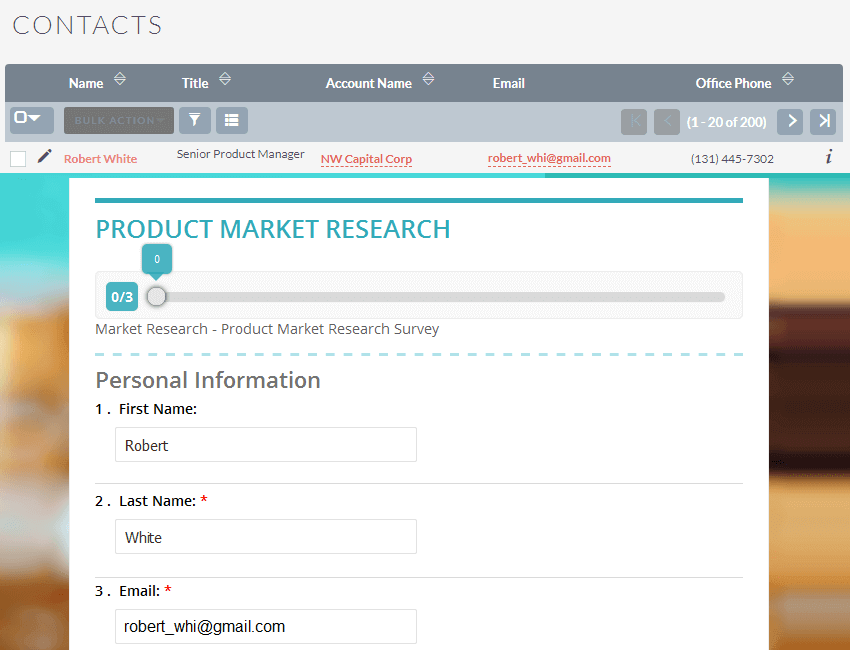 ---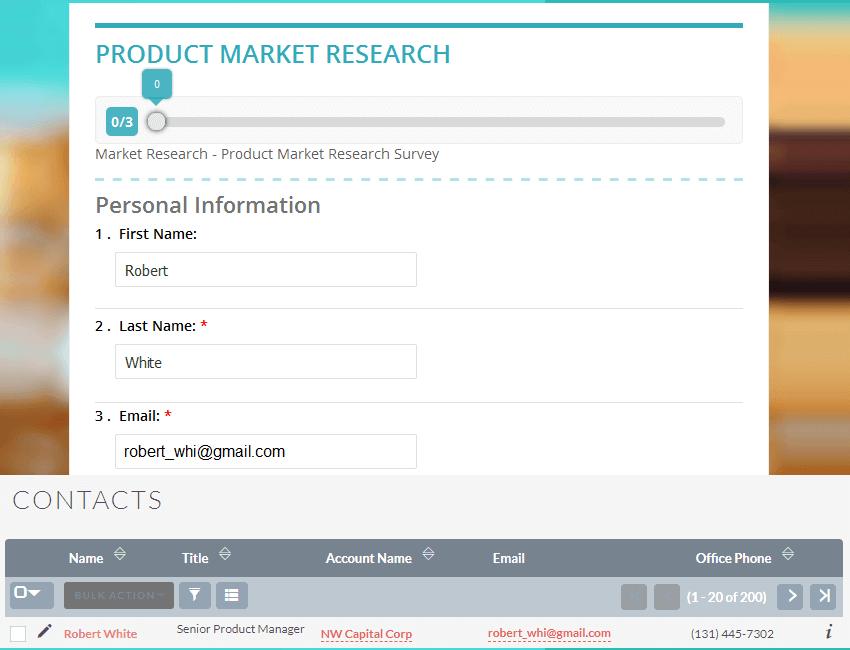 Pipe Data from Surveys
As soon as you receive the data from the survey, it becomes difficult to fetch data into a particular format and update it in the CRM data. As Survey Rocket flows information back and forth, it populates the CRM data automatically as soon as the respondent provides the missing information through the survey.
---
Apply Skip Logic
Using the skip logic feature, you can modify the survey based on respondents. You can apply logic to the answer choices. All you need to do is define the conditions as per which the branching logic will be created for the respondent's answer. It is also possible to apply skip logic so that you can redirect the respondent to the later page in the survey. You can also hide/show questions and show them based on responses.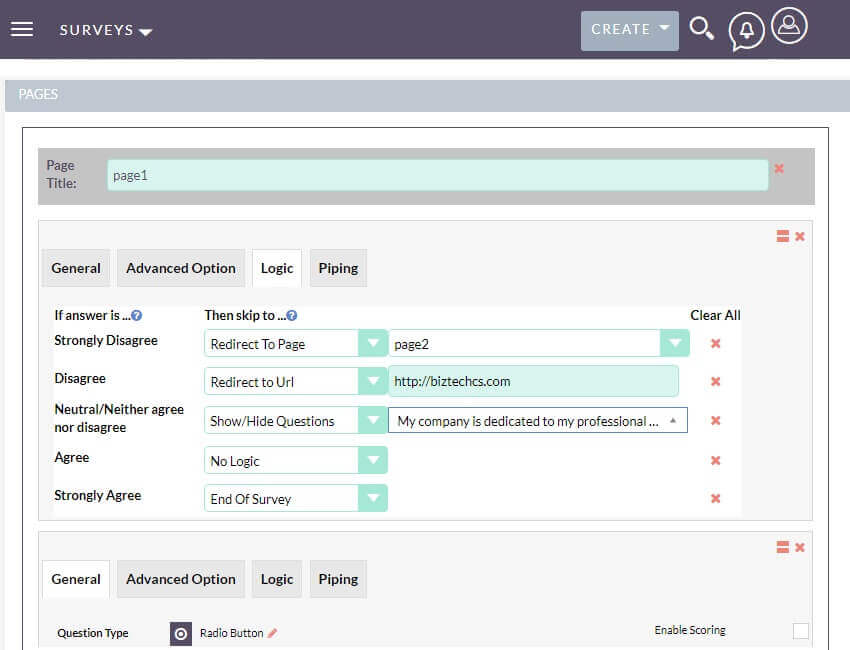 ---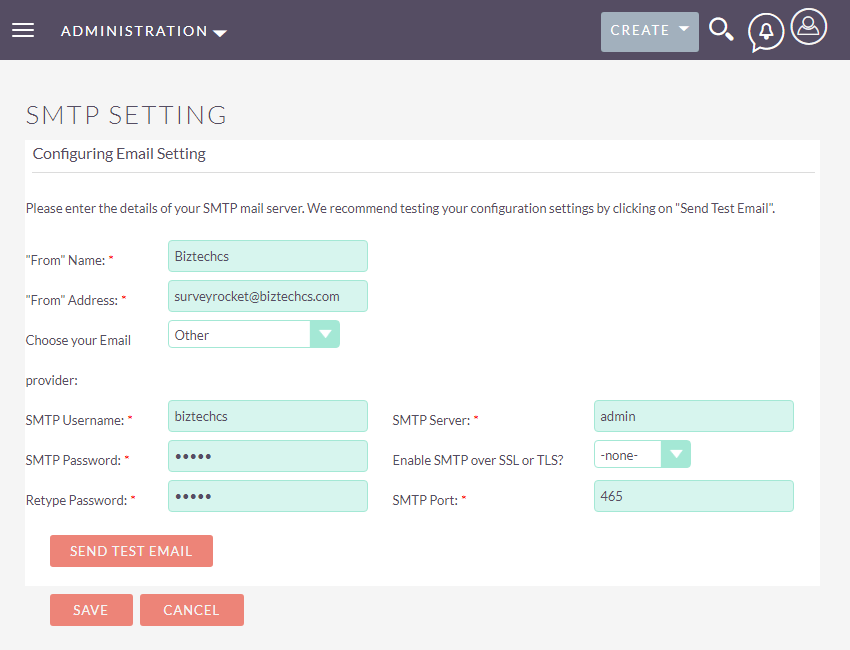 Use Custom SMTP
The Custom SMTP enables you to send survey invitations through your SMTP email account. It improves the deliverability of your survey invitations and keeps spam issues, IP blocks and email bounces at bay.
The custom SMTP functionality enables you to send survey invitations in bulk and keep your IP address safe.
---
Schedule Automated Surveys
Set up a survey workflow, define conditions, and send surveys automatically. The survey event gets triggered depending on the conditions you set and the actions defined decide which survey gets sent to whom. Once these conditions get fulfilled, the survey gets automatically sent to the chosen respondents.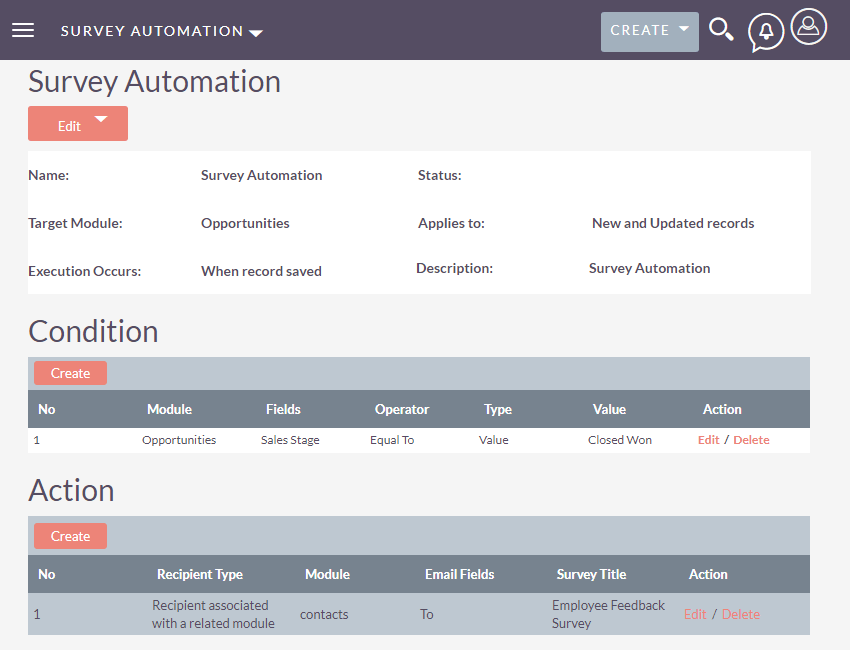 ---
Easy Survey Translation
It is also possible to translate your surveys according to the languages defined in the CRM. The default language of the survey becomes the default language of CRM. You can also make use of the language dropdown option in the survey submission form and select your preferred language.
---
Send Surveys Anytime
Determine the time and date of the survey before hand and schedule it for sending immediately or at a later stage. You can also have the preview of the survey before you send it to your contacts.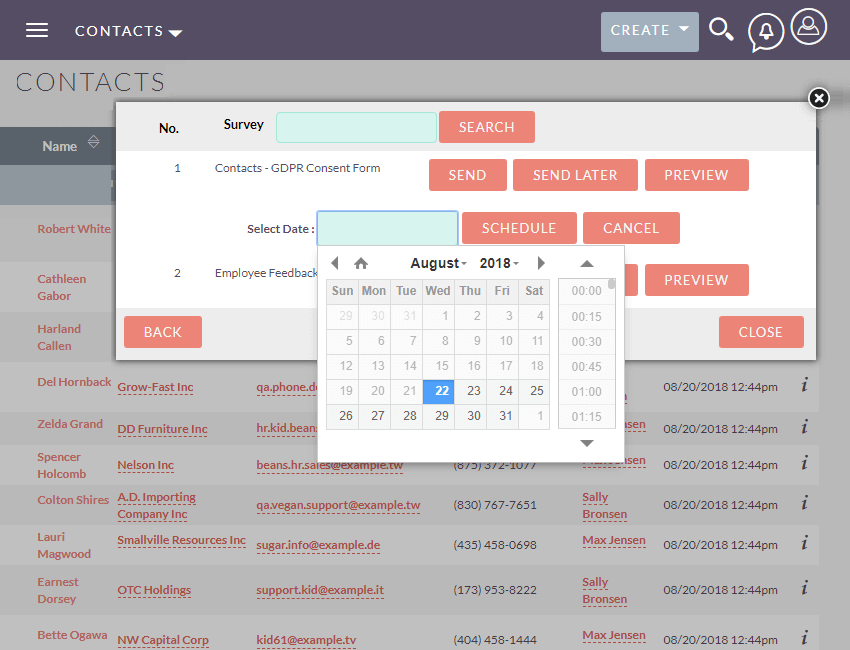 ---
Resend Surveys
You can resend the survey to any of the respondents you select. Your respondents can also request for answering the survey again.
---
Email Survey Link
Survey comes with an email link as well as the survey link along with the request to submit the response. You can provide your respondents with an option to unsubscribe from the survey. It will help you filter your audience choices.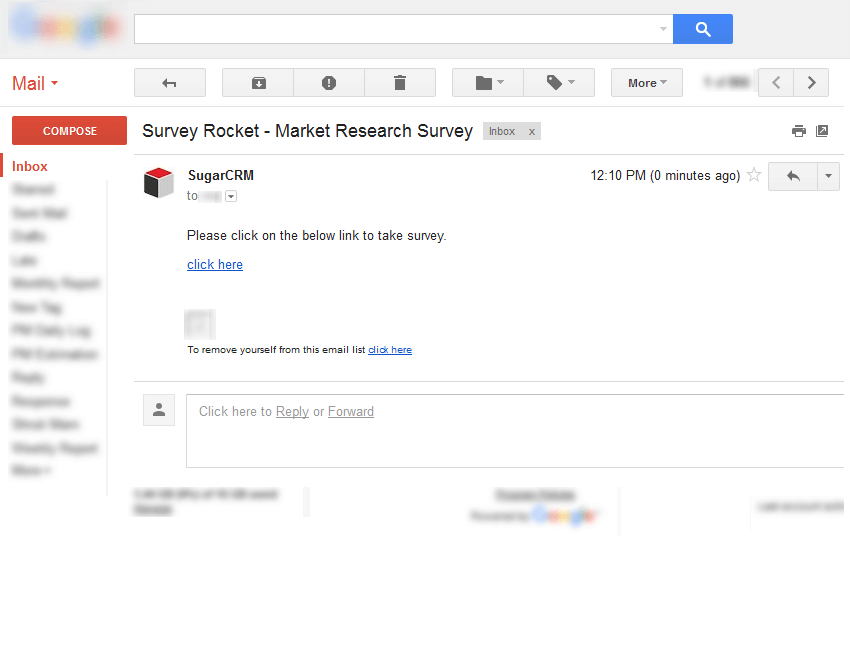 ---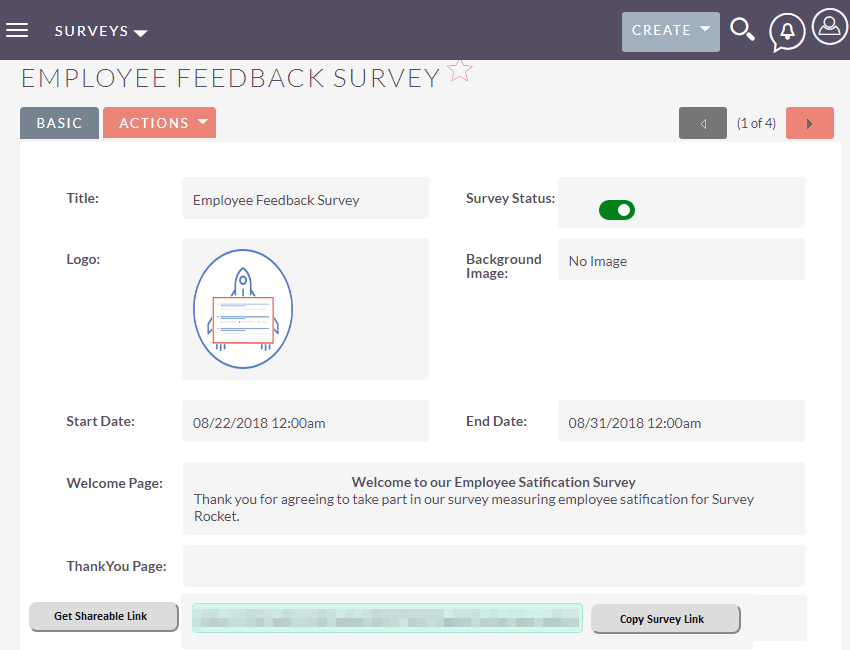 Create Shareable Surveys
Sending surveys to customers via emails shouldn't be the only alternative you should be confined to. With the help of survey rocket, it is possible to create shareable links that you can send to customers through different resources including social media. During such instances, surveys have to be generalized as the participants might/might not be a part of your CRM.
---
Open Shareable Polls
Similar to the surveys, it is possible to create shareable polls in order to publicly share your polls and generate a link for the same. Once this link is shared with others, it will also allow participants who are not a part of your CRM to participate in the poll. When you open the shareable link, it will directly display the poll submission page.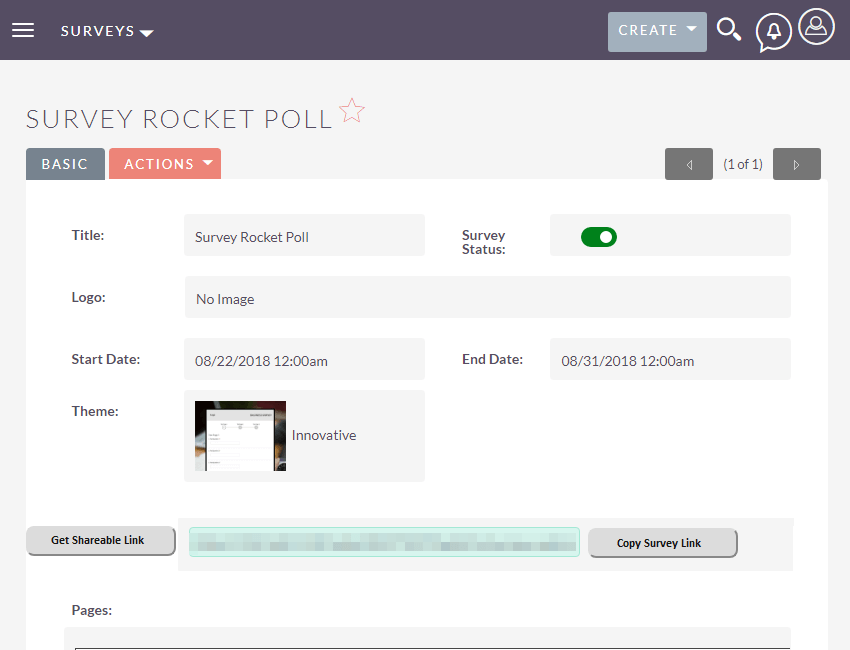 ---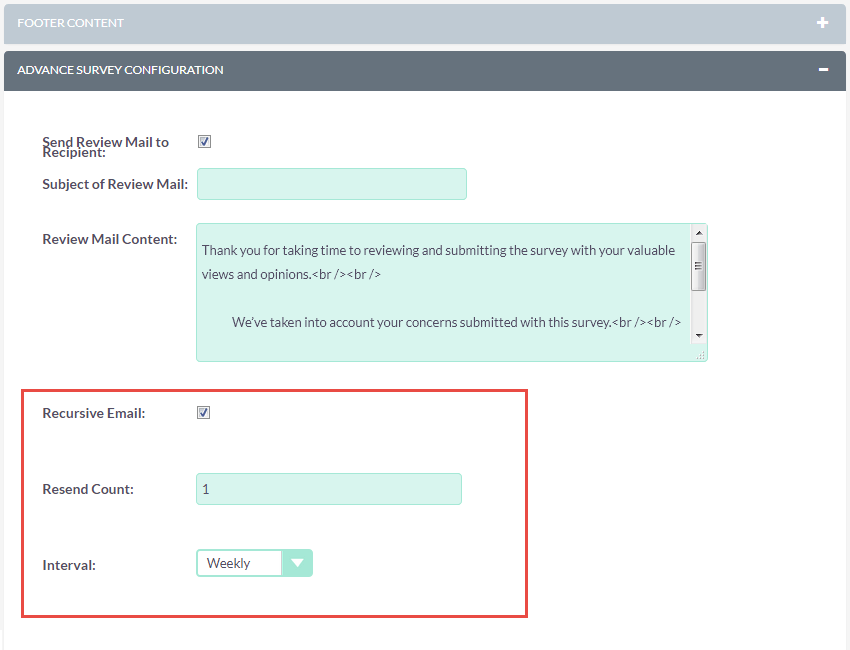 Automated Reminder Emails
In case your respondents do not fill the survey or respond within a specific time frame; you can send automated survey reminder mail to them. Also, you can decide the number of times that you want to send a reminder.
---
Export Survey Form in PDF/Word
Create intuitive survey forms and export them as PDF or Word document. You can also take printouts to conduct traditional manual surveys or send them via email.
---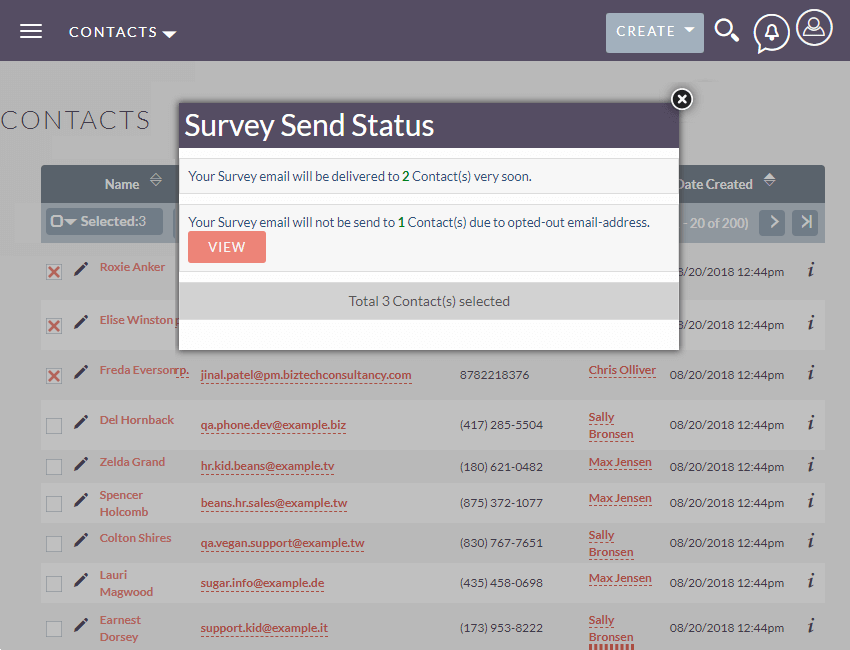 Get Survey Summaries
As soon as you send a survey, you can get an overview about the number of surveys you sent, whom did you send them to and data about people who did/did not respond.
---
View Survey Transactions
Have a glimpse of all the survey transactions at once. Survey Transactions provide you with the list of all surveys that are sent with their mail delivery status, module related parameters as well as score details.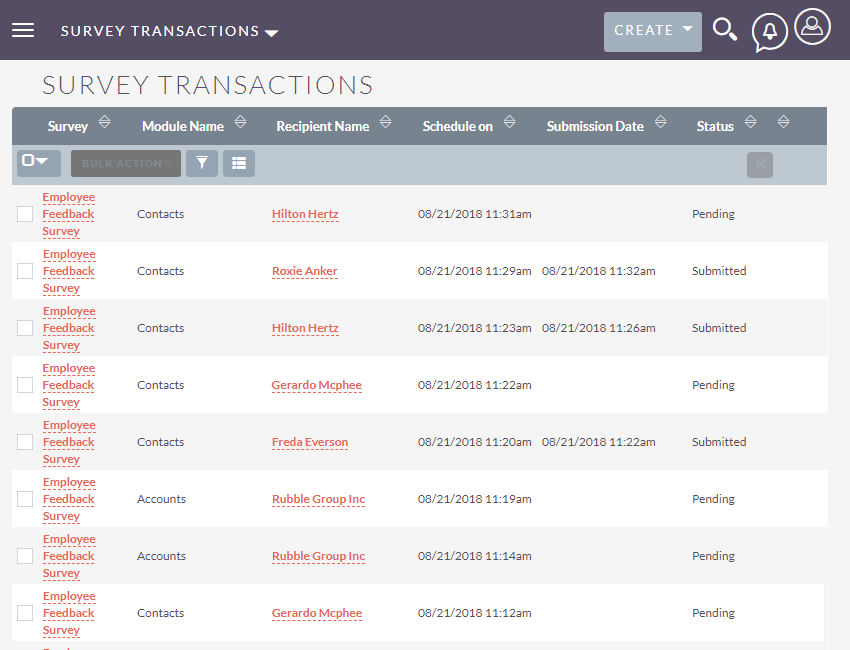 ---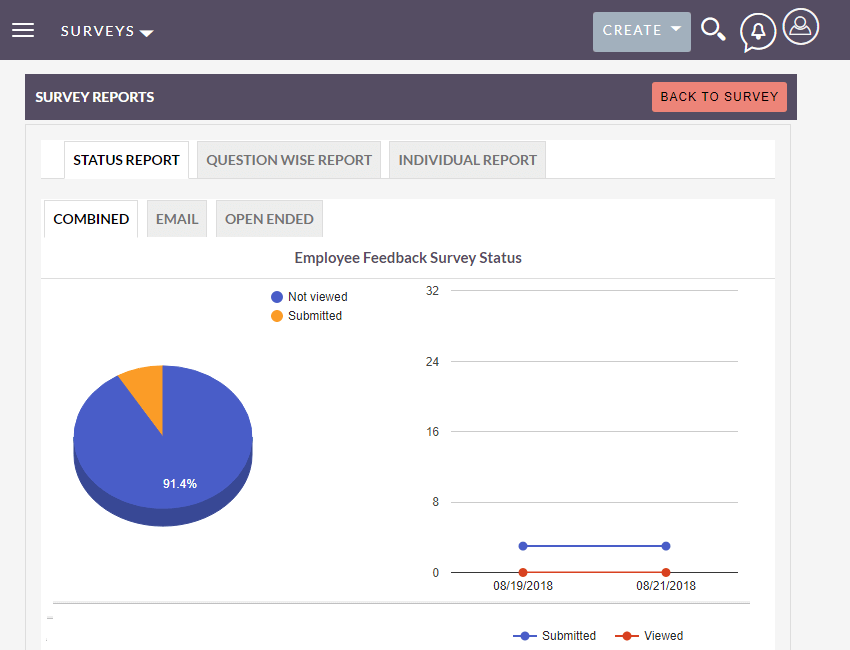 Status Report
Know about the number of respondents that viewed the survey, the number of people who responded and the ones who didn't through a status report.
---
Question-wise Report
Through Question Wise report, you would be able to understand the psychology of your respondents for a specific question and know how they responded to every question. Also, NPS question response helps you to know the level of customer satisfaction and loyalty.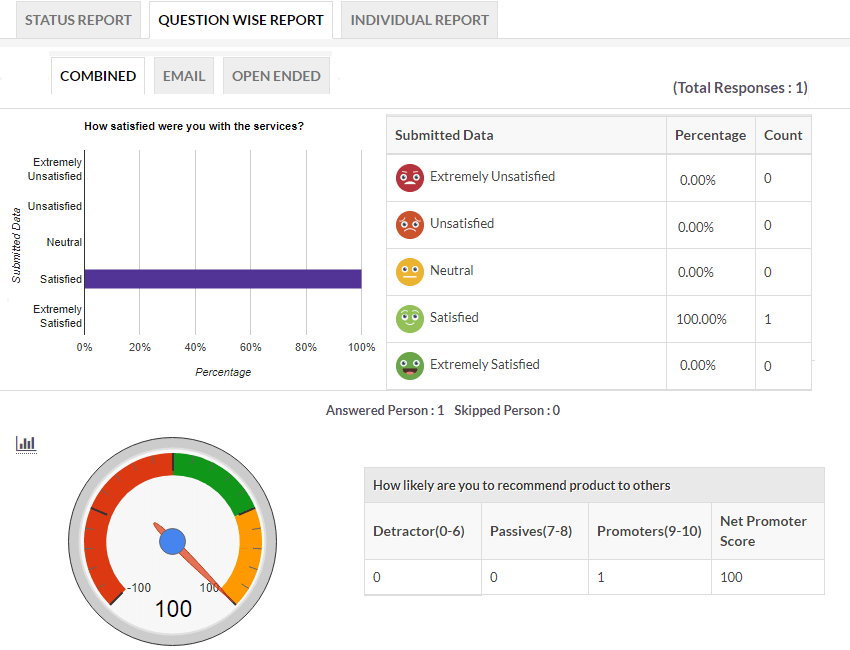 ---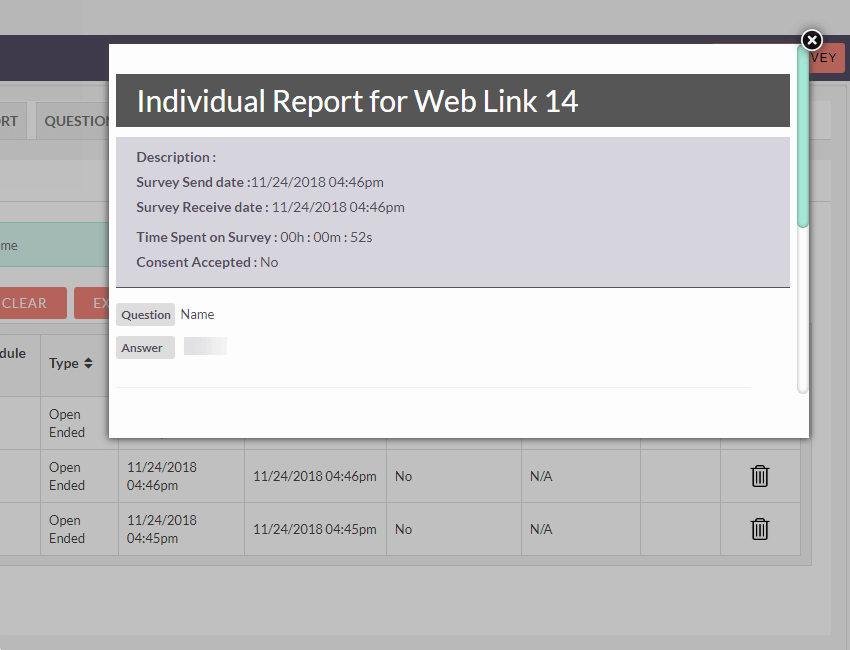 Individual Report
The individual report provides you with an overview of the survey responses from specific contacts. These help you to understand the preferences and nature of the specific contact. You can sort these into different fields like name, module, submission type, survey send and submission date. With the individual report, you also get to know time spent on a survey by each individual.
---
Search Survey Reports
It is possible to search reports through their names, module type, and status. Filtered search option saves your time and efforts and helps deliver reports with accuracy. You can also export reports in Grid and CSV formats.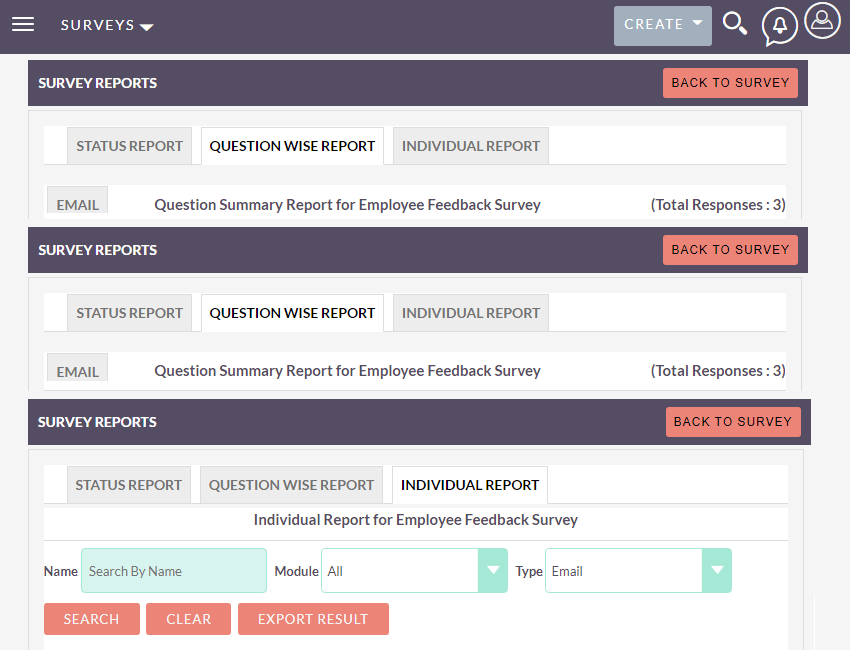 ---
Industry Specific Attractive Themes
Select a theme that goes with your brand and business requirements.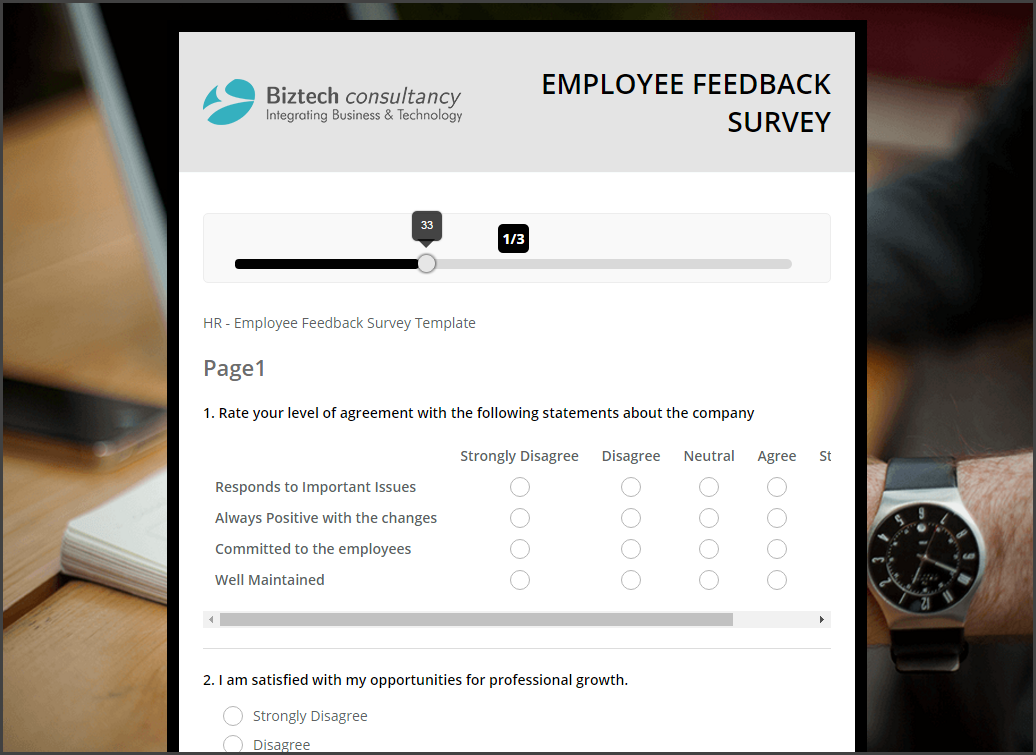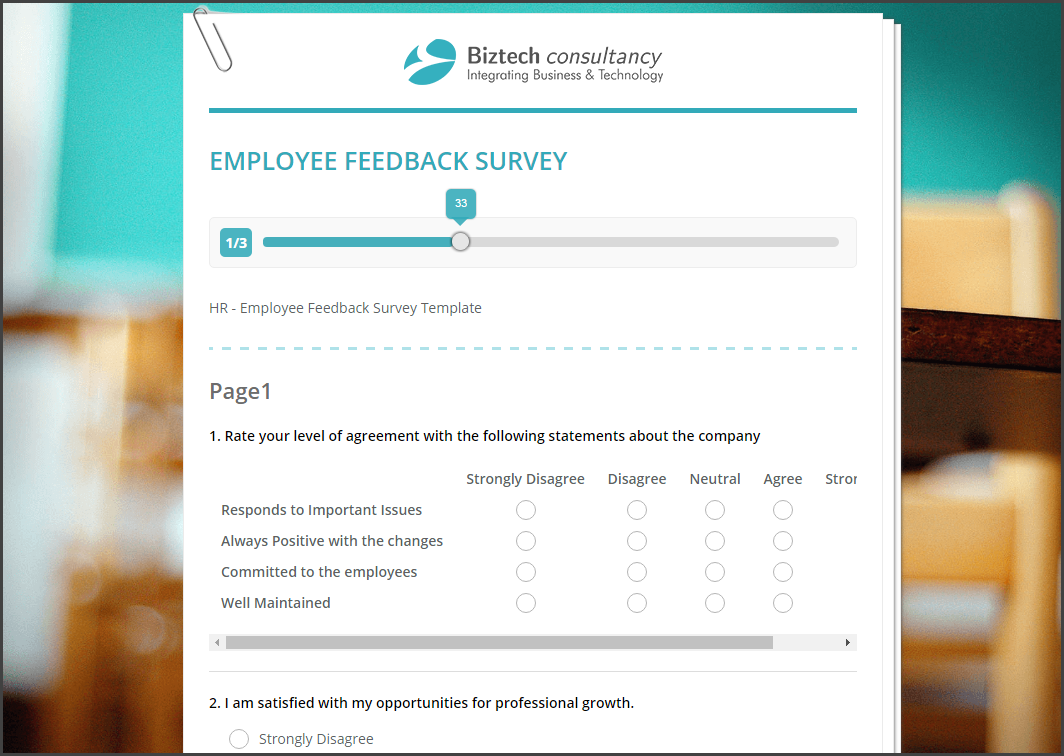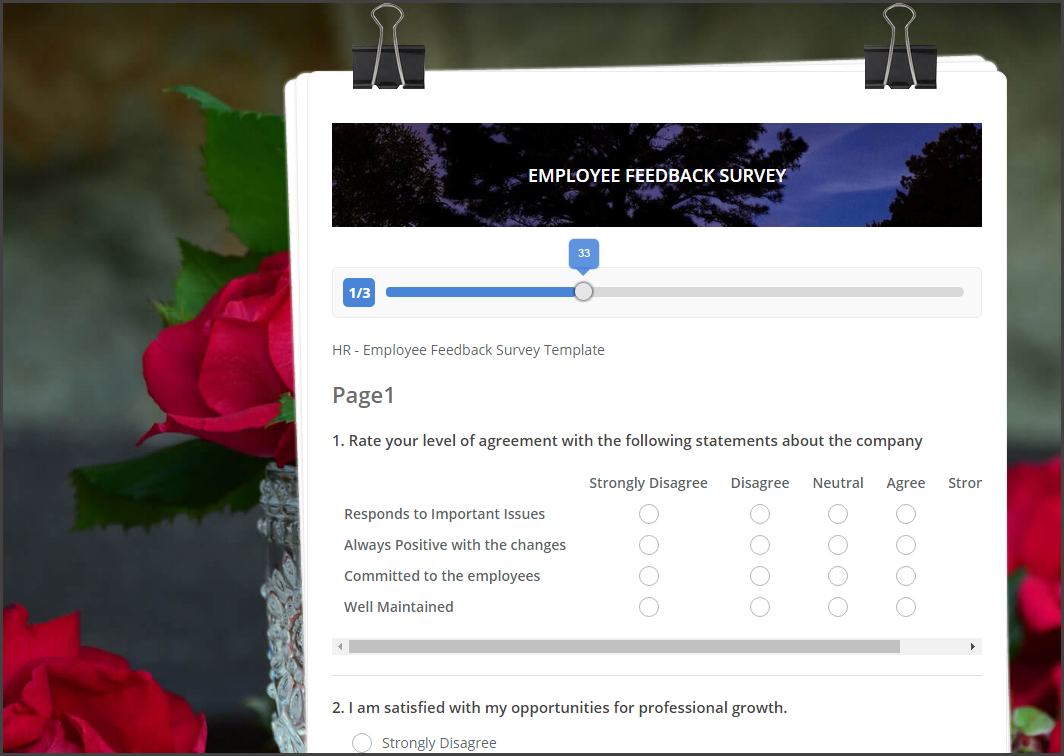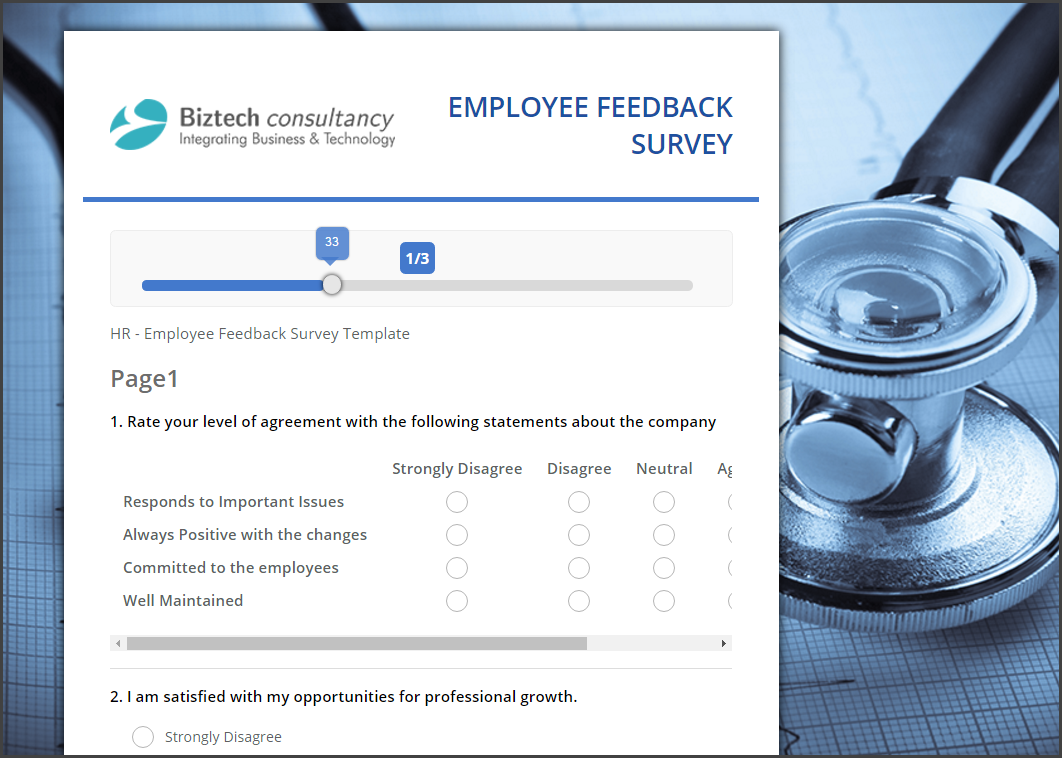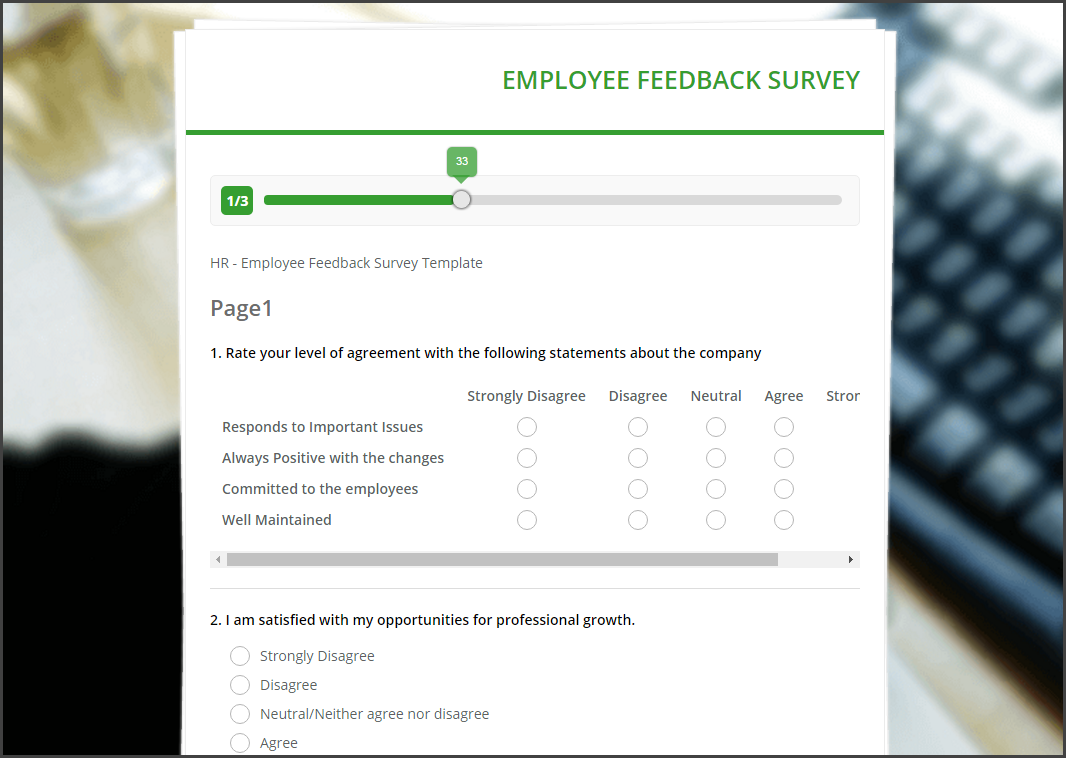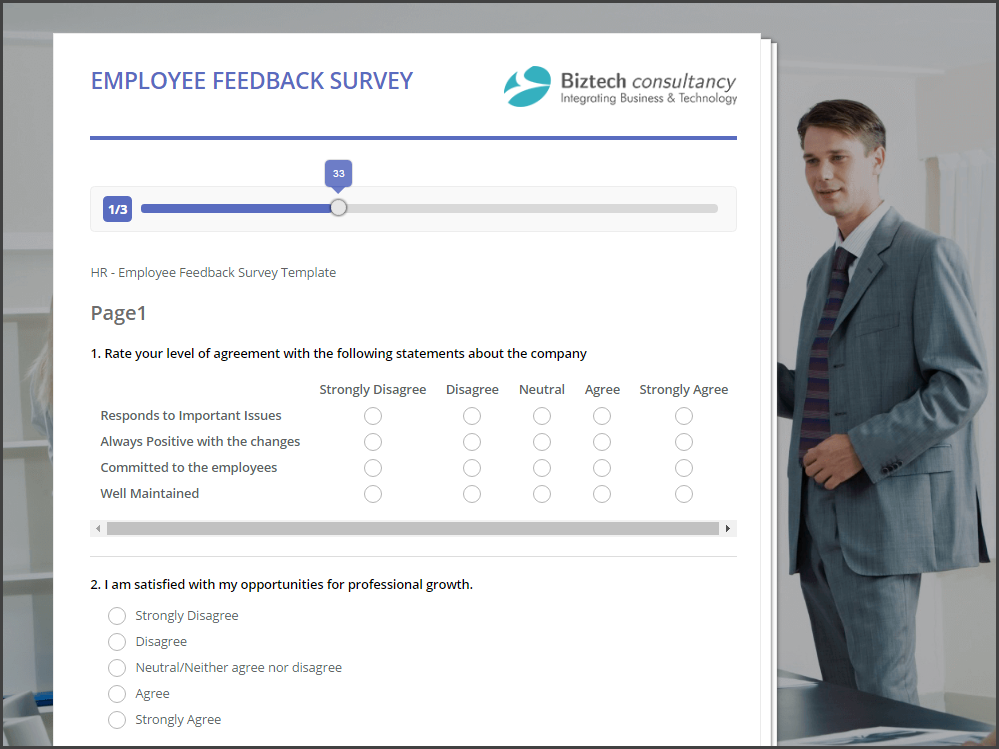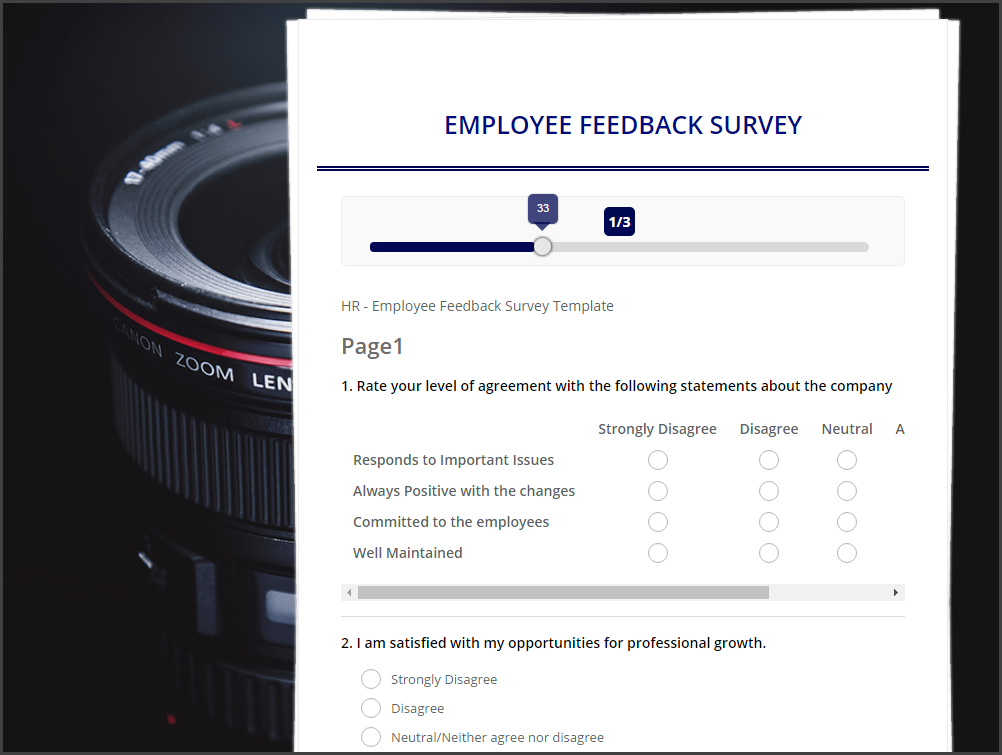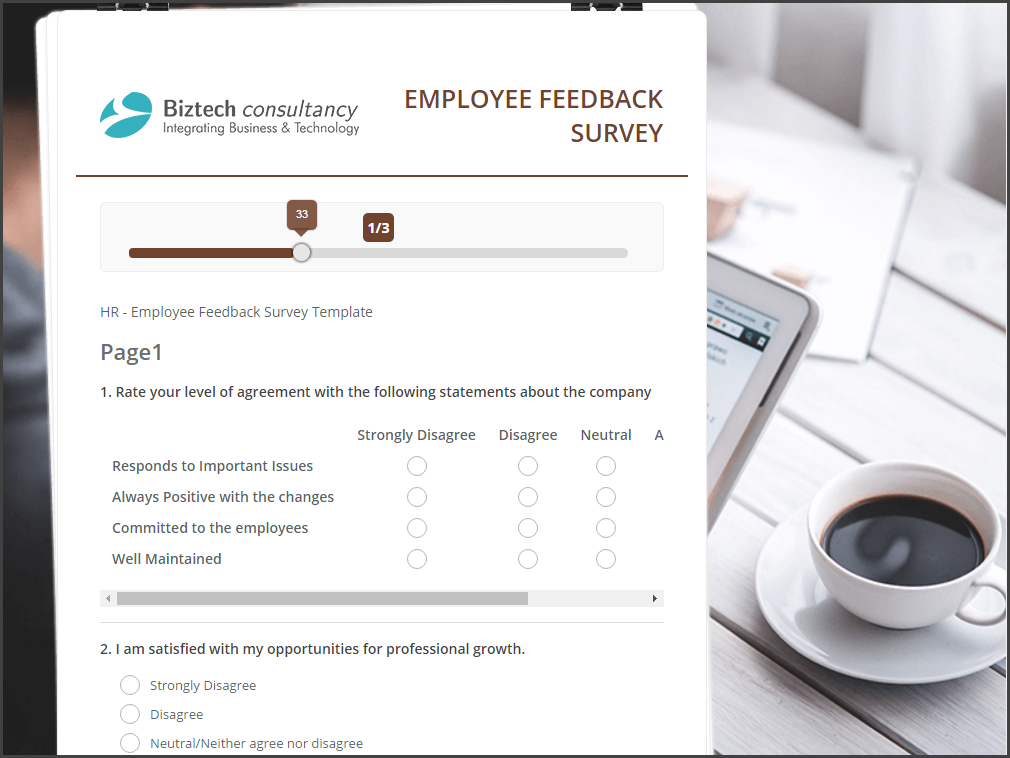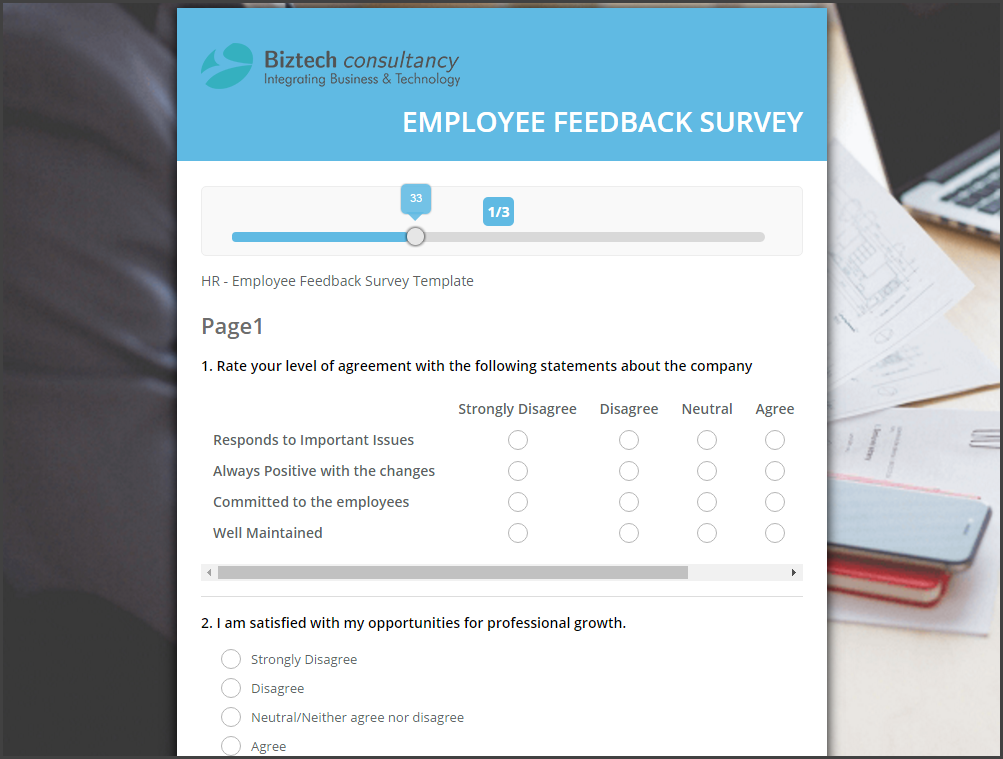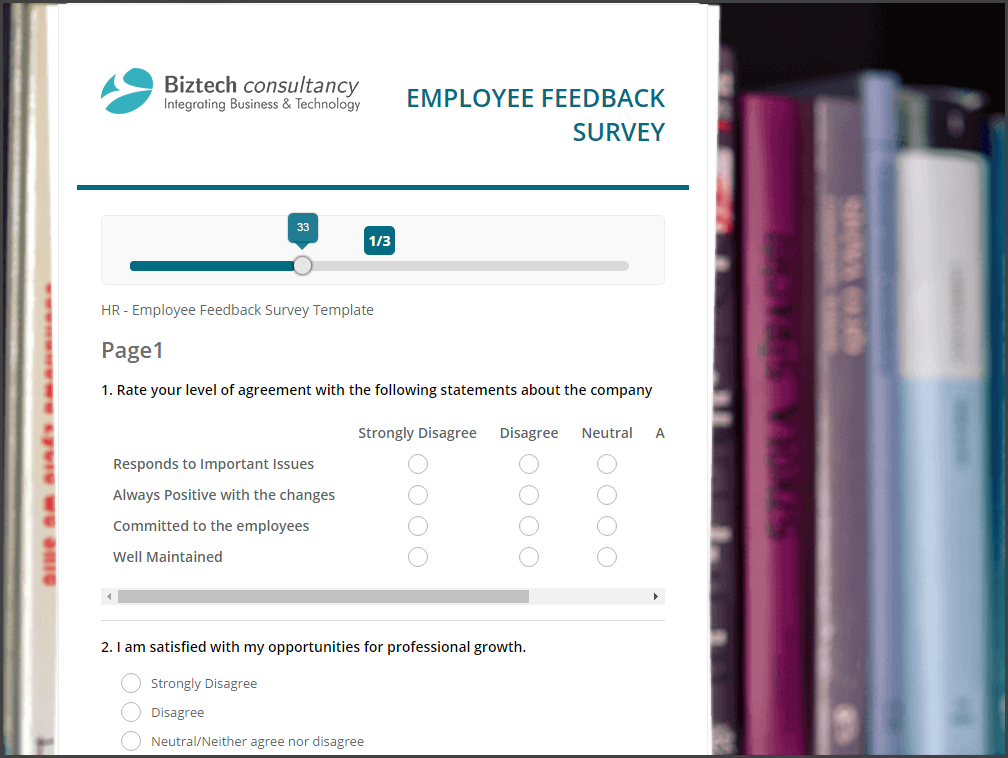 Using Survey Rocket Suitecrm Customer Survey Tool, you can know your customers in the best way possible. Try using this survey solution for your business and establish a strong connection with your customers.
Users' Gain
Users Submit Feedback
Users can share their feedbacks, likes/dislikes about products and services of any business.
Interacts with Businesses
It enables users to interact and makes them aware of their requirement and offers suggestions to specific businesses.
Businesses' Gain
Know Customers Better
This will help businesses to know the specific option and preferences of their end users easily and can formulate their marketing strategies accordingly to serve them better.
You May Also Like
Supported Versions
7.3.0 to 7.11.1