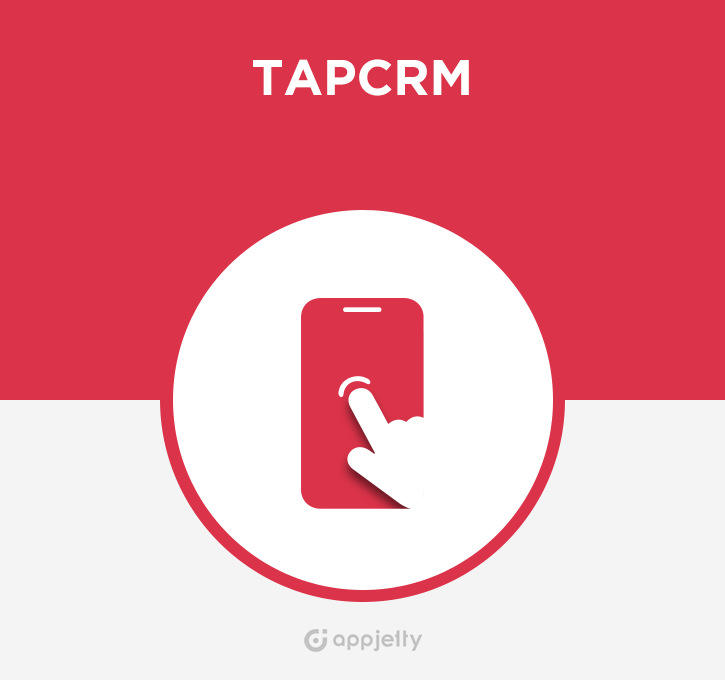 Best SuiteCRM Mobile App
Empower your teams with on the go access of the CRM data using TapCRM a suitecrm sales mobile app. It is a CRM manager created for SuiteCRM which offers real time data availability. Now you can ensure efficient operations right from your mobile!
Intuitive SuiteCRM Mobile App
Mobile CRM has gone beyond being a mere trend. In fact, it is a reality that customer-oriented businesses must adapt to if they want to be successful. And in a mobile-oriented world, wherein everyone has moved to mobiles, you cannot keep your CRM and customer interactions limited to desktops and laptops.


Get Fully Native Android and iOS Mobile App for your SuiteCRM
Mobile CRM has gone beyond being a mere trend. It is a reality that customer-oriented businesses must adapt to if they want to be successful. And in a mobile oriented world, wherein everyone has moved to mobiles, you cannot keep your CRM and customer interactions limited to desktops and laptops.AppJetty is here to make Mobile CRM a reality for SuiteCRM users in a user-friendly and cost-effective way.
TapCRM is AppJetty's SuiteCRM plugin and Android/iOS mobile application app combination. You will be able to quickly adopt mobile CRM using TapCRM. Install the TapCRM - SuiteCRM Mobile App in your SuiteCRM system, connect it with the CRM mobile application and modify it according to your requirements. You cannot find a more extraordinary CRM Mobile App for your business!
Why Go for TapCRM?
TapCRM is the best way to have a mobile CRM app for your Suite CRM system. Just download the plugin as well as the mobile app and connect the two.
As TapCRM is a native app, we have optimized it for better user experience on iOS and Android. No need to compromise user experience with other hybrid apps.
You can also determine the modules you want your employees to access along with their layouts.
Once your CRM is on your mobile, it is possible for you to import all your phone contacts into your CRM.
Make the most out of the benefits of mobile CRM
You get to enjoy all the usual benefits of mobile CRM like 24X7 customer engagement, anytime anywhere data update, increased CRM adoption amongst employees, etc.
Access Your CRM Data On-the-Move!
TapCRM from AppJetty is a feature-rich and customizable best crm mobile app for SuiteCRM. Available for both iOS and Android platforms, this suitecrm mobile app allows role-based accessibility to users and also allows admin to integrate all or selected CRM modules dynamically with the app. The mobile app for suitecrm is equipped with an interactive dashboard and provides analytical reports and graphical charts for all available CRM data.


Key Product Features
Customize Modules and Layouts
Execute sales management and other processes from a single CRM application. The page layouts available in the app enable your sales representatives to view and access personalized data and function independently. It also provides fields and modules selection so that you can create your own layouts.
Offer role-based accessibility to your app users. You can also load modules in the app based on the roles assigned to the user. Offer operational access based on roles including view, edit, delete etc.
Use QR code as an alternative to having to type out your CRM Instance URL. This will not only reduce your efforts to login to the app but will also reduce the possibility of entering incorrect URLs or from facing connection issues.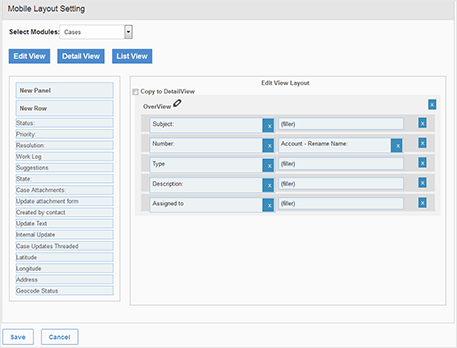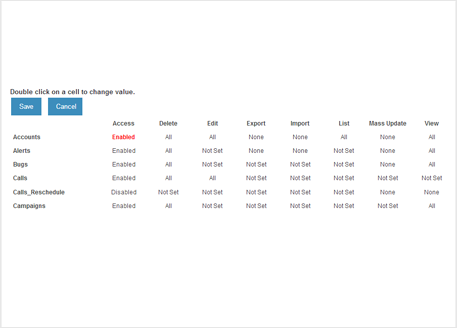 ---
Elegant and Smooth User Interface
TapCRM has a rich user interface and it offers a modifiable menu. You can add your own menu items whenever you want an access to the modules specific to your business and replace the existing ones.
It comes with a high-end dashboard that offers shortcuts that are compatible with your business processes along with a quick overview. Using it, you can easily keep a track on the opportunities and overall health of your business. It also offers you with the core part of the application so that you can take business decisions on the go.
Give a complete makeover to your mobile CRM by choosing one out of the 4 TapCRM themes. This way, you will be able to give a unique identity to your CRM.
Users can now create custom filters directly from the dashboard by selecting the module or from within the module and then add them on the dashboard for quick accessibility of most important records. These quick filters can be made public making it available for all users across the organization.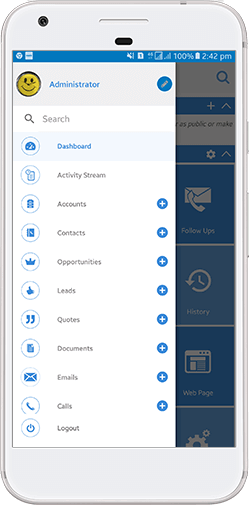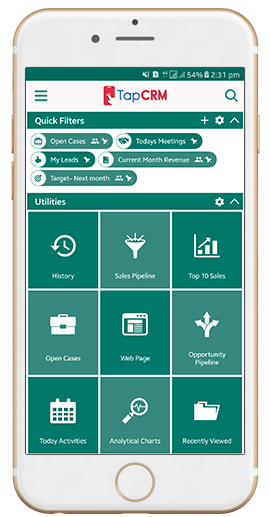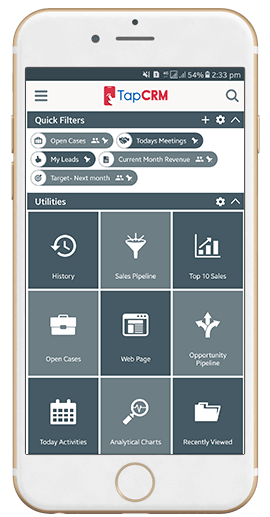 ---
Never miss a follow-up
You must keep connected with your customers. TapCRM enables you to get in touch with your customers and keep on the top of your pipeline. You can call, email, SMS and locate prospects on the map from the app. It is a single resource for your communications.
It is possible to extend your CRM potential in the application by making the most out of the list of related modules. You can also get a glimpse of related records with the facility to display the data of related modules and analyze them through a single location. Also, you can view activity stream at record level in record detail view in a particular module.
TapCRM enables you to schedule, track and manage your activities. This way, you can have the knowhow of all schedules beforehand. It also provides you with an intuitive timeline so that you can have a bird's eye view of all the activities.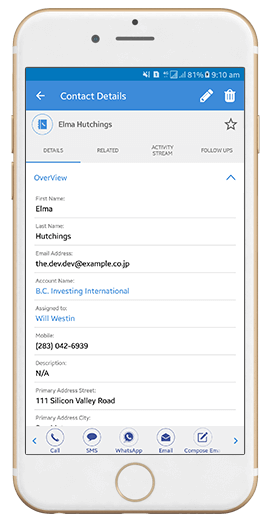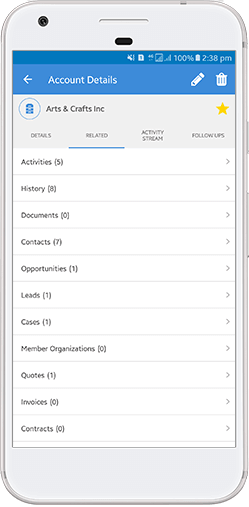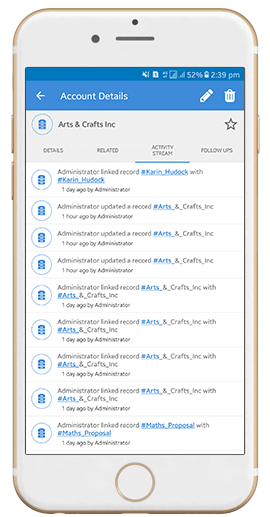 ---
Check-in / Check-Outs
TapCRM enables you to instantly check in with your visits. You can check out as soon as you the meeting is over and the location gets saved in your CRM. This way, you can create and save the records of your client visits.
TapCRM connects your check-ins/checkouts to your meetings, calls & tasks and helps you to find the details in the check-ins module. If you miss checking in, you can check-in manually at a later stage. TapCRM also allows you to edit those manual entries until they are approved by the admin. Admin can approve or reject the manual entries by navigating to the Check In Module. You can also make notes and comments related to the moments of the meeting when you check out. TapCRM enables you to create and keep records of the clients so that your colleagues and co-workers can be informed about the records in real-time.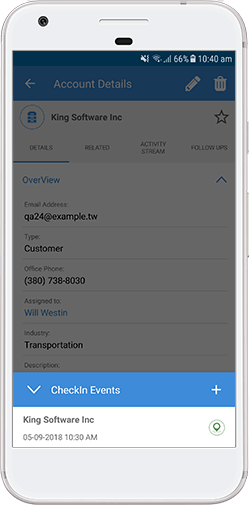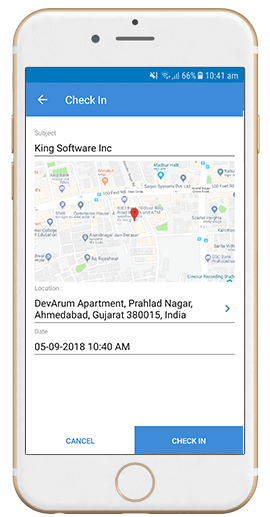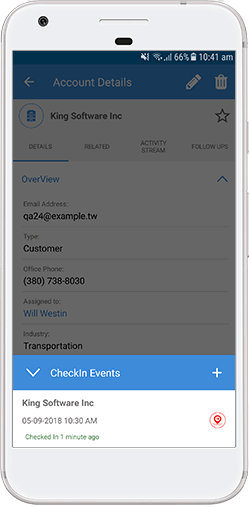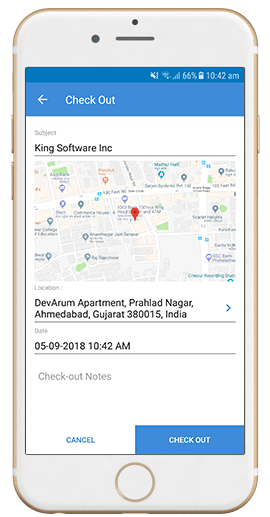 ---
Follow-ups
Follow-up is the most useful feature of TapCRM App that provides you with reminders about follow-up emails. It also helps you to keep the history of customer interactions. It saves you from going through a lengthy and cumbersome task of making notes as you can save the information on customer profiles.
The feature also enables you to keep a track of future dates, activities and plans of action. So, be it a quick sales call or a follow-up email, you can know it all!
You can also view the follow ups in the planner and track the follow-up events. You can:
Get notifications when you need to follow up
Know about the follow-up context for every follow up
Set reminders for tasks and conversations related to your contacts
Instant reminders in the form of emails at the top of your inbox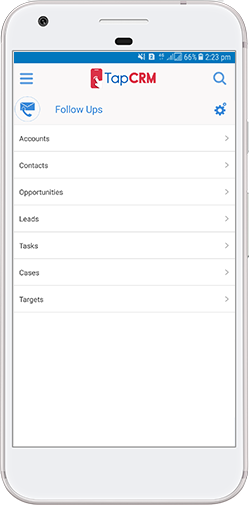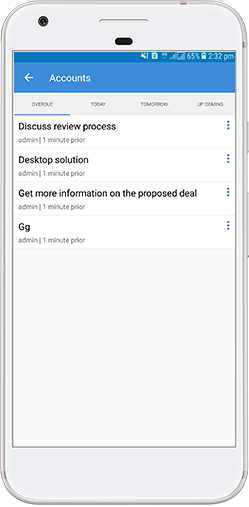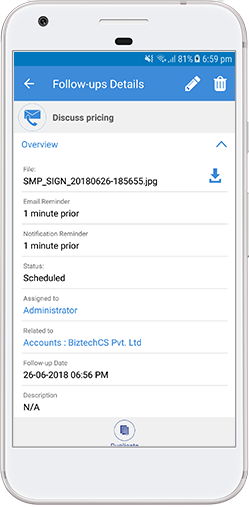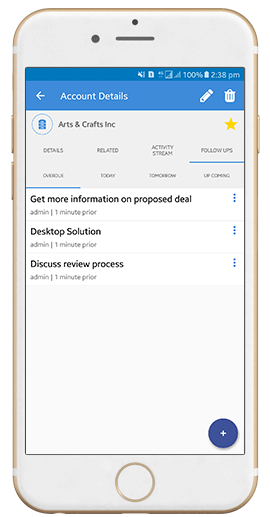 ---
Exclusive CRM Functionalities
Face no issues in using the SuiteCRM based functionalities like converting leads or importing contacts. TapCRM comes along with these SuiteCRM features.
You can import phone contacts to your SuiteCRM in few clicks. Once the lead mature, you can convert them into accounts, contacts, and opportunities.
You can delete or update records in bulk from modules and export records in CSV format. It is also possible to view reports in the app and download them in PDF format just with a click.
Through activity stream, you can get real-time updates on changes made to new posts, records or comments added in post. It keeps everyone across the organization aware about the updates.
Users can also send invoices and quotes as attachments via email to other users. It is shared in form of pdf attachment.
Filter or Sort Records:
Filter your own records
View offline records
Custom filters with option to add them on dashboard
Sort based on the fields displayed in the list
Set sort order to ascending or descending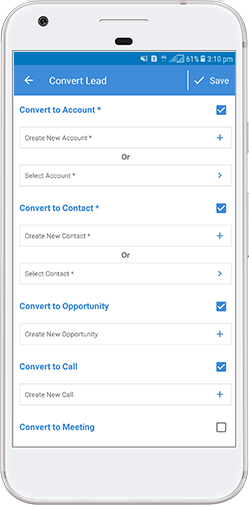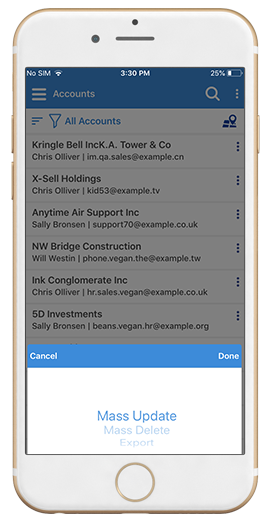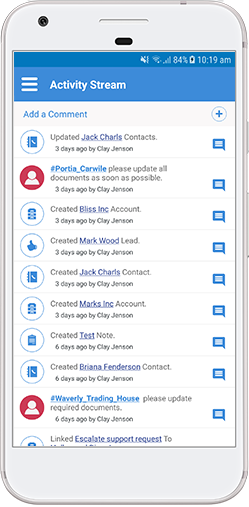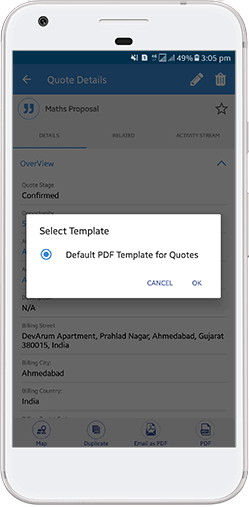 ---
View All Recent Activities
Being a dynamic mobile CRM app, TapCRM takes care of the most intricate details at every stage of customer lifecycle. This enables you to close deals swiftly and have a glimpse into your performance.
As it offers you with an automated list of activities, you can conduct follow-ups at the earliest and would hardly miss out on any opportunities.
Look into the recently added or viewed records and save yourself from navigating to the module each time you want to go through the records. Apart from this, TapCRM also enables you to set the modules that you want to display in recent records priority wise.
From dashboard, user can also view history of meetings, calls and emails easily. Users gets to view history of last 7 days or 30 days based on selection.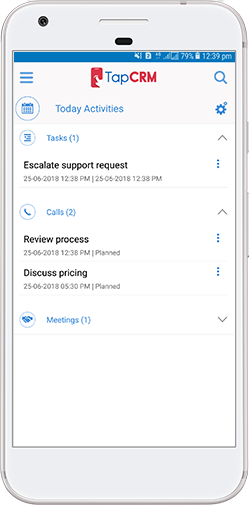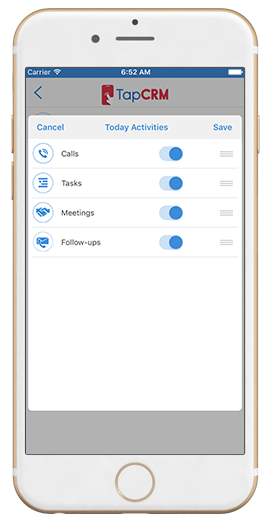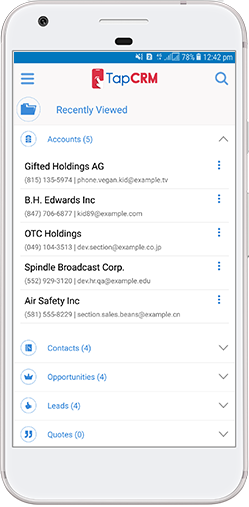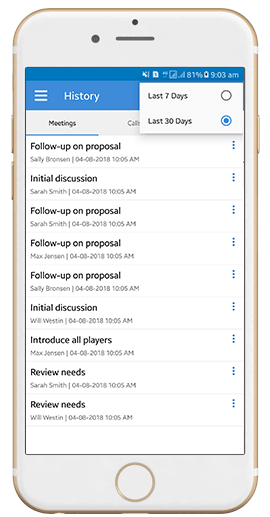 ---
Set-up your Preferences
The app settings allow you to set the pagination limit, enable offline data sync and manage modules for the main & quick create menu. You can also change your password, update your profile information, enable touch/face id login and all these preferences will apply instantly to your mobile app.
From settings page, you can manage different dashboard settings as well like rearrangement setting for dashboard section and setting up the launch screen. Also dashlets that are visible within utility section of dashboard can be enabled, disabled as well as reordered based on user preference.
Reach global audiences with multi language support. Using it, you can interact with your customers in more than one language. TapCRM is compatible with all the languages that SuiteCRM supports. It is also possible to add a language pack that is fit for your needs.
TapCRM supports LDAP authentication, which boosts its password protection ability.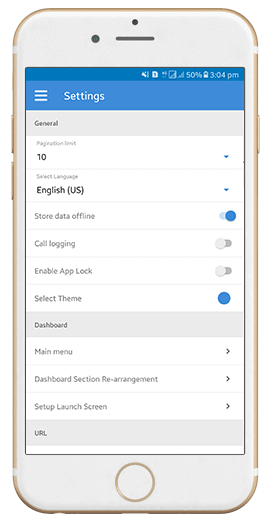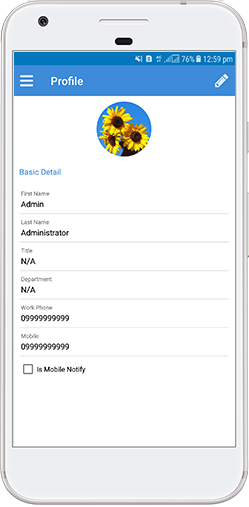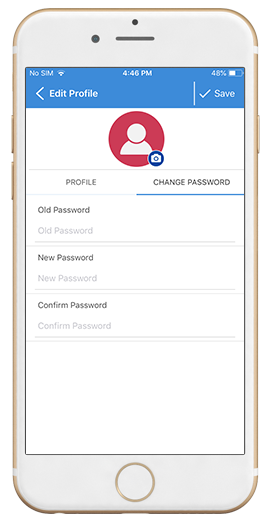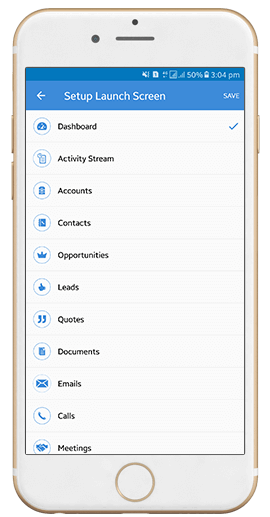 ---
App Exclusive Functionalities
The best part about this app is that it also works offline. You can keep in touch with your on-site sales team from remote locations despite of being offline. Once you reconnect and get online, you can sync your offline data across CRM. Using offline support, you can fetch data by creating drafts in the SuiteCRM modules.
As soon as you're connected, it is possible to review and sync the data with TapCRM's offline sync monitor. You can sync your offline records at once or module wise. It is also possible to get the statistics of the records that are synced.
No need to undergo the complicated task of navigating to every module for finding record. You can find the record you want from the dashboard itself. There is global search functionality that enables you to search across all the CRM modules and get the record you want.
Make the most out of the inbuilt SMS feature supported by TapCRM and send instant messages to your prospects. User can also select message from available list of SMS templates. You can also keep log of all messages sent through TapCRM. User can also send message via WhatsApp.
You can also compose and send email right from the TapCRM itself. Along with composing mails, user can also schedule mails.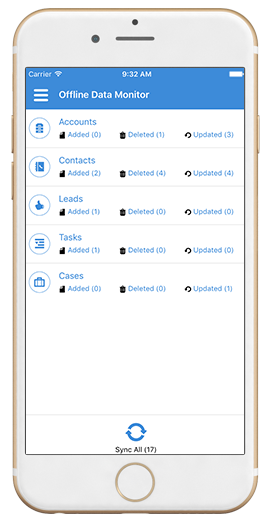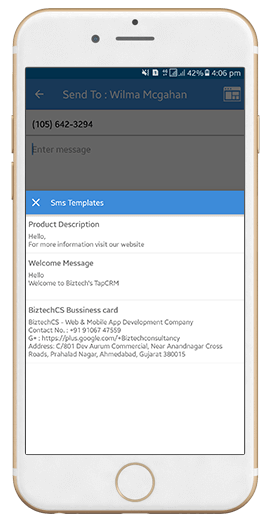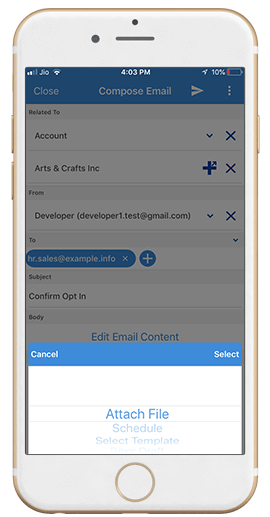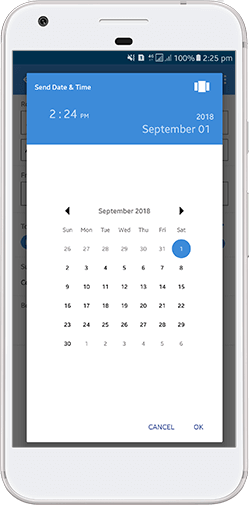 ---
Analytical Charts
Obtain all insights about your business life cycle with sales performance metrics, outcome charts and conversion rates. You can also find real time insights that help you to sell swiftly and easily by improving sales with analytics. Using the analytical charts of TapCRM and easy access to dashlets like sales pipeline, opportunity pipeline and top 10 sales chart, you can ensure that you have all the information and insights that help you in taking smart decisions based on your sales metrics.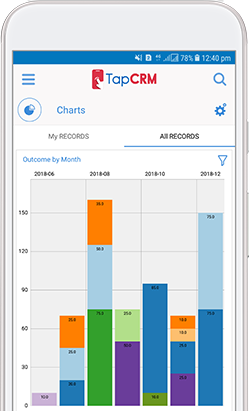 ---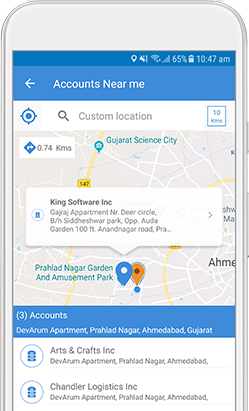 Nearby Search
The 'nearby search' feature enables you to find the prospects and customers that are in your proximity. As these records are already in your CRM, you will be able to see them in the map whenever they are in your proximity. All you need to do is tap on the icon to schedule a meeting and get the driving instructions. You can also directly search for the location from the map.
---
Log Calls
Directly log calls from contacts added in the CRM. Once a call from any contact is completed, log that call to the any module in CRM. This will automatically generate a new record in that module. Modules can be Accounts, Contacts, Targets and Leads.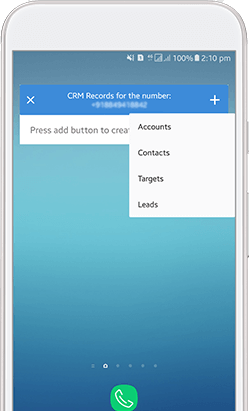 ---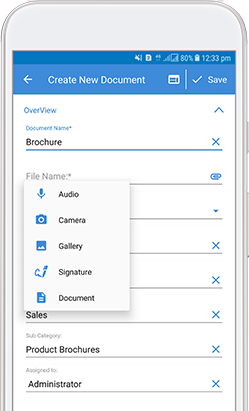 Attach Files
You can get an access of everything right from the document to images from the root memory of your device. Thereafter, you can upload several files from your device to the CRM as there is no restriction to the type of file. It accepts PDF, Doc, Spreadsheet, Presentation, Video file etc. Click pictures (product placements or technical defects) from the camera of your device and sync them with your CRM.
---
Scan QR Code / Business Cards
The Business Card Scanner enables you to input your business card information into your CRM. You just have to scan the business card or QR badge. Once you do that, the information gets filled into their respective fields. After the process is over, you can go through it and make sure that it is free of discrepancies.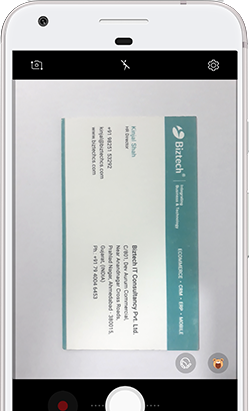 ---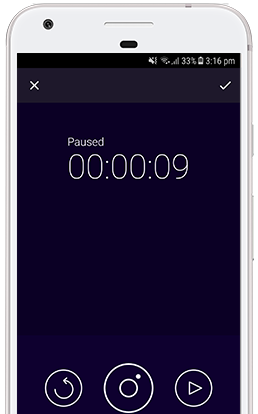 Voice Notes
Voice notes help you from undergoing the task of writing the moments of meetings. You can just record voice notes about your afterthoughts, link the files to your records, download and listen to them whenever you want to get back to the details.
---
Electronic Signature
The electronic signature feature enables you to capture electronic signature and upload it as an attachment to notes or documents module in CRM. All you need to do is open the attachment section and find the signature screen. Thereafter, you just have to attach the signature to notes and save it as a JPG file on your CRM.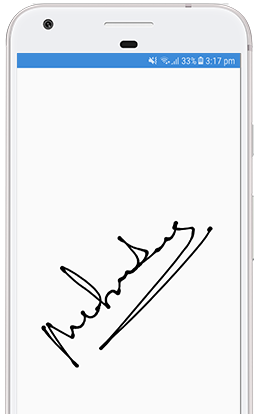 ---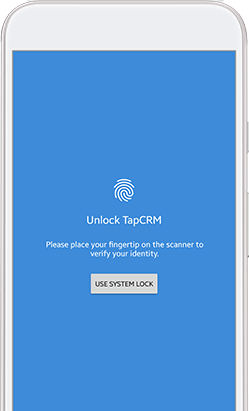 App Lock
TapCRM users are provided the app lock security option to access the application via fingerprint scan, pattern lock/passcode or face Id. Fingerprint/Pattern or Face Id scanning can be enabled from the settings section of TapCRM.
---
White Label Solution
You can choose to opt for White Label Solution to use TapCRM. Have your own brand logo and brand name visible to your CRM users. There are various use cases and numerous applications where your business need to appear first.
---
Industry Use-cases
Increase Your Productivity and Sales
The best part about TapCRM is that it gives you an access to your CRM from your mobile. Sales professionals can update and synchronize information on the move, share real-time data, follow up with leads and do much more!
Sales team:
The app will make the sales cycle shorter and enable sales professionals to nurture leads. It will also help create opportunities, apply workflows, customize sales processes and streamline order management.
Marketing team:
Using TapCRM, your marketing team will be able to target customers in ways not possible in desktop CRM systems. They can make their campaigns more customer centric.
Customer Service:
Your customer service team will be able to resolve customer issues quicker due to easier accessibility. It will boost customer satisfaction and reduce costs spent on support.
IT Department:
TapCRM App will help your IT department through increased user adoption and providing 24X7 access to the CRM. This will ensure up-to-date and more accurate data.
You May Also Like
Supported Versions
7.5.0 to 7.10.11