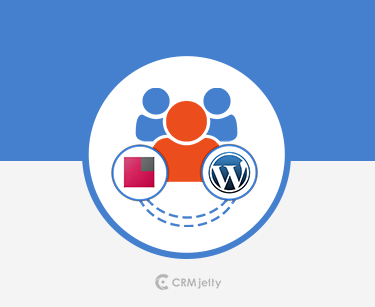 Reduce operational costs and improve customer satisfaction by empowering customers to get online support, get their complaints addressed & access up-to-date transaction history.
CRMJetty - SuiteCRM Customer Portal for WordPress
Save Countless Support Hours by Deploying A Self Service Customer Portal with Minimal Investment
When you opt for CRMJetty - SuiteCRM Customer Portal for WordPress you not only give your customers an alternative way to get fast and hassle-free support but also save valuable support hours. And the best part? You can deploy this portal solution with minimal investment as it integrates and leverages your existing CMS and CRM systems. Which means no headache of organization-wide system restructuring or expensive manpower training.
At CRMJetty we have achieved this by integrating the world's most popular CMS framework, WordPress with the world's most popular CRM for SMEs, SuiteCRM. So our portal solution leverages the user-friendliness of WordPress and combines it with the flexibility and robustness of SuiteCRM to give you a world class customer portal that is functional, secure, scalable and customizable.
Why Opt for SuiteCRM-WordPress Customer Portal
Bring down operational expenses by empowering customers to seek answers through a well-documented knowledge base or place support requests on their own.
Allow customers to access all their relevant data. For example, past quotes and orders.
With our CRM integrated portal you can provide better customer experience by quickly following up and resolving on all open cases and support requests.
Customers can also communicate with admin with the option to comment on their open cases.
As the customers place their own request, there are less chances of ambiguity and miscommunication.
Customers can update account details on their own including sharing and updating docs.
WordPress is an online, open source and feature-rich CMS. It allows you to customize your portal pages as well as add custom look and feel to your portal.
Why is Our Portal Solution The Right Choice for You?
Our portal solution integrates WordPress with SuiteCRM. So you don't have to invest in additional software or infrastructure or training.
Our portal solution is also customizable. So depending on your industry and your unique customer requirements we can customize the portal modules and make it work for your business.
Data security is extremely critical to any business. Especially, when dealing with your CRM data, we are talking about your business-critical information. SuiteCRM WordPress Customer Portal is not like other plugins. It does not store or fetch any data to our DB. It simply connects your SuiteCRM with WordPress. The data is secure on your servers and WordPress provides the interface to the end users with secure access. And, everything is hosted on your servers. The role of the SuiteCRM WordPress Customer Portal plugin does not add any vulnerabilities whatsoever on your CRM data.
Key Product Features
Role based Accessibility
Customer Portal provides you with a feature to manage SuiteCRM Modules accessibility for your WordPress Portal users. You can also decide as to the access of which module and rights should be provided to which user by assigning them to a WordPress User Group.
---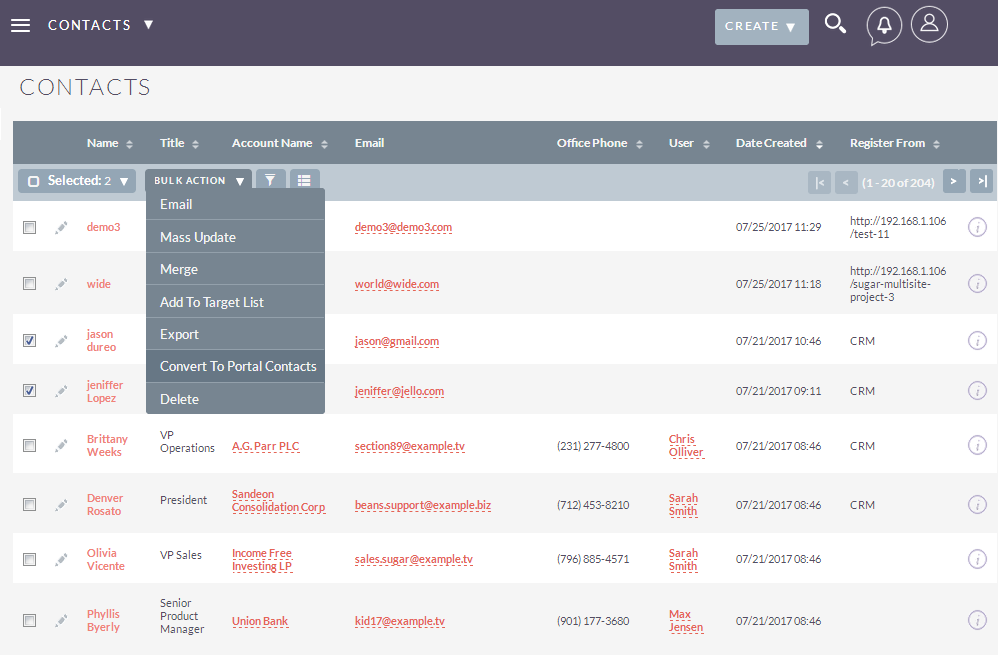 Generate mass credentials
Generate portal credentials for already created CRM contacts and export them into csv file. Convert these contacts to Portal Users by importing them to your WordPress account. An email will be sent to these users with their Portal credentials.
---
Configure Module Layouts
Set Portal Layouts for each accessible module. Customer Portal plug-in provides facility to set Portal Layouts for each module in SuiteCRM. You can set layouts for List, Edit, & Detail view from SuiteCRM. The same will be displayed in the Portal.
---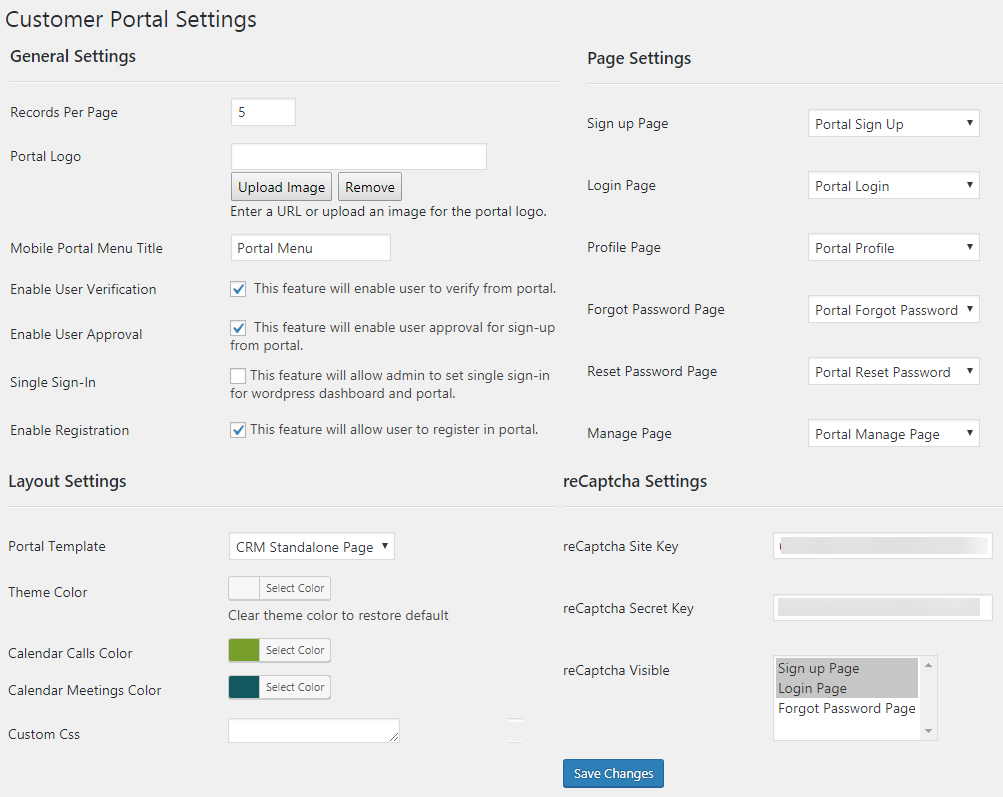 Customize Your Portal
Name the portal, upload a logo, set records to be displayed on a page and set display options like theme color and calendar module colors.
Choose standalone page template with custom design or set full width page template with header and footer theme.
Customers can also add their profile picture from the Portal.
---
Single & Secure Sign-in
You can have safe and secure portal login for the customers. It has a single sign-in for default WordPress user account and for portal.
A new user can directly sign-up from the Portal. The credentials will be verified to check whether any customer has been registered with same username and email address before. If no such user exists in the system, then a user will be created in WordPress and SuiteCRM Contacts module.
Once signed-up from the Portal, user can directly login to the Portal and can also access his WordPress Account without having to login again.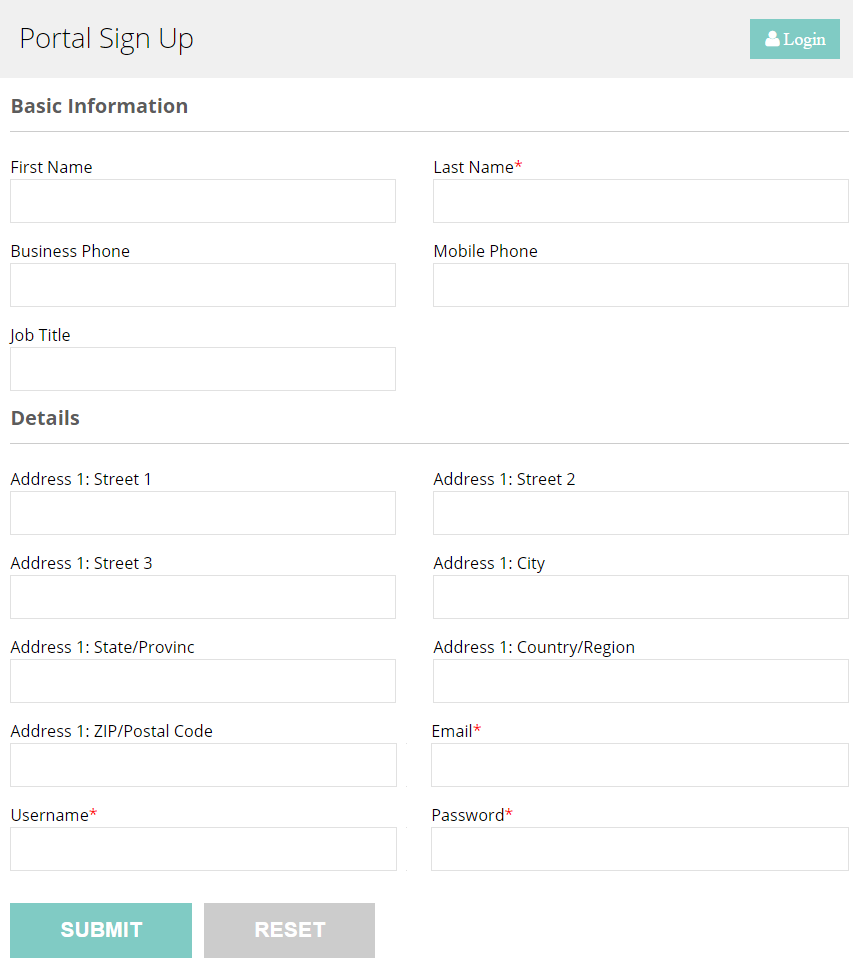 ---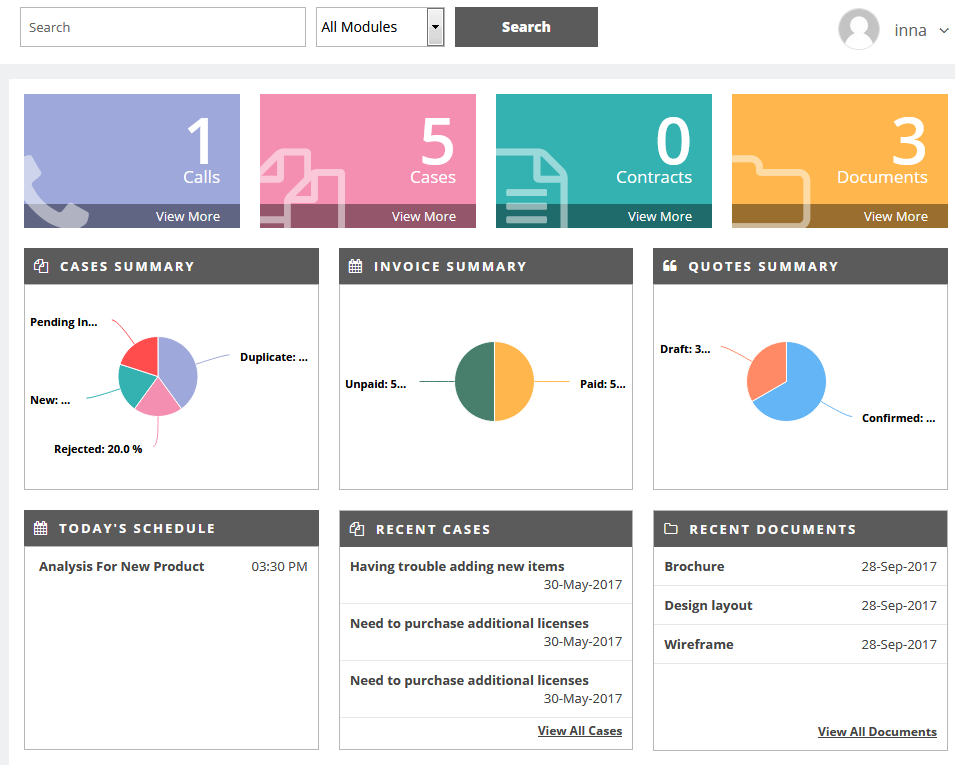 Attractive Dashboard with icons
Customers will get an attractive dashboard with all enabled modules for quick accessibility.
Accessibility to different modules for different user groups can be set from the SugarCRM backend. WordPress admin can set modules displaying recently added records and allow portal users to view them in their dashboard.
Customers can view charts for cases and quotes module to know their status. They can also add any record with quick add button.
Customers can also search globally from the portal or can select module from drop down to search from any specific module.
---
Product Catalog
Admin can select products from the CRM and make them visible in the portal.
Customers will be able to see only the products that are made "Portal Visible" in the frontend by the Admin.
These products will be visible to users in the frontend along with its details.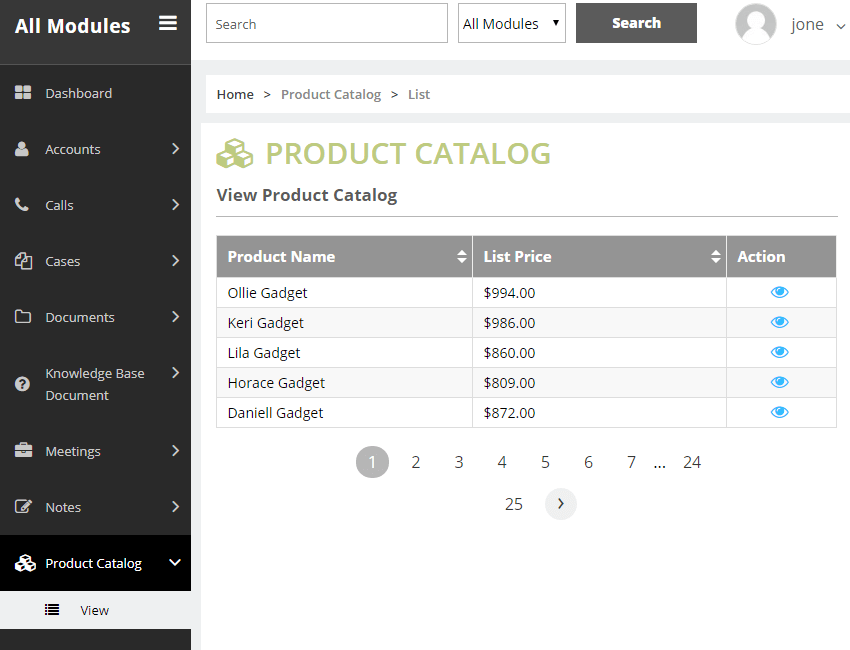 ---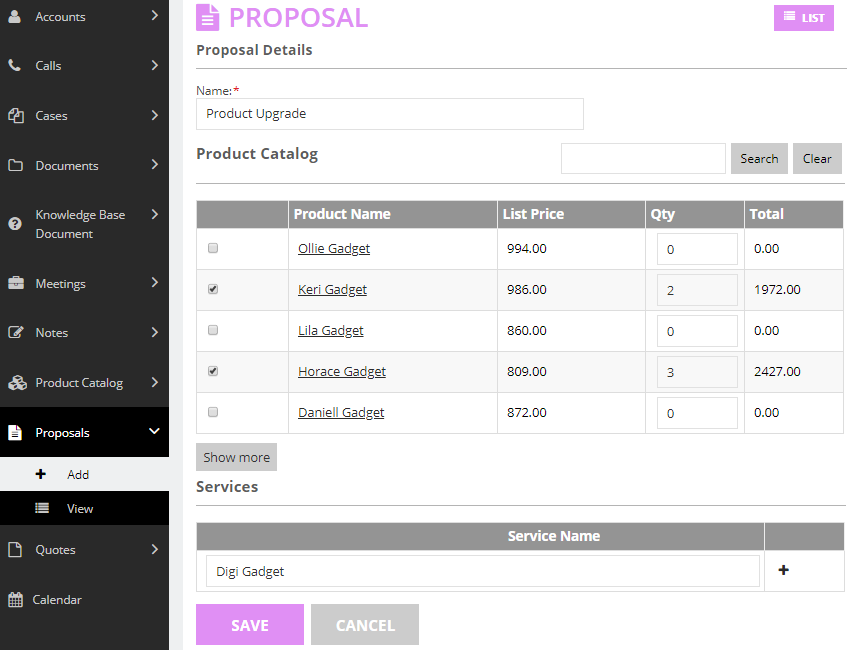 Generate Proposal
Users can create proposals in the portal. They can select products from the catalog, set the quantity and send proposal to the admin.
Portal also enables customers to search products. They can request for products that are not enlisted in the catalog.
Till the time admin does not accept the proposal, its status will appear as pending. When admin sees the proposal, he can either reject it or convert into quote.
Users can edit or remove a proposal only when it is under the pending status.
---
Notifications
Customers can get updates for latest actions performed with the help of notifications.
Customer will get notified if new record is created, status is changed or any case updates are added by admin.
Customer can also set notification preferences from portal itself.
Customer can also filter the notification list based on type of notification, select specific module or choose any specific duration.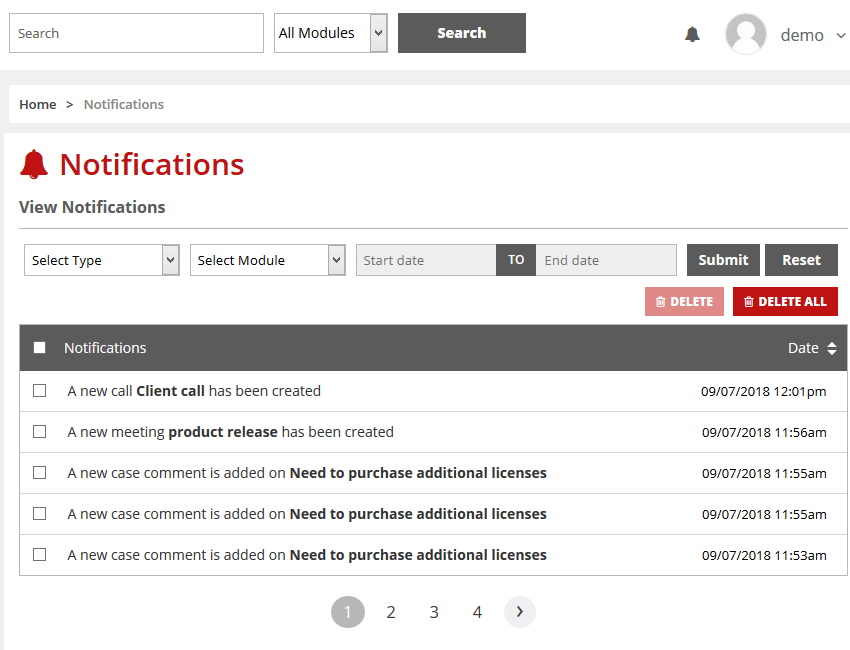 ---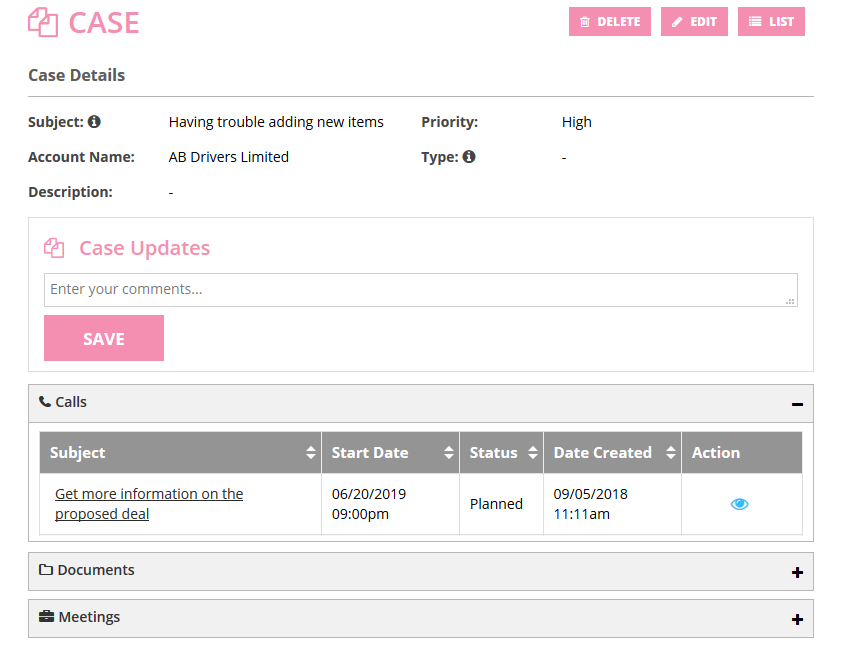 Access Sub-Panel from Portal
Customers portal provide functionality to access related module records from sub-panel.
Customer can set access for sub-panels from dynamics access rights configurations.
You can also add new record or navigate to the detail view from sub-panel itself.
---
Access Quotes, Invoices & Contracts from Portal
Customers can view Invoices, Quotes, & Contracts from portal and even download them in PDF format.
Customer can also accept or decline confirmed quotes from the portal from the detail view of the quote record.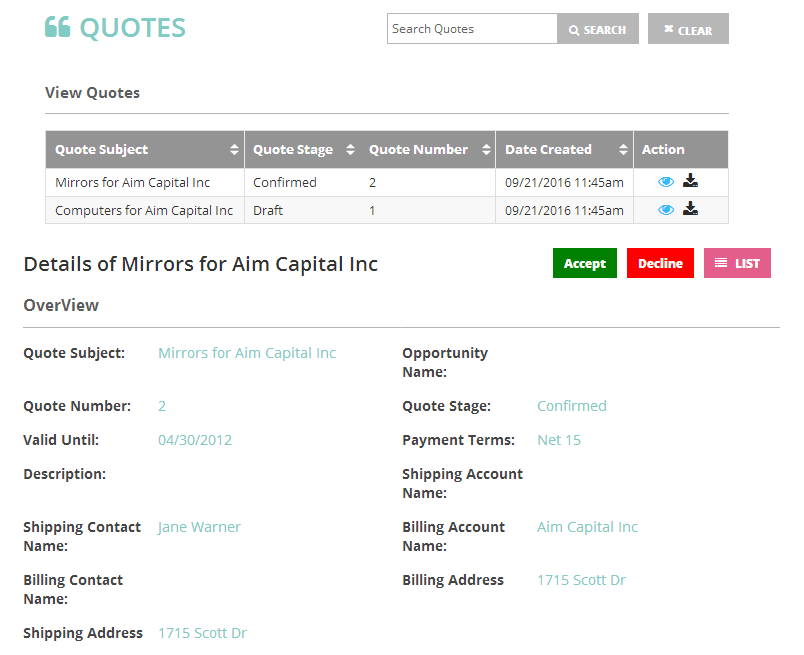 ---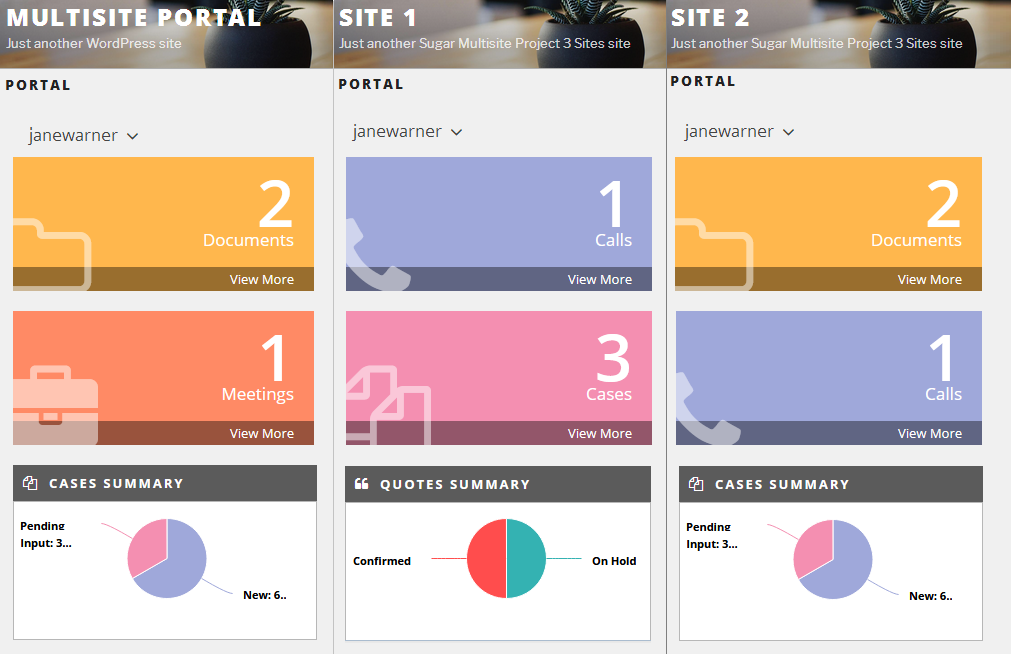 Multisite & Multi-domain Support
With multisite support, you can provide access of portal to users of your WordPress multisite. So user of all the domains of your multisite installation can access the portal.
---
Access Knowledge Base from Portal
Knowledge Base shows all of the articles that are available to your customers. Customers will be able to access knowledge base articles based on their categories or search the articles.
Customer can access knowledge Base without login.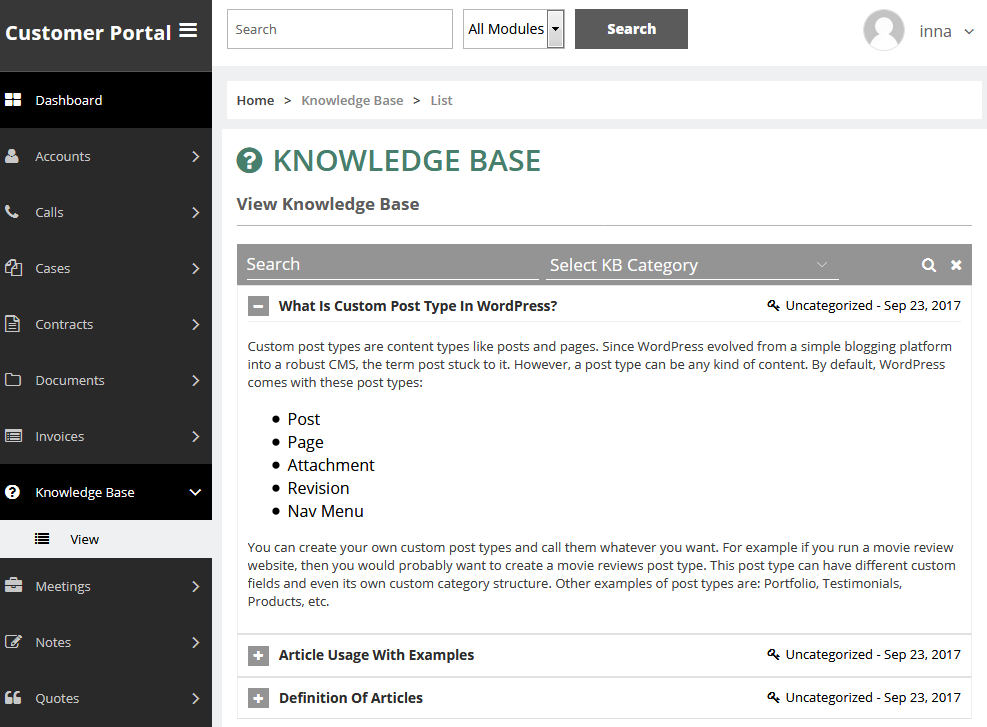 ---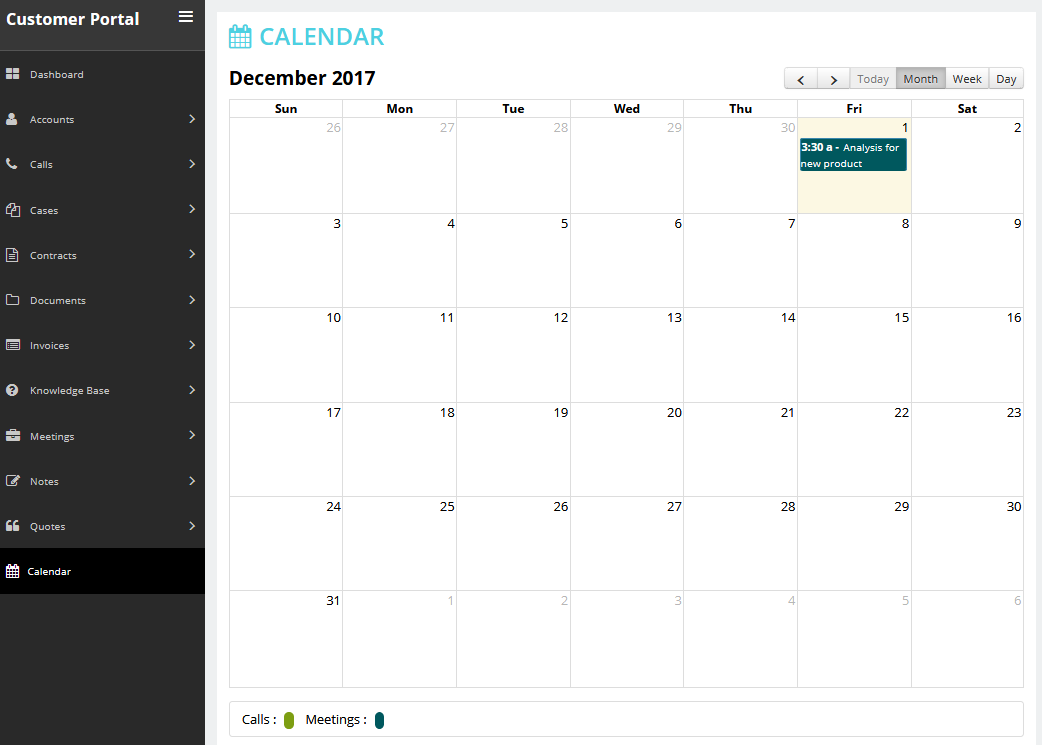 Calendar View of daily activities
Customers can view all their meetings and calls scheduled for the day, week or the whole month in calendar view. This will help them view all their important activities at one place.
---
Tawk.to Chat Integration
Easily interact with your customers using Live Chat. Integrate Tawk.to Live Chat plugin with SuiteCRM and capture the chat transcripts as a new case. You can also relate the Chat Transcript with the concerned contact.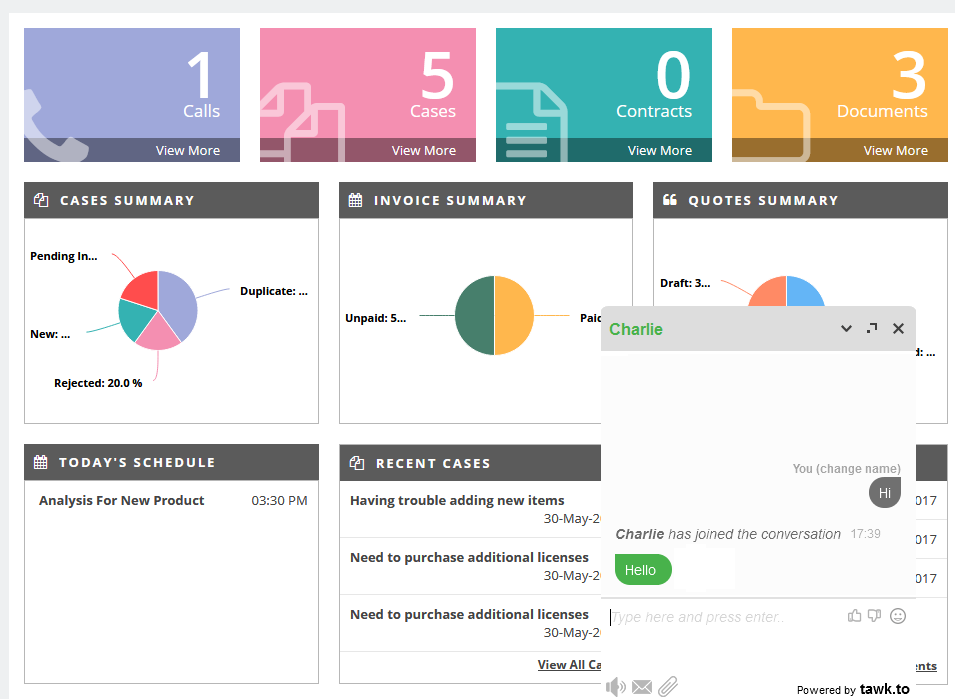 ---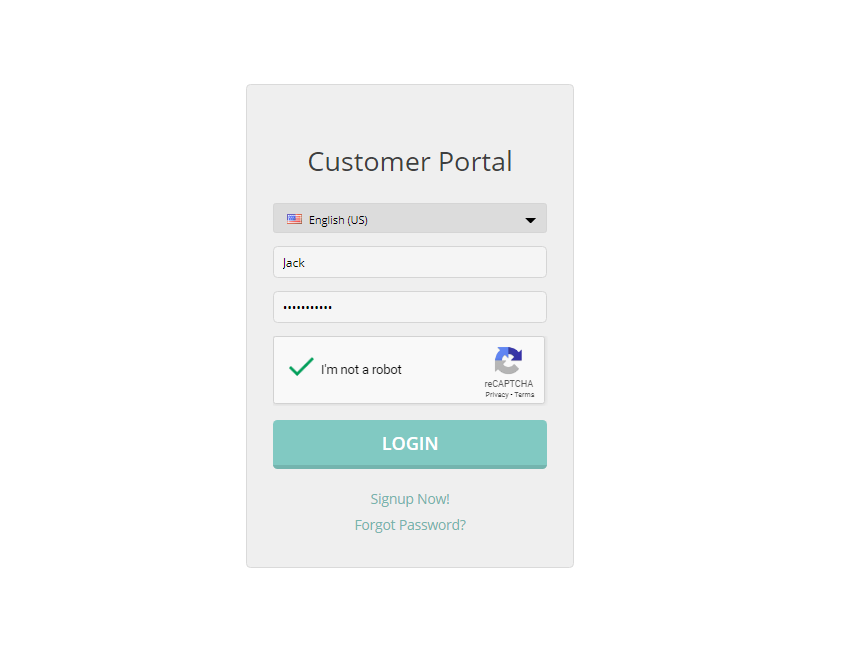 Multi-Language Support
Our SugarCRM WordPress customer portal is a smart way to manage your customer relationships and also helps overcome the language barrier between you & your customer base.
Using our customer portal, you can provide all the required knowledge and solve their queries in their known languages.
You can select the language and add the messages in that language from the admin panel. Whenever a portal user selects that language, all the changes will be reflected.
---
Industry Applications
Get flexible technology framework options to create your own portal depending on your existing platform or industry. Given below are some possible industry applications.
Retail
Customer centric business processes is one of the key success factors in the retail industry be it offline retail or online retail. With our customer portal you can provide your customers options for order tracking, managing returns, post complains, provide product feedback, access FAQs, access shipping, return and refund policies and whole lot more.


Education
Educational institutions can use our portal to provide better service and grievance redressal system for their students and parents. If you are in the education industry, you can create separate or combined portals for students and parents and provide timely class/exam/fee related updates, manage student/parent queries, fix up an appointment for parent meetings, reach out to interested parents, etc.


BFSI
BFSI is another industry where customer service is a major determinant of business profitability. With our portal solution, your customers can get all their grievances addressed much faster, get relevant information for opening various accounts and maintaining them, get all the information about various financial products, track their transaction history, etc.


Real Estate
Real estate industry is heavily dependent on exchange of confidential information with customers. Our portal can be a great way to do this. Create an online hub for all confidential customer documents, provide property development updates, track EMI payments and pending installments, offer discounts and promote promotions schemes – all can be done securely with our Customer Portal solution.


Travel
Travel agents and tour operators can manage all communication with their customers easily and securely with our Customer Portal. Manage customer queries during the entire service lifecycle, provide tour itineraries and updates (change in schedule), manage payment details, handle special customer requests, upsell, cross-sell products, etc.

You May Also Like
Supported Versions
7.4.0 to 7.11.5
Most Recent Love from Users
ghansen