Reduce Operational costs and improve customer satisfaction by giving access of advanced knowledge base and robust ticketing system to unlimited customers. Get your custom data-management flow configured with SuiteCRM customer portal for WordPress.
CRMJetty - SuiteCRM Customer Portal in WordPress
Save Countless Support Hours by Deploying A Self Service Customer Portal with Minimal Investment.
When you opt for CRMJetty - SuiteCRM Customer Portal for WordPress, you not only give your customers an alternative way to get fast and hassle-free support but also save support hours. And the best part? You can deploy this portal solution with minimal investment as it integrates and leverages your existing CMS and CRM systems. Which means no headache of organization-wide system restructuring or expensive manpower training.
At CRMJetty we have achieved this by integrating the world's most popular CMS framework, WordPress with the world's most popular CRM for SMEs, SuiteCRM. So our portal solution leverages the user-friendliness of WordPress and combines it with the flexibility and robustness of SuiteCRM to give you a world-class customer portal that is functional, secure, scalable and customizable.
Why Opt for SuiteCRM-WordPress Customer Portal?
Lesser Operational Cost: Bring down operational expenses by empowering customers to seek answers through a well-documented knowledge base or place support requests on their own.
Scalable and Customizable: Our customer portal is the best fit for any growing business. You can scale our SuiteCRM WordPress portal by adding necessary modules that fit right into your business logic. Our portal can grow alongside your business.
Default/Custom Module Support: Our SuiteCRM customer portal now supports all of the default as well as custom contact modules. And not only that but it also syncs all the custom relationships of that particular contact module.
Manage Daily Activities: Give your customers an organized way to overview and schedule their tickets, calls, meetings, etc. on a calendar with our customer portal.
Unified Data Access: Allow customers to access all their relevant data. For example, past quotes and orders.
Enhanced Customer Experience: With our CRM integrated portal, you can provide better customer experience by quickly following up and resolving on all open cases and support requests.
Direct Communication: The customers place their own requests through the portal leaving fewer chances of ambiguity and miscommunication. Customers can also communicate with the admin with the option to comment on their open cases.
Updated Customer Data: Customers can update account details on their own including sharing and updating docs. This way you won't have to allocate any resources to manage and update such data.
Custom Look & Feel: WordPress is an online, open-source and feature-rich CMS. It allows you to customize your portal pages as well as add a custom look and feel to your portal.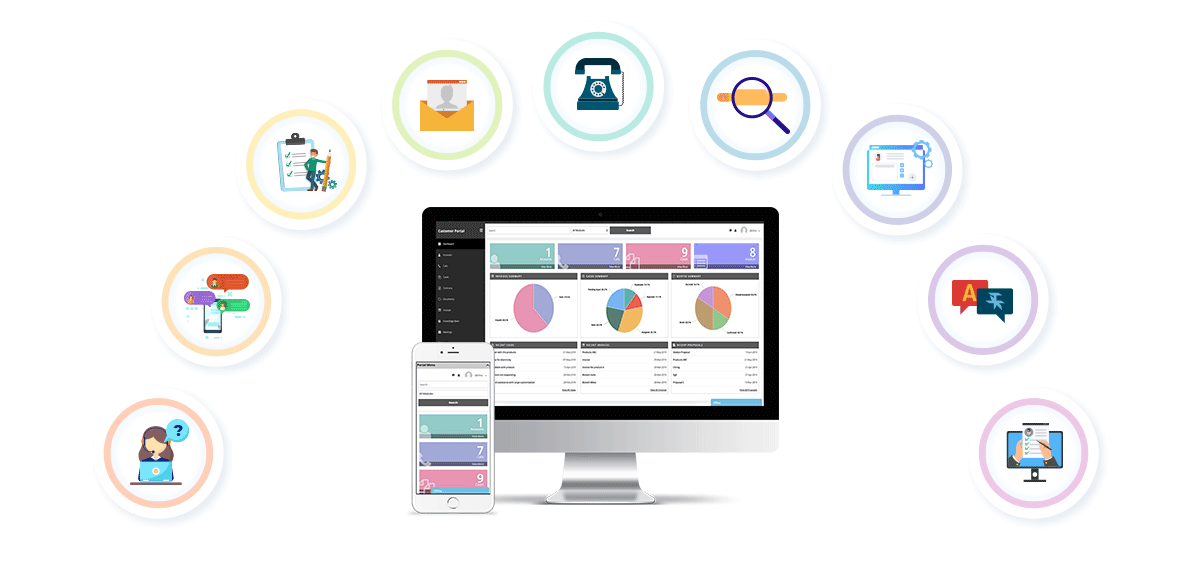 Feature Highlights

Role-Based Accessibility
Manage SuiteCRM modules' accessibility for your portal users by assigning them to a user Group.

Mobile Responsive
Enhance your customer relationships with our mobile responsive and smooth interface SuiteCRM customer portal.

Multi-Language Support
Maintain your wide customer base seamlessly with our customer portal which supports multiple languages.

Customized Portal
Give the SuiteCRM WordPress customer portal your brand's look by giving a unique name, adding a logo, theme color, etc.

Case Deflection
Reduce your support-time exponentially by letting your customers solve their problems from the knowledge base.

Quotation Management
Shorten the proposal approval process with our customer portal. Business made easy for you & your customers.
!
Supported Versions
7.4.0 to 8.2.2