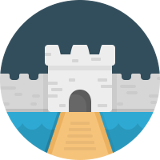 Control what your users can access and save time, money, and frustrations. Lock down sensitive data in SuiteCRM to specific groups or teams. Supports unlimited assigned users, unlimited group assignments to records, custom layouts for each group, login/sudo capabilities and much more.
Data security and peace of mind are just a click away
Rogue staffer stole health insurance holders' personal deets
Biometric data stolen from corporate lunch rooms system
Cyber attackers hacked a camping store
88% of Retailers Believe They are at Risk of Data Threats
These are real headlines.
They remind us that today no business – whether a giant credit-card processor, a nationwide retailer, a corporate lunchroom, or a small camping-supply store – is safe from the risk of data theft.
And while many people picture shadowy hackers breaking through digital barriers as the primary culprits of these threats, much of the time it's far more mundane. It's employees that have access to the data from the inside. Or insecure systems that don't adequately secure data. Or clunky internal policies that require passwords and other secure information to be passed around.
The threat is not only to the people whose data was stolen, but to the businesses themselves. Remediation and legal settlements be costly – a federal judge just approved an $11.2 million settlement for one prominent data breach. Worst still, the reputational harm to the business can be crippling.
The technology and data that power modern businesses are incredibly valuable. But businesses need comprehensive solutions to keep that data safe.
Part of that solution is clear: Only provide access to those employees that need it.
SuiteCRM has amplified your business by allowing your teams to build and store valuable data that helps them serve customers and close sales with prospects. Quick access to that data empowers your company's employees.
But not everybody needs access to the same data.
That's why we created SecuritySuite for SuiteCRM.
SecuritySuite allows you to quickly and easily create security groups, which allow you to give the right people the access to the right data. Thereby limiting your security risk, while not hampering the efforts of your team members.
Security groups provide a critical third piece to the your Sugar implementation. The "user" element creates the base-level user identity, while "role" dictates what a user can do with a record – view, edit, delete, etc. "Groups", by extension, allow you to define which groups of users have access to records in the first place.
And with SecuritySuite, creating and managing security groups is fast and easy.
Peace of mind for your customers, your employees, and you
Naturally your customers and prospects are better protected when the access to their data is limited to just those team members who need that access.
But implementing security groups also makes life easier for your employees. For system admins responsible for the safety and security of sensitive data, knowing who has access to that data and how that access can be controlled creates serious peace of mind.
And let's face it, having access to sensitive data comes with great responsibility. For those team members that don't need that access, there's no sense in burdening them with that extra responsibility.
Finally, SecuritySuite helps you sleep better at night, knowing that you're doing everything you can to protect the valuable customer data that your company collects.
Thousands of businesses like yours are already using SecuritySuite
We can discuss the theoretical benefits of SecuritySuite all day, but with thousands of businesses around the world already using SecuritySuite, we can see what they think.

I just couldn't do without it. It helps me do everything I need to. A very useful and well thought out Add on. Highly recommended and I guarantee that you will not find another alternative. - Embassy Property Developments Private Limited

This impressive add on is easy to use, extremely flexible, and huge time saver. It allows different personnel access to only what they need, which is a major improvement in the user experience. To be able to limit user visibility at such a granular level has really allowed us to secure our sensitive information, while still providing our departments with access to the information they need. I am not sure how we managed prior to having this tool. Also, the responsiveness of the support team for the product is top notch! This add on exceeded our expectations and is worth every penny! - User "Sunda"

We have been using SecuritySuite for about 2 years now and all I can say it has been one of the best modules within our CRM! Jason and his team have created a product that continues to add functionality that we need. Thanks - User "cgrant"

No brainer. I have purchased it for two installations and not regretted it. - User "andreskruse"
Security and efficiency
Securing sensitive data naturally comes to mind first – as it should.
But implementing SecuritySuite and allowing system administrators to define and control access to different groups of users also makes your company more efficient.
For team members on your sales and support teams, being effective depends on having access to the right information at the right time. If there's data that they don't need to perform their job, then why crowd them with unnecessary information? By limiting their access to only the data that they need, they can more efficiently find and access the data they need to be successful.
Of course if we want to talk about efficiency, wait until your system admins try out SecuritySuite! With SecuritySuite, admins can not only easily set up security groups, but they can create custom layouts for each of these groups. Better still, training new users and troubleshooting existing users is a snap, because admins have the ability to log in as any user to provide direct, hands-on support.
Speaking of support…
Over more than a decade, we have developed and refined SecuritySuite to meet the needs of our valued users. Today, SecuritySuite is one of the longest-running solutions for SuiteCRM.
But we know that our job continues after you buy as well. That's why we offer top-notch service to our customers to help them implement and get the most out of SecuritySuite at their organization.
How do we know our service is "top-notch"? Because we get feedback like this time and again:
"the responsiveness of the support team for the product is top notch!"
"Very responsive development team, both in their communication and in having improvements incorporated and issues resolved."
"Great support"
"superior support"
"And cherry on the cake is the excellent support from eggsurplus. All questions we ever had did get answered within hours and sometimes even minutes."
Click here if you're ready to join thousands of others already benefiting from SecuritySuite.
Summary of Group/Team Features
Multiple assigned users [Enterprise & Professional only]
Grant admin rights to normal users [Professional only]
Create different layouts for different groups/teams
Quickly help by logging in as any user
Filter search results by groups/teams
See assigned groups on views
Assign Create permissions. Great for data entry positions.
Speed up user setup with quick role grid setup feature
Quickly assign or remove a group from many records at one time
Hookup custom modules to groups
Assign multiple groups to records
Communicate with the group message dashlet
Filtered My Activity Stream
Assign Inbound Emails to groups
Learn more about these features.
Enterprise
Everything-In-One Security
Unlimited Assigned Users
Grant admin rights to normal users
Custom group layouts
Login/Sudo as any user
Filter search results by groups
Create Permissions
Quick role grid setup
Mass assign/remove from lists
Custom module support
Multiple group assignments
Unlimited users
Professional
Admin + Team Security
Unlimited Assigned Users
Grant admin rights to normal users
Custom group layouts
Login/Sudo as any user
Filter search results by groups
Create Permissions
Quick role grid setup
Mass assign/remove from lists
Custom module support
Multiple group assignments
Unlimited users
Enhanced
Team Security
Unlimited Assigned Users
Grant admin rights to normal users
Custom group layouts
Login/Sudo as any user
Filter search results by groups
Create Permissions
Quick role grid setup
Mass assign/remove from lists
Custom module support
Multiple group assignments
Unlimited users
Supported Versions
7.6.2 to 7.14.0