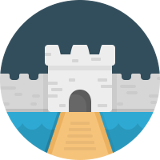 Control what your users can access and save time, money, and frustrations. Lock down sensitive data in SuiteCRM to specific groups or teams. Supports unlimited assigned users, unlimited group assignments to records, custom layouts for each group, login/sudo capabilities and much more.
#993 - User admin cannot create new users
Closed
Bug?
created by BoXBo 4 years ago
I do not understand the last note for "General User Admin": Admins for the Users module will have access to the Users module, but not to create or edit from the Employees module.
My current problem is: I've installed the professional version created a new group and grant "Admin & Studio Rights" to "User/Security Groups/Roles" to this group. But if I login as a user who is member of this group, then I'm not able to create a new user. Is this behaviour as expected or did I something wrong?
Supported Versions
7.6.2 to 7.12.6