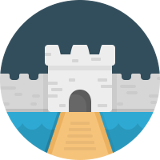 Control what your users can access and save time, money, and frustrations. Lock down sensitive data in SuiteCRM to specific groups or teams. Supports unlimited assigned users, unlimited group assignments to records, custom layouts for each group, login/sudo capabilities and much more.
#609 - custom groups layouts not working correctly
Closed
Bug?
created by admin6

Verified Purchase

5 years ago
Hi,
we have SecuritySuite installed in our SuiteCRM system and are having problems using custom group layouts.
We have SecuritySuite installed on two instances of SuiteCRM - test and live. In test everything is working fine and the custom group layouts we have created are working as expected. However in live the custom layouts are showing some strange behaviours.
We have created our custom layouts for the "contacts" module. When we are in the "list" view for contacts and click the "create" button or the "create contact" from the "contacts" menu we see the correct custom "edit" layout. Before saving a new contact if we then click "create" again we are now incorrectly shown the default "edit" layout.
The same happens when viewing contacts. If we are in the "list" view and click on a contact then we are shown the correct custom "detail" layout. Now if we click the "next contact" arrow button at the top of the page or select a recently viewed contact from the contacts menu we are shown the incorrect default "detail" layout.
Basically the first contact viewed or edited directly from the contacts "list" view is shown with the correct custom layout while all other ways of navigating to a contact "detail" or "edit" layout results in the incorrect default layouts being shown.
Both the test and live instances are running the same version of SuiteCRM (7.4.3) and the same version of SecuritySuite (2.9.2). As I mentioned the test instance is fine and there are no problems with the custom layouts. I have compared the live and test instances to see what differences there are that may be causing this problem. As far as I can see test and live are very similar - one difference is that we have "SugarChimp" installed and active on our live instance but not on test.
I have reviewed the log file and cannot see any error or warning messages being generated that are related to this problem.
Could you please let me know what actions to take next to try and fix this issue.
Supported Versions
7.6.2 to 7.12.6