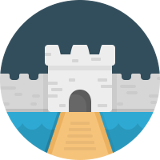 Control what your users can access and save time, money, and frustrations. Lock down sensitive data in SuiteCRM to specific groups or teams. Supports unlimited assigned users, unlimited group assignments to records, custom layouts for each group, login/sudo capabilities and much more.
#3381 - issue to uninstall Security Suite
Closed
Installation
created by Groupe Cahors

Verified Purchase

a year ago
Hi, I need help to uninstall SuiteCRM. I try to uninstall it from our dev environnement. Uninstallation stops à 93% and then I cannot access anymore to crm (white page). I really need help and it s rather urgent, because SuiteCRM production is very very slow since our subscription has expired, and people cannot work any more.
Thank's for your help
_Inclure: cache/upgrades/temp/IvprtE/scripts/pre_uninstall.php Running pre_uninstall... 93%
Désinstallation des Beans : SecurityGroups Suppression des tables securitygroups_acl_roles Suppression des tables securitygroups_users Désinstallation des Relations Suppression des tables securitygroups_records Suppression des tables securitygroups_default Suppression des tables securitygroups_additionalusers Reconstruction TableDictionary... Désinstallation de l'extension Désinstallation de l'extension Désinstallation des Packs de Langue Reconstruction Language...en_us Reconstruction Language...es_es Reconstruction Language...it_it Reconstruction Language...fr_fr Reconstruction Language...pt_br Reconstruction Language...de_de Reconstruction Language...ru_ru Reconstruction Language...ua_ua Reconstruction Language...nl_nl Reconstruction Language...hu_hu Désinstallation de l'extension Désinstallation de l'extension Désinstallation de l'extension Désinstallation de l'extension Désinstallation de l'extension Reconstruction ActionViewMap... Reconstruction ActionFileMap... Reconstruction ActionReMap... Reconstruction Administration... Reconstruction EntryPointRegistry... Reconstruction Extensions... Reconstruction FileAccessControlMap... Reconstruction Layoutdefs... Reconstruction GlobalLinks... Reconstruction LogicHooks... Reconstruction Menus... Reconstruction Include... Reconstruction ScheduledTasks... Reconstruction UserPage... Reconstruction Utils... Reconstruction Vardefs... Reconstruction JSGroupings... Reconstruction Actions..._
Supported Versions
7.6.2 to 7.12.6