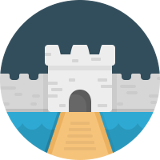 Control what your users can access and save time, money, and frustrations. Lock down sensitive data in SuiteCRM to specific groups or teams. Supports unlimited assigned users, unlimited group assignments to records, custom layouts for each group, login/sudo capabilities and much more.
#1654 - Listview Mass Action "Delete" still visible after disabling in user role
In Progress
Bug?
created by kinetix 3 years ago
When I set "Delete" to none within a role I created, it does not disappear from the listview mass action drop down. All other mass action options do disappear when I disable them in the role, like export, import, etc. I even ran a quick repair and rebuild.
I am using SuiteCRM v 7.10.7 / PHP v7.2.
Supported Versions
7.6.2 to 7.12.6