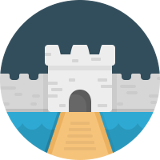 Control what your users can access and save time, money, and frustrations. Lock down sensitive data in SuiteCRM to specific groups or teams. Supports unlimited assigned users, unlimited group assignments to records, custom layouts for each group, login/sudo capabilities and much more.
#1632 - Create Security Groups and Roles
In Progress
General Question
created by jva_alteridea 3 years ago
Hi,
We are using SecuritySuite-Enhaced in our system and we have a requirement that I do not know how to achieve with the standard security group / roles tools.
We have a custom Projects module (related with another 2) with users as members of a project. For each project there are 3 roles with different group level privileges for the involved modules. The part that is special, is that a member/user can be part of more than project and in each project the might have a different role.
The only solution I have found is create a security group per project and duplicate the 3 roles also per project. This would require to programatically: * create the security groups and the roles (in the case of the roles by duplicating 'seed' ones with the right configuration) each time a project is created (in the before_save hook). * When a user is assigned to a project, link it to the appropriate role
My first question is if there is a better approach? The second one is, if this is the only approach, how is the best way to implement it? Is there any documentation/example code I can use?
Thanks in advance
Kind regards Juan
Supported Versions
7.6.2 to 7.12.6