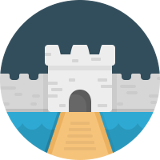 Control what your users can access and save time, money, and frustrations. Lock down sensitive data in SuiteCRM to specific groups or teams. Supports unlimited assigned users, unlimited group assignments to records, custom layouts for each group, login/sudo capabilities and much more.
#1211 - History / View Summary shows records of ALL security groups, not only the current security group
Closed
Bug?
created by menno 4 years ago
Suitecrm ; all versions, including 7.10. All fresh installation (no upgrade) I have accounts that are part of more then 1 securitygroup.
When I login as user of a specific securitygroup: in Accounts-History listview I see the right calls (only calls of users in that securitygroup) But in Account-History-View Summary I see ALL calls of all security groups (also calls of other security groups !!) Is there a workaround / fix for this ?
There is a SuiteCRM topic with same name. They suggested to post it also on this place.
Supported Versions
7.6.2 to 7.12.6