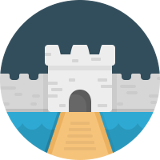 Control what your users can access and save time, money, and frustrations. Lock down sensitive data in SuiteCRM to specific groups or teams. Supports unlimited assigned users, unlimited group assignments to records, custom layouts for each group, login/sudo capabilities and much more.
#1067 - Field Level Security
Closed
General Question
created by peterjakob

Verified Purchase

4 years ago
I have the software installed and working correctly however I have one situation that I am trying to resolve and cannot. Here it is......... The field called "Additional Assigned Users" field introduced by this Add-on does not appear in the list of fields that I can put individual security on. For example I want on Role to have access to this field on a specific layout but I want another Role to have No access to this field on the same layout. All the other fields are in the list but not this one. Is this a bug? Is there something I can do to make it available?
Thanks, Peter
Supported Versions
7.6.2 to 7.12.6