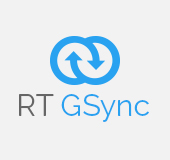 Become more efficient! Enter everything just once. Automatically sync Emails, Calendars, Contacts, and Documents between Google Apps and SuiteCRM. Get your Gmail, Contacts, Calendar items and Documents automatically synced instantly with this seamless integration.
#2131 - Contacts Sync Issue
After installation and execution of schedule, some of the contacts in Gmail and some of the meeting in Gmail have been synced to suitecrm successfully. But the thing is I created two more contacts in Gmail side, the sync to suitecrm failed. In Gmail side, I can see the message saying the operation is successful. In RT GSync Preference page in suitecrm side, there is a message in the left bottom saying Job is not created yet. When I checked the option Contacts Sync Google To Sugar, I found that I couldn't save.
Supported Versions
7.8.0 to 7.11.8