The WooCommerce Bridge for SuiteCRM lets you integrate and access all of the features of WooCommerce that you need. Become more efficient by integrating your store with SuiteCRM so that your teams can have a complete overview of all customers and orders.
Installation Guide
This Addon is working on SuiteCRM Version 7.X.
For the WooCommerce extension, we have provide you a link on user guide section. you can download the WooCommerce extension with the installation documents from there. for more information you can review the FAQ page.
Please note that if you don't have a composer install then please install it first.
How to install?
Navigate to Admin > Module Loader and select the zip file, that you would have received upon the purchase. Follow the installation process and then do repair and rebuilt.

Install library
Once you install the plugin then you need to run the below package into your system folder path as given below.
Folder Path : custom/Extension/WCIntegration/wc_Conn

Once you are in "wc_Conn" folder then you need to run the below command.

composer require automattic/woocommerce

For more information, you can follow the below link.
https://packagist.org/packages/automattic/woocommerce

Sync Up
Go to Administrator and you can see WooCommerce Sync Up Option.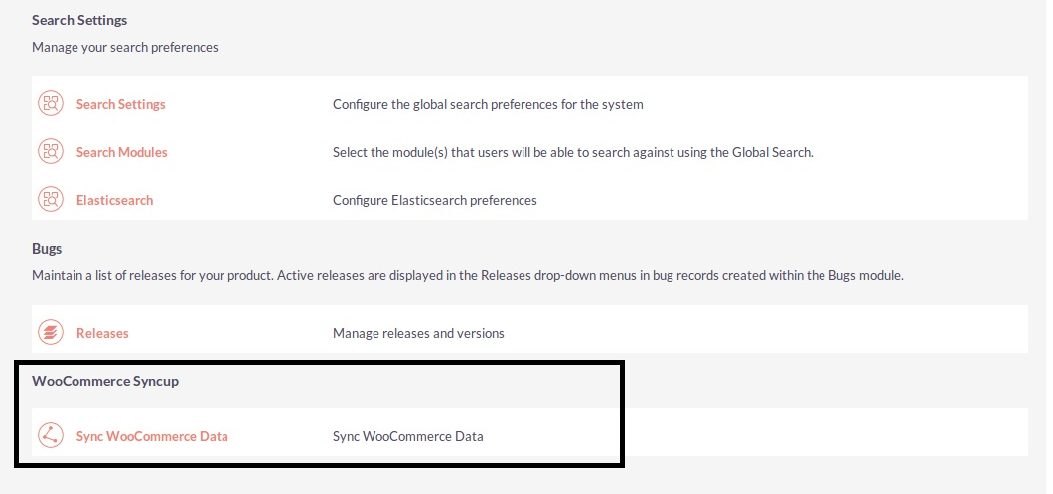 WooCommerce Settings
Once you click on that option, you can see the below screen.
Here you need to set the WC URL, WC Consumer key and WC Consumer Secret which you get from your woocommerce store settings.
[NOTE] Make sure your **max_execution_time ** in php.ini is set to higher level.We need to increase the default query limit of crm in config.php. so you don't face any issues in first time sync up process .
Supported Versions
7.0.0 to 7.12.1