The WooCommerce Bridge for SuiteCRM lets you integrate and access all of the features of WooCommerce that you need. Become more efficient by integrating your store with SuiteCRM so that your teams can have a complete overview of all customers and orders. You can even send quotes with the ability for your customers to purchase directly from the quote.
Brainvire provides an effective solution and service for integrating SuiteCRM with WooCommerce. This plugin works with all WooCommerce versions.
Our solution for Integration between WooCommerce and SuiteCRM allows your accounting and sales teams to have a complete overview of your business, customer and orders from your WooCommerce system in your SuiteCRM system.
Here are the modules covered in this plugin:
Customer
Product
Quotation (Abandon Carts)
Order
Benefits
No more duplicate entries of products, customers and orders.
Includes all the product type of WooCommerce
Manage category and attribute master of WooCommerce in CRM
Improves functional efficiencies through SuiteCRM/WooCommerce
Processes customer orders and its status within SuiteCRM due to integration with WooCommerce
Direct orders of WooCommerce
CRM Customers into WooCommerce
Contact Module of CRM is two way synchronization process in this plugin. all the WooCommerce customers will be sync up in contact module of CRM. You Can also sync up CRM Customers into WooCommerce as well.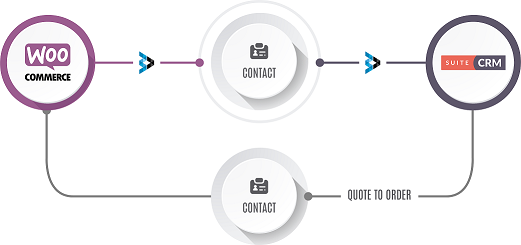 We have sync up all the WooCommerce products into our product module.

We have sync up the abandon carts of WooCommerce into quotation page.

Orders are sync up on real time basis. when order is placed into WooCommerce that time it will sync up the order on real time.

Includes
We have developed Custom WooCommerce Plugin, which needs to be installed in your WooCommerce copy to use in integration process. We have used all default modules of WooCommerce.
We have given functionality to sync all the customers of WooCommerce into CRM.
We have functionality to create customer from crm to WooCommerce on realtime.
We have given functionality to sync all the products of WooCommerce into CRM.
All the WooCommerce product type we have included in this plugin so that sales rep can create the quotation directly from the CRM.
We have given functionality to send a quotation mail to the customer with the product details directly from the CRM
Customer can place the order by clicking into quotation mail "Buy Now" Button.
If that customer is new and not in WooCommerce then it will first register it and then redirect into that cart page on order time.
If that customer is existing in WooCommerce then on order time it will automatically login first and then redirect into cart page of WooCommerce on order time.
Once customer successfully place the order into WooCommerce then that order is sync up into CRM on real time basis.
That order module is custom module in CRM.
We have also managed the order status in CRM.
Also SuiteCRM provides more features to integrate extra modules with WooCommerce Store, if required by client.
For any queries you can reach us any time. we are happy to help you.
Supported Versions
7.0.0 to 7.11.20