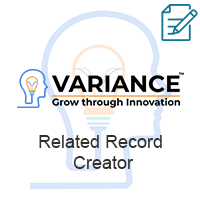 RecordCreator helps you create a related record from any module and define which fields should be copied over to the newly created related record. For example, if a user is on a Ticket record the use could create an Invoice record from that Ticket and copy over information such as the contact information or address.
Release Notes
Major Release Related Record Creator 1.0 - 09/10/2018
Related Record Creator extension helps user to convert one record of particular module to the record of the other module. This is the initial release.
"VIRelatedRecordCreatorVersion-1.0-V7.0.zip" to "VIRelatedRecordCreatorVersion-1.0-V7.10.zip" will work on SuiteCRM versions 7.0.* to 7.10 *
Major Release Related Record Creator 2.0 - 19/02/2019
1. Related Record Creator support Multi Languages
(German,English,Spanish,French,Hungarian,Italian,Dutch,Portuguese,Russian,Ukrainian)
"VIRelatedRecordCreator-2.0-Version7.0.zip" to "VIRelatedRecordCreator-2.0-Version7.10.zip" will work on SuiteCRM versions 7.0.* to 7.10 *
Major Release Related Record Creator 3.0 - 02/08/2019
1. Support Mapping of Custom Fields
2. Auto Fill up data when click on Full Form from Popup
3. Auto Fill up Assigned User field in Popup
4. Support MSSQL Database
"VIRelatedRecordCreator-3.0-Version7.0.zip" to "VIRelatedRecordCreator-3.0-Version7.11.zip" will work on SuiteCRM versions 7.0.* to 7.11.*
Major Release Related Record Creator 4.0 - 30/04/2020
Feature :
- Add License Update option in Listview of Related Record Creator Plugin

"VIRelatedRecordCreator-4.0-Version7.0.zip" to "VIRelatedRecordCreator-4.0-Version7.11.zip" will work on SuiteCRM versions 7.0.* to 7.11.*
Supported Versions
7.9.0 to 7.11.15