Any Telephony Connector is a computer telephony integration between SuiteCRM and all modern PBXs provided by VoIP softphone provider, Softphone.Pro.
Introduction
1. Click-to-Call
You can use click-to-call feature on fields with phone type. CRM transforms all the phone numbers into links. Click the link to dial the number: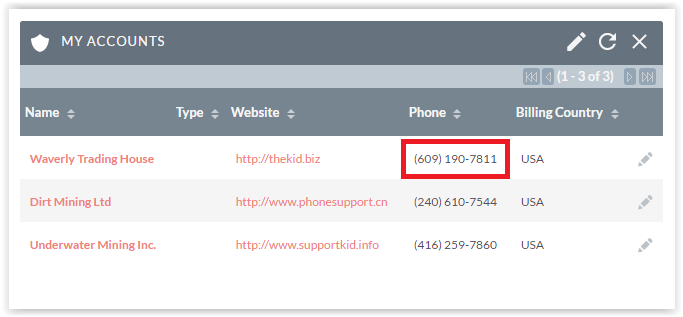 2. New tab on Incoming Call
New tab opens in your browser when you receive an incoming call. It will match on your phone numbers in any account, contact, or lead:

If the number is unknown you can create new Lead, Contact or Account by clicking the links below:

You can log a call by clicking "Phone" icon near the record's name:

Please, configure Softphine.Pro according to settings from official website. URL to set is http://PATH_TO_YOUR_CRM/index.php?module=PhoneCalls&action=Search&record=&return_module=&return_action=&return_id=&phone=&search=%NUMBER%
3. Calls history and audio records
All-In-One CTI plugin saves calls history and audio records for every SuiteCRM user.
It's not necessary to have SuiteCRM opened in browser when you make or receive phone calls. If user made or received phone calls when she was logged-off in SuiteCRM, then SuiteCRM plugin saves the calls history next time user logs-in.
You can view the calls history on "Calls" sub-panel on Lead, Contact or Account Detailed View:

Please configure Softphine.Pro: - to log calls. URL is http://PATH_TO_YOUR_CRM/index.php?entryPoint=phonecalls&action=saveCall&event=%EVENT%&timestamp=%TIMESTAMP%&direction=%DIRECTION%&login=%LOGIN%&server=%SERVER%&number=%NUMBER%&callername=%CALLERNAME%&duration=%DURATION%&record=&applogin=%APPLOGIN%&recordfilename=%RECORDFILENAME% - to save audio records. URL is http://PATH_TO_YOUR_CRM/index.php?entryPoint=phonecalls&action=saveAudio
Supported Versions
7.0.0 to 8.2.4