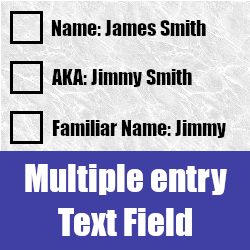 NEW multiple text line entry field for all modules, comparable to the current Email field PLUS BONUS mass update for ALL text fields. If you require customistation, don't hesitate to ask

This field allows for the adding of multiple entries, much like the current Email field. It can be used in all current modules AND custom modules. Examples include multiple names for Contact records (AKA, nick names), multiple names for Account records (trading name, business name, entity name), multiple phone records for Contacts/Accounts - whatever your CRM implementation requires.
The field is available for use in Views, Reports, Filters and sub-panels with some limitations. In general the ONLY entry that is displayed in other views is the entry that is set as Default when creating a new field. The field can be used in List view as a filter (on the Default field value) and will display in List view and sub-panels as a single value (Default value) Please view the image below, it is a screen shot of the Contacts subpanel in an Account record. Note the AKA entry, it is showing the Default value of the multi entry field from the related contact record

When used in Reports ALL values are displayed. In the image below a report has been created using the Accounts module as the main group, displaying contact details. The Accounts details are on the left, the Contact records on the right - fields named AKA are Multi entry text fields
The field values can be exported as CSV.
As a BONUS we have included files that allow you to turn ANY text field over ALL modules into fields that are Mass Update fields (set to mass update via the Admin -> Studio interface). The implementation of this BONUS function is upgrade safe.
Installed via the Admin -> Module Loader the Multientry Text field also allows you to set the entries as DNU (DO NOT USE) OR Preferred. Entries that are set as Preferred are listed in the Modules List View. Create/add/use any existing drop down list.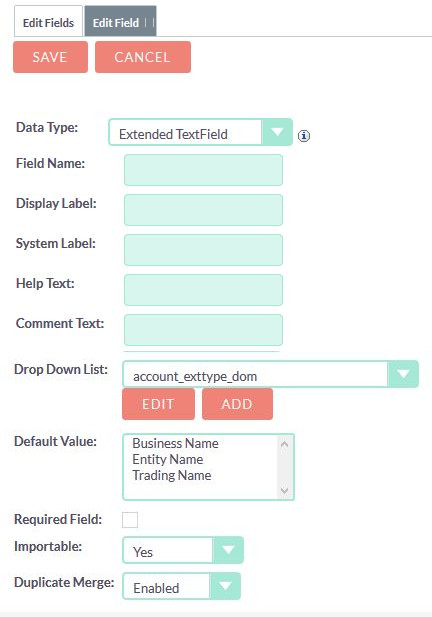 CUSTOMISATION If you require customisation of this field e.g. hiding the dropdown, DNU fields, please get in contact with us
Supported Versions
7.0.0 to 8.4.0