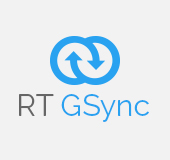 Become more efficient! Enter everything just once. Automatically sync Emails, Calendars, Contacts, and Documents between Google Apps and SuiteCRM. Get your Gmail, Contacts, Calendar items and Documents automatically synced instantly with this seamless integration.
Introducing GSync
Google Workspace has become an essential part of our lives. Be it synchronizing contacts and schedules across mobile and other devices or having our documents accessible everywhere with Google Drive cloud storage, our reliance on Google services is significant.
GSync is a plugin providing an effective data synchronization solution between Google Services and SuiteCRM. RT GSync deals with Google Calendar, Google Contacts, and Google Drive, offering two-way data synchronization for smoother operations.
Syncing Contacts
Contacts on both Suite and Google are saved to the other platform complete with appropriate field mappings for relevant information such as email addresses and secondary phone numbers. Adding a new contact on either platform automatically syncs it to the other, saving you valuable time and extra effort.
Calendar Sync between Suite and Google
Any events added in the calendar from Suite are synced with your Google Calendar, and vice versa. Deleting an event does the same for the other platform as well. Now you can stay on top of all meetings from the platform of your choice.
Google Drive Sync
For complete data synchronization between Suite and Google, all documents on Suite are synced to the related record's folder in Drive, making GSync the most comprehensive data synchronization plugin for Google Services on Suite.
30-day Trial
You can try RT GSync for Free for upto 30 days. Click on Free Trial to get started.
Contact Us
For any additional information or support, you can reach out to product.support@rolustech.com or create a case/question for us. To learn more about our company and other Suite solutions we offer, please visit our website.

Supported Versions
7.8.0 to 8.4.2