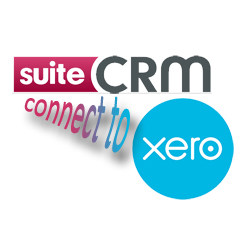 SuiteCRM BI-Directional link to Xero
Automated BI-DIRECTIONAL synch between SuiteCRM and Xero, synch most recent record. Accounts, Contacts, Invoice and Products, connect and forget. Synch based on your criteria. This module also gives you the ability to manually update Accounts/Contacts/Invoice records to/from Xero
#1305 - PrePurchase functional questions
Closed
Feature
created by stripey 3 years ago
Hi
We're looking to link Xero to SuiteCRM, and want to have for contacts that are linked an automated sync of data and invoices - both sales and purchases. So have a few questions ...
Xero is the subset of data (smaller database), Suite is almost 10k contacts, Xero is a few hundred, almost 100% are within SuiteCRM, and we'd create accounts in SuiteCRM for any not there already.
Is there bulk export of SuiteCRM to Xero? somehow tagging those to be exported (not the whole of SuiteCRM) rather than one by one?
We'd like to be able to filter XERO contacts for unmatched accounts and ideally pull them in to SuiteCRM (when someone or an automated process creates a XERO account)? I assume there is a field we can do that with? (we have ecommerce and expense addon's that create accounts and ideally want to flow them back to SuiteCRM.
We'd like to automate synconisation of data (address/telephone/emails etc) as well as invoice (sales and purchase) for those matched contacts, say daily with a manual global re-sync and per contact resync?
Are purchase orders able to be generated in SuiteCRM as well as quotes conversion to invoices?
I hope the above makes sense and look forward to your comments
thanks
Richard
Supported Versions
7.10.0 to 7.11.22
Most Recent Love from Users
ychon08