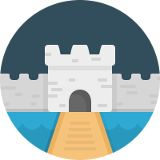 Control what your users can access and save time, money, and frustrations. Lock down sensitive data in SuiteCRM to specific groups or teams. Supports unlimited assigned users, unlimited group assignments to records, custom layouts for each group, login/sudo capabilities and much more.
#731 - Filter search by groups not working in security suit.
In Progress
Bug?
created by pixxmedia 3 years ago
I have go though this link https://store.suitecrm.com/docs/securitysuite/features#filter, As we have navigate though the Studio > Users > Layouts > Default > Filter > Quick Filter But we not found the Security Group in any option see this screen shot https://s.nimbus.everhelper.me/share/1205882/ysrcny2q66oshtfqh0ho. Also feature like assigned Security Groups on List View is not working on 7.8.8.
Supported Versions
7.6.2 to 7.11.19