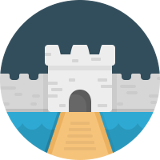 Control what your users can access and save time, money, and frustrations. Lock down sensitive data in SuiteCRM to specific groups or teams. Supports unlimited assigned users, unlimited group assignments to records, custom layouts for each group, login/sudo capabilities and much more.
#658 - Key validation is not working
Closed
Bug?
created by BoXBo 4 years ago
Hi
I've purchased the "SecuritySuite - Enhanced SuiteCRM Teams" from SuiteCRM store. I've tried to validate the license key, be get the following error message:
Failed: Key does not exist.

SuiteCRM: Version: Version 7.9.5 - Sugar Version 6.5.24 (Build 509) SecuritySuite Version: SuiteCRM_7.9.5_SecuritySuite_v3.1.2.zip
Could you please double check if this problem is related to the version from the SuiteCRM store?
Thanks in advance,
armin
Supported Versions
7.6.2 to 7.12.6